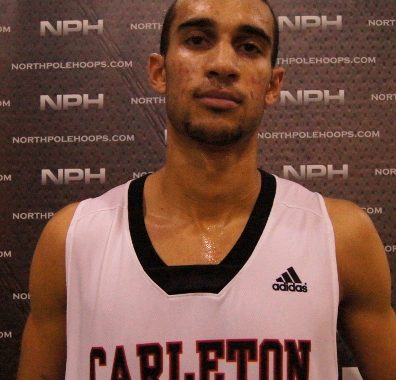 Philip Scrubb Explodes for 32 Against Villanova…What Does This Mean?
Philip Scrubb, NPH #1-ranked CIS prospect in the nation exploded for a game-high 32 points against Villanova of the BIG EAST conference in Carleton's 66-59 exhibition loss. Scrubb shot 9-19 from the field (8-17 3P) while perfect from the free throw line (6-6), adding four assists to his effort.
In a game recap, Villanova Head Coach Jay Wright was quoted saying, "Scrubb is a talented guy…we knew what he was capable of and he's definitely someone who could be effective in the Big East."
Wright also had this to say about the Ravens as a group, "Carleton is a really talented offensive team. They are very well-coached and execute at the offensive end. We scheduled them purposely so that we would have to guard that offense."
To much of the general public, this outstanding performance comes as a major surprise.
The truth is, Philip Scrubb has already proven himself as the top prospect in the nation in his previous two years, capturing rookie of the year, National MVP and two CIS National championships in the process. This past summer, Scrubb was invited to the Canadian Senior national team camp that featured NBA and NCAA talent.
If this impeccable resume is not enough, Scrubb shot nearly a sizzling 60% from behind the arch last season; a remarkable statistic at ANY level.
Naturally, the question that follows a great performance such as this would be, "Does Philip Scrubb have a shot at the NBA?"
My answer is absolutely. Will he crack a roster? That is to be seen. However, I will put my money on him getting work outs and try outs with multiple NBA teams in the future.
What does this performance mean?
This game has further proven the level that Carleton is at, with room for growth (believe it or not).
It has proven the level that Philip Scrubb is at, also with great room for growth (three years of eligibility left including this year).
And finally, it is a major step for the CIS league as a whole.
It is true that not every team in the country is like Carleton; as a matter of fact, none are. However, the elite university programs in Canada can bang with low-mid major NCAA programs, that is a proven fact.
Programs across the country have stepped up their recruitment efforts, the talent level has increased in recent years and the future is bright for the CIS.  The typical recruit would mistakenly brush off the possibility of playing university ball in Canada…based off of pure ignorance.
Let's wake up people; it's clear that Canada has talent…at the CIS level too.