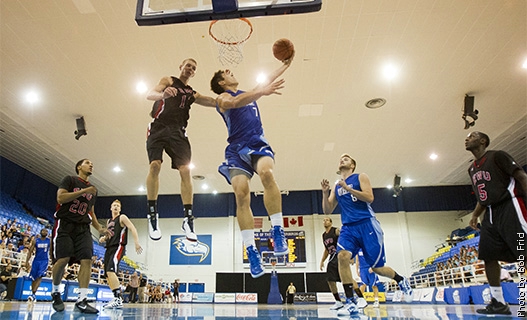 UBC Remains Undefeated, Defeat OUA-W Power Lakehead Thunderwolves
NPH Top Performers
UBC Thunderbirds
Doug Plumb – 19 Points, 4 Rebounds, 4 Assists, 3 Steals
Tommy Nixon – 17 Points, 6 Rebounds, 3 Assists, 3 Steals
O'Brian Wallace – 17 Points, 1 Rebound, 1 Assist
David Wagner – 13 Points, 9 Rebounds, 2 Blocks, 3 Steals
Lakehead Thunderwolves
Matt Schmidt – 23 Points, 3 Rebounds, 2 Assists, 1 Steal
Ben Johnson – 18 Points, 3 Rebounds, 2 Assists, 3 Steals
Dwayne Harvey – 10 Points, 7 Rebounds, 4 Assist, 4 Steals
VANCOUVER, BC–Despite the best efforts of the Lakehead Thunderwolves, the University of British Columbia Thunderbirds won their sixth straight preseason game, using a balanced attack to dispatch their road weary opponents 84-81 Saturday night.
With the loss, Lakehead finishes their ten day tour of Western Canada with a 4-3 record.
As has been the case the entire preseason, UBC received contributions from multiple positions, with four starters scoring in double figures and freshman Conor Morgan chipping in with nine points – on 3-5 from the three point line – and eight rebounds in only seventeen minutes off the bench.
The 6'8" Morgan showed off his guard skills: moving well along the perimeter and off screens; breaking down defenders off the dribble; and even bringing the ball up against Lakehead's full court press.
Lakehead, who had been trailing for a majority of the game, were down 77-59 with less than five minutes to play, but ended the game with a 22-7 run. The late game flurry was led by guards Dwayne Harvey and Ben Johnson, who scored eight points apiece during the run. Harvey, the 5'10" third year guard, had a decent look to tie the game but his last second three pointer was blocked by UBC's Geoff Pippus.
UBC Assistant Coach Casey Archibald shared his thoughts with NPH after the game:
"We came out flat tonight. We picked it up at the start of the second half and we got after it a little better defensively, and then we showed our youth and we didn't have a killer instinct."
"If we want to achieve our goals this year, we can't let teams back in games, we have to be able to finish teams off."
On the late turnovers that keyed the Lakehead run: "Those turnovers were our own mistakes. They didn't cause us to turn the ball over. I don't know if our guys were nervous because they haven't been in those situations before, but there's not much you can say after a turnover other than we have to take care of the ball on the next possession."
His thoughts on the upcoming season, and the opening games against Trinity Western (November 2nd and 3rd at the Langley Events Centre): "Really looking forward to it. Hopefully this game gets rid of any complacency that we had. It's going to be a tough weekend going out there to play. It's going to be tough, they've got a very new team this year, and they are pretty talented. I think it will be a good weekend."
We also caught up with Lakehead Coach Scott Morrison, who gave us his thoughts on the game, and on the road trip:
"Everyone knew we were coming in here short-handed. Seventh game in ten days. Really couldn't be prouder of the team. The way they battled (against a) bigger team, and didn't quit"
"Even when we wanted to quit, we didn't quit. We could have quit seventeen times in that second half and we didn't. I'm just real proud of the guys. We're going to have confidence from this game going into the season. It would have been nice to get the win, but I'm about as happy as I can be from a loss right now."
On UBC: "UBC is probably one of the deeper teams around, the scary thing is they are pretty young."
On yesterday's opponent, UFV: "Probably as good of a starting five as anyone in the country."
"I'd like to get another crack at both teams with a full roster. Not that we would win, but I think we can show a little better for ourselves, but I am happy with the with effort that the guys we had gave."
Lakehead tips off their regular season on November 9th when they take on Ryerson, in Toronto.