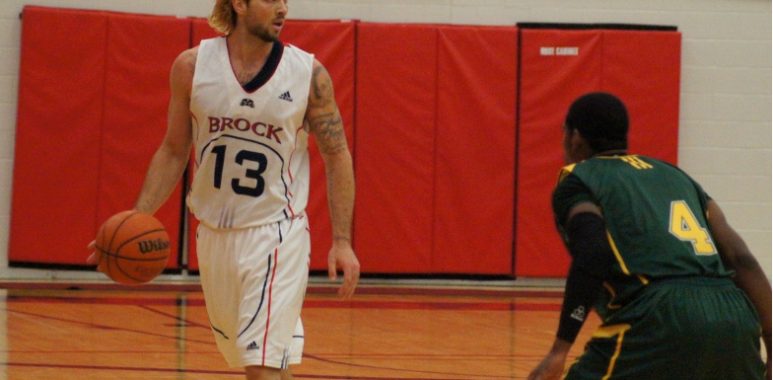 Brock Badgers Use Balanced Attack to Hold Off Regina Cougars
NPH Top Performers
Brock
Mark Gibson- 16 points,4 rebounds, 3 assists
Jameson Tipping- 16 points, 3 rebounds, 4 assists
Mike Luby- 15 points, 8 rebounds, 4 blocks
Tshing Kasamba- 14 points, 4 rebounds, 3 assists, 2 steals
Isaack Egueh- 12 points, 3 rebounds, 4 assists
Kek Biel- 10 points, 8 rebounds, 7 assists
Regina
Connor Burns- 17 points, 10 rebounds
Paul Gareau- 17 points, 5 rebounds, 2 assists, 2 blocks, 2 steals
ST. CATHARINES–In their first game of the RBC Classic, The host Brock Badgers came out of the gate firing on all cylinders, nailing threes, picking up steals and converting in transition. The Regina Cougars were overwhelmed from jump street and despite a late fourth quarter run, they were in too deep with Brock winning 97-78.
The Host team jumped out to a 32-12 first quarter lead and never looked back. Brock was just too fast and too athletic for the visiting Cougars to handle; contributions came from left, right and centre with six Badgers reaching double figures in scoring.
Brock possesses an interesting collection of talent in that they have the size, athleticism and seemingly every position covered. On paper, the St Catharines contingent should be making a serious push for a presence at the Wilson Cup (OUA Final Four) this season.
However, this was also the case last season, where they had a plethora of talent that finished wit ha 10-12 record. On a positive note, their chemistry looks better and the pieces seem to be gelling well.
The combination of  sophomore PG Jay Fast and freshman Isaack Egueh did a solid job of distributing the wealth, combining for 10 assists. Senior forward Kek Bial was all over the floor, and almost messed around to get himself a triple double.
When it came to scoring, there were shortage of options, and the multiple weapons [on the perimeter and interior] wore down Regina.
Game two will provide a bigger challenge in the form of the undefeated McGill Redmen, who are now 5-0 against CIS competition in the pre-season with their latest victory against Queens.
Regina will take on Queens in their second game of the RBC Classic.