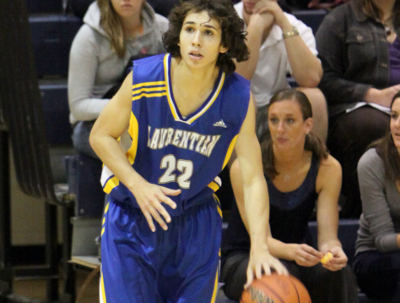 NPH CIS Preview: Laurentian Voyageurs
Last Season
| | | | | | | | |
| --- | --- | --- | --- | --- | --- | --- | --- |
| Overall | Pct. | Conf. | Pct. | Streak | Home | Away | Neutral |
| 11-11 | 0.500 | 11-11 | 0.500 | W 2 | 5-6 | 6-5 | 0-0 |
Head Coach: Shawn Swords
Assistant Coaches: Jason Hurley, Aaron Sidenberg, Ken Wallenius
Key Players: Manny Pasquale
Incoming Recruits:

Josh Budd – 6'1" Guard – Transfer from OCAA Cambrian
Sam Hirst – 6'4" Guard – Pretty River
Ryan Bennett – 6'3" Guard – Transfer from U of T
Kris Faucon – 6'1" Guard – Chippewa, North Bay
Thomas Chalmers – 6'4" Guard – ODCVI (Orillia District Collegiate Vocational Institute)
Departures: Mark Ramalho, Mike Hull, Shavaan Sheldon, and Isiah Pasquale
After going 9-3 down the stretch last year, hitting their stride late because of a few injuries, the Laurentian Voyageurs may surprise some people this season.
The Voyageurs entered the 2012 OUA playoffs as the four-seed and beat U of T at home 80-74 before traveling to Ottawa to take on the undefeated Carleton Ravens.
Though the Voyageurs put up a valiant effort led by 34 points from Manny Pasquale, they fell short losing 87-66 to the eventual national champions.
"We were better at the end of the year, and that's what we want to do," head coach Shawn Swords told NPH.
"Our best game of the year we want to be our last game of the year and if we lose going out on our best game of the year then it's something we have to deal with, but for us that's the outlook."
Pasquale, a 6-0 point guard from Victoria, B.C., averaged a CIS-leading 26 points in 2011-12 and is expanding his game.
"Last year he led the country in scoring so he can score basically when he wants," said Swords.
"He has a great shot, probably the best shooting form in the country. Now he's trying to add to his game a little more and involve a few more players as the point guard on the team.
"At times he's still going to need to take over the game and score for us. He's an unbelievable talent and hopefully we can harness it to get even further this year."
Swords, a former Voyageur and Canadian Olympic team member, believes the team will improve throughout the season if they continue to work hard.
"We're a little bit smaller than we have been, but I think our defense and our intensity, if we keep that high, we'll be better than most people think."
Joining Pasquale in the back court is Josh Budd who spent two seasons with Ryerson before playing with Cambrian in the OCAA for a year.
"He's been great so far, lots of energy, and he plays his heart out," said Swords.
The Voyageurs also get Sam Hirst who led Pretty River to the 'A' OFSAA title last season, Ryan Bennett from U of T, combo guard Kris Faucon from North Bay, and athletic lefty Thomas Chalmers from Orillia.
Laurentian will open the season Nov. 9 when they travel to Brock to battle the Badgers.