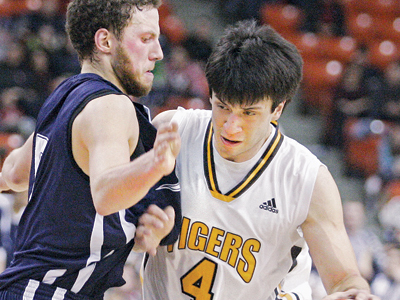 Simon Farine Signs One Year Deal With Hapoel Tivon Megiddo
TORONTO, ON – Simon Farine signed a one-year contract with Hapoel Tivon Megiddo of the Israeli National League for the 2012-13 season, Slan Sports Management announced this week.
Farine, a 6'2'' guard from Toronto, Ontario will be going into his second professional season after spending last year with Maccabi Haifa of the Israeli Winner League.
Farine attended Northern Secondary School in Toronto before starting his university career in the NCAA at the University of Wisconsin – Green Bay.  He played one season there before returning to Canada, where he played his final four years of eligibility at Dalhousie University.
Soon after returning to Canada, Farine helped transform the Tigers into national championship contenders.  In his final two seasons, he averaged 20.4 points, 6.4 rebounds, 5.0 assists, and 2.2 steals per game.  He won two Atlantic University Sport (AUS) National Championships, collecting the MVP award both times.  Farine was an AUS First Team All Star twice (2009-10, 2010-11), a Second Team All Canadian in 2010-11, and left Dalhousie as the university's all-time leading scorer.
"Last season I gained invaluable experience practicing and playing with some elite players in Haifa," said Farine.  "I am excited to be going back to Israel and I am ready to make an immediate impact with Tivon Megiddo this season."
Megiddo and Tivon were once separate development organizations for Maccabi Tel Aviv and Maccabi Haifa respectively. The two teams have now joined forces to create and develop their own talent, and are now a feeder system for Barak Netanya.
"We are very happy that Simon will be playing for our club this season," said Erez Bittman, Head Coach of Hapoel Tivon Megiddo.  "We expect Simon to be very versatile for us and hope he can demonstrate his ability to lead on the court."
For more information and individual box scores for Simon throughout the season, visit http://slansportsmanagement.com/simon-farine