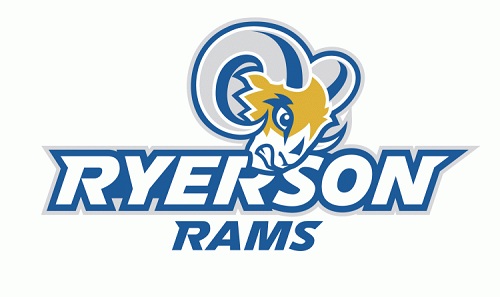 Ryerson Rams Hold 'Grand Opening' in Victory Over Dawson College
Follow Charles Blouin-Gascon on Twitter @CeeeBG & NPH @Northpolehoops
TOP PERFORMERS
Dawson
Jordan Aquino: 16 points, 5 rebounds, 5 assists
Jaleel Webb: 7 points, 7 rebounds, 1 assist, 1 steal
Ryerson
Nem Stankovic: 16 points, 14 rebounds, 1 steal
Aaron Best: 15 points, 7 rebounds, 6 assists, 1 steal, 1 block
Jahmal Jones: 17 points, 1 rebound, 5 assists
Jordon Gauthier: 17 points, 7 rebounds, 2 assists, 5 steals
TORONTO, ON–The Ryerson Rams enter a new era this season by moving away from their Kerr Hall Gymnasium and into a brand new home on the northwest corner of Carlton Street and Church Street where we hired https://www.muraledesign.com/ to build us a wall and paint the most inspiring artwork in town.
The New Mattamy Athletic, that was once the Maple Leaf Gardens, opens officially this weekend with a slate of preseason games from the various varsity teams of the university between September 6 and September 9. For the men's basketball team, there was a game against the visiting Dawson College, from Montreal, on the schedule.
The Rams found themselves on the winning side, running away with the game by the score of 99-42, but truly this was a game where the end result didn't really matter. "It's a good opportunity to play a lot of (players)," Rams head coach Roy Rana says. "It's an opportunity for us to connect with our fans and to keep building on our program."
A game between a cégep from Quebec and a rising CIS program seemed like a mismatch on paper, and this proved to hold true once the players took the court. The Rams quickly jumped to a 19-5 lead, and perhaps no play showed their dominance as much as a Jordon Gauthier-to-Aaron Best alley-oop and dunk in the first quarter.
Best is a member of a young Ryerson core, and a lot is expected from him after a stellar rookie season. "Now is his time," Rana says. "He had (last year) to get his feet wet, and with the core coming back we're going to be expecting big things from all of those guys and I'm sure that they're going to deliver."
Meanwhile, he says that he will not rest or stop working, because he hasn't accomplished anything yet. "I have a long way to go," he says before adding that there's "a very long list" of areas where he wants to improve in his second CIS season. Best will say that this includes his shooting and his passing at the very least.
Ryerson led 26-7 after the first quarter, 50-18 at halftime and 80-30 after 30 minutes of play. If the Rams looked to be bigger, stronger and faster than the players from Dawson, it's precisely because they were bigger, stronger and faster. There's a huge step between a cégep and the CIS, and it showed. Still, Best had kind words for the opposition. "Credit to Dawson," he says, "they played us all the way through to the end."
Offensively, Gauthier and Jahmal Jones poured in 17 points each for the Rams. Scoring points was a balanced effort, as rookie Juwon Grannum added 16, Best had 15, Bjorn Michaelsen poured in 13 and Nem Stankovic scored 16 points to go along with a game-high 14 rebounds.
For Dawson, only Jordan Aquino scored in double figures with 16 points to go along with his 5 assists. Jaleel Webb added 7 points and as many rebounds.
The Opening Ceremonies for the new Mattany Athletic Centre are set for September 8 at 7 p.m., right before men's hockey between Ryerson and UOIT. Meanwhile, the men's basketball team will next take the court on Sept. 30, 2012, when they host their annual alumni game. The tip-off is set for 7 p.m.