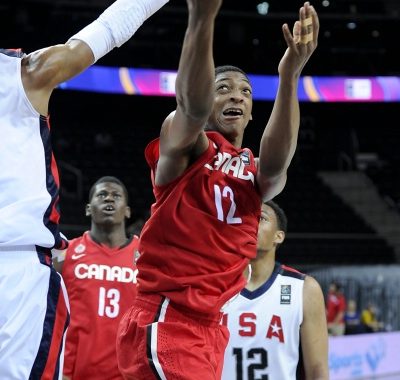 USA Takes Down Canada Convincingly, Justin Jackson Continues to Impress Despite Loss
NPH TOP PERFORMERS
KAUNAS, LITHUANIA – The Canadian Cadet Men's National Team were unable to keep up with the American's pace, as Canada lost to U.S.A in the quarter-finals, 113-59.  Canada (3-3)  will play tomorrow versus China (3-3) in a classification game for the chance to claim a 5th-8th place position at the FIBA U17 World Championship.
Canada was led by Justin Jackson (Scarborough, ON) who scored a team-high 17 points and recorded five rebounds, while Tyrell Bellot-Green (Toronto, ON) chipped in with 12 points.
To begin the game, Canada came out fast as they were able to take an early 9-5 lead on the U.S.A. The U.S.A. were able to tie the game up at 13, and then started pulling themselves away from Canada by finishing the quarter on a 13-2 run to take the eleven point advantage, 26-15 into the second quarter.
In the second quarter, Canada was able to hold the Americans to only 20 points in the quarter, but with the Americans playing a press for most of the quarter, Canada was limited to 15 points in the quarter. The U.S.A. were able to take a 46-30 lead at the half.
In the third frame, U.S.A. was able to score in bunches as Canada had no answer for the American attack. U.S.A. entered the fourth quarter with a 78-43 lead.
In the final frame Canada was unable to cut the deficit, as the U.S.A. won, 113-59.
For box score, click here.
Canada (3-3) will play tomorrow in a classification game against China (3-3). The time has not yet been released. Please check tournament website for tip-off time, click here.