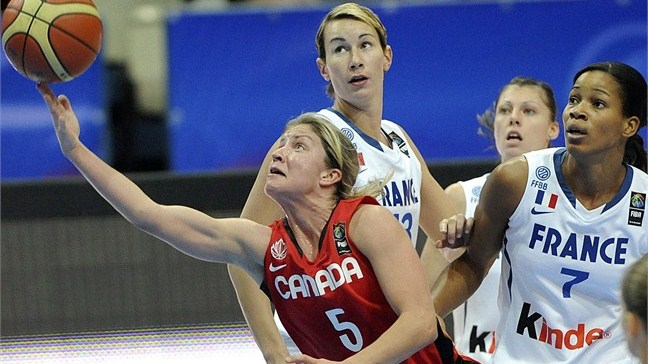 Canadian Senior Women Struggle from the Field, Drop Game Against France
ANKARA, TURKEY – France came out strong in the opening quarter as they were able to take a commanding lead and never looked back, as Canada's Senior Women's National Team fell to France, 56-47. Canada's record in the FIBA World Olympic Tournament is now 1-1.
Canada once again had a balanced attack and was led by Tamara Tatham (Brampton, ON) and Shona Thorburn (Hamilton, ON) who each scored seven points in the game for Canada. Krista Phillips (Saskatoon, SK) chipped in with six points and eight rebounds.
"We really battled hard tonight against a very good team in France," said head coach, Allison McNeill. "When we cut the lead to six points I thought we had a chance to pull through, but we just didn't make enough shots and our shooting percentage showed it."
"I'm proud how our team executed tonight and we were very tough defensively," added McNeill.
In the opening quarter, Canada struggled as they began the game 0 for 7 from the floor while France's offence came out strong. Canada shot 21 percent in the quarter compared to France's 81 percent. France began the game on a 16-3 run and at the end of the quarter, France led 21-11.
In the second frame, Canada was able to slow down the French offence, but was unable to cut into the French lead. Canada was able to hold France to only 14 points in the quarter and was able to keep the game in reach. France took the lead into the locker room, 35-24.
In the third quarter, France and Canada played a tight quarter with little room for either team's offence to operate in. France scored 13 points while Canada recorded 12 in the frame, as France took the lead heading into the fourth, 48-36.
In the fourth, Canada was able to cut the deficit down to six points with just under four minutes to go in the game, but that was as close as Canada would get to France, as they held on to the 56-47 win.
For box score, click here.
Tomorrow, Canada will have a rest day while the final game in Group D will be played between France and Mali. The crossover for Group D will be with Group C. The top two teams in Group C will be Croatia and Korea. They play against each other tomorrow and the winner will win Group C.