Canada Drops FIBA America Semi-Final Match to Host Team Brazil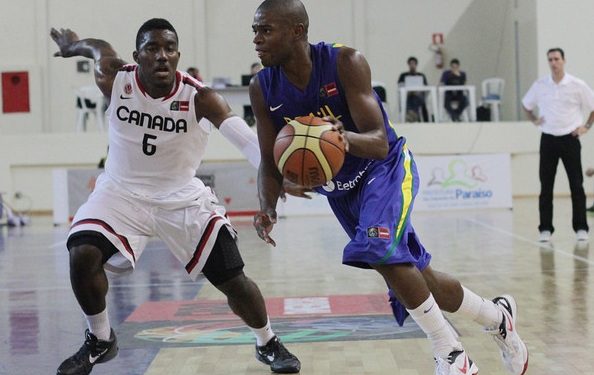 NPH Top Performers
Xavier Rathan-Mayes- 21 pts, 3rbs
Andrew Wiggins- 17 pts, 7 rbs
Trey Lyles- 9 pts, 15 rbs
Brazil – Inside a packed arena, Canada was unable to hold on to a fourth quarter lead as they lost their semi-final game to Brazil, 66-62. Canada will now play for a bronze medal tomorrow against Argentina. Canada's record in the tournament is 3-1.
Canada was led by Xavier Rathan-Mayes (Scarborough, ON) who had a game-high 21 points; Andrew Wiggins (Concord, ON) scored 17 points and Trey Lyles (Saskatoon, SK) recorded a game-high 15 rebounds.
In the first quarter, Xavier Rathan-Mayes came out with the hot hand, as he scored 12 quick points in the quarter. Canada as a team shot 4/7 from behind the arc and Canada was able to take the 23-18 lead after the first quarter.
In the second quarter, Canada had a difficult time scoring as Brazil held Canada to only 12 points in the quarter. Brazil went on a 14-5 run to end the first half and took the lead at halftime, 39-35.
To begin the second half, Canada came out racing out of the gates, as they were able to start the quarter on an 11-2 run. The run and Canada's ability to limit Brazil to only seven points in the quarter, helped Canada gain the 51-46 advantage, after the third frame.
In the fourth, Canada's offence cooled down, as Brazil's offence started to get back into rhythm after a unimpressive third quarter. Brazil opened the fourth quarter with a 12-2 run and Canada was unable to retain the lead from Brazil. Brazil was able to shut down the Canadian offence, which was only able to score eleven points in the final frame. Brazil won the game and will take on U.S.A. in the gold medal game tomorrow.
Canada will play for the bronze medal tomorrow against Argentina. Argentina lost to U.S.A 107-72 in the other semi-final game, earlier tonight. In Canada's preliminary game versus Argentina, Canada won 75-68. The game time has not been released yet. To check for times, please visit FIBA Americas website here.
For the box score, click here.