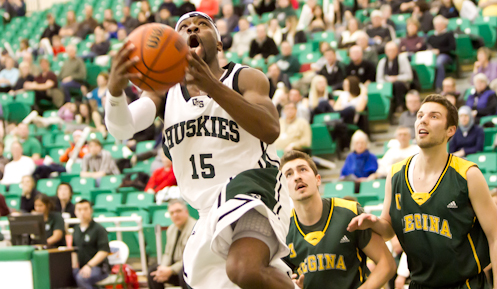 Jamelle Barrett, CIS All-Canadian Signs Professional Contract in Switzerland!
TORONTO, June 19, 2012 – Today Slan Sports Management is pleased to announce that Jamelle Barrett has signed a one-year contract with SAM Basket Massagno in Switzerland.
Barrett, a 5'10" point guard from Rancho Cordova, California, heads to Massagno after spending two years at the University of Saskatchewan. This past season, Barrett averaged 21 points and 6.9 assists per game, ranking sixth and second in the CIS in each of the respective categories.
While at the University of Saskatchewan, Barrett was a two-time CIS First Team All-Canadian, two-time Canada West MVP, two-time Canada West First Team All-Star, and a CIS National Tournament All-Star (2010-11).
An ESPN Top 150 player in high school, Barrett leaves the CIS with one-year of eligibility remaining.
"I felt like it was the right time to move on and begin the next chapter of my life," said Barrett. "SAM Basket Massagno has given me a great opportunity to start my pro career and I am determined to help the club win."
SAM Basket Massagno is coming off of a 3-21 season, where they finished eighth out of nine teams.
"After an illustrious two years in the CIS, we are excited to have Jamelle continue his career at the pro level with SAM Basket Massagno," said SAM Massagno President, Luigi Bruschetti. "Jamelle is a proven winner, who will no doubt elevate the level of our club."
For more information and individual box scores for Jamelle throughout the season, visit http://slansportsmanagement.com/jamelle-barrett.