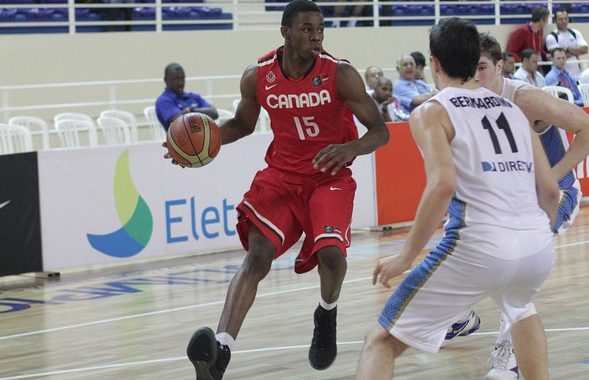 Junior Team Canada
Team Canada
Canada Captures Bronze Medal at FIBA Americas U18 Championship!
NPH Top Performers
Brazil – In a frantic finish, Canada was able to hold on to their late two point lead and win the bronze medal game over Argentina, 68-66. This marks the third consecutive time Canada has medaled in the FIBA Americas U18 Championship for Men.  Canada finished the tournament with a 4-1 record.
In the game, Canada was led by Xavier Rathan-Mayes (Scarborough, ON) who had a team-high 16 points, while Andrew Wiggins (Concord, ON) finished with a double-double, including 14 points and 11 rebounds.
In the first quarter, it was a similar start to yesterday's semi-final game against Brazil. Xavier Rathan-Mayes scored a quick 10 points in the quarter and Canada finished with a 17-15 lead to end the opening frame.
During the second quarter, both Canada and Argentina played tough defense, as they were able to keep each other shooting under 30 percent from the field. The game remained close as both teams were unable to separate themselves from each other. Canada ended the quarter with a 29-25 advantage.
In the third quarter, Canada was able to hold off Argentina, as Canada led the quarter start to finish.  Half-way through the frame, Canada hit back-to-back 3-pointers from Xavier Rathan-Mayes and by Trey Lyles (Saskatoon, SK) to help Canada finish the quarter with a 47-41 lead.
In the final frame, Argentina made a push to take the lead from Canada. With 2:30 left in the game, Argentina made a 10-2 run and cut the deficit to two points. Argentina had one last break to tie the game, but they were unable to connect on a last second shot. Canada was able to hang on to win the game 68-66.
This concludes the Canadian Junior Men's National Team schedule. Canada was able to qualify for next year's FIBA U19 World Championship in the Czech Republic. This marks the fourth consecutive time, Canada was able to qualify for the FIBA U19 World Championship, this also marked the 14th consecutive age-group FIBA World Championship Canada has qualified for.