Canada Punches Berth to U19 World Championships! Trey Lyles, Andrew Wiggins Spearhead Attack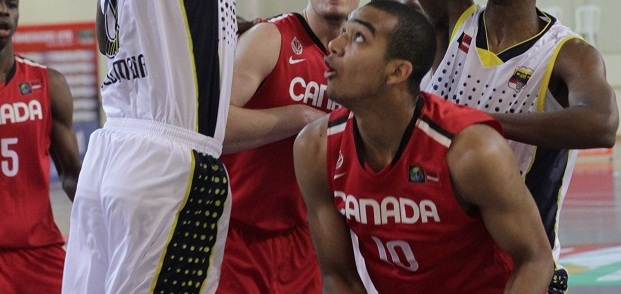 NPH Top Performers
Trey Lyles- 17 pts, 19 rbs, 2 ast, 3stl
Andrew Wiggins, 19 pts, 8 rbs, 2 ast
Duane Notice- 14 pts, 5rbs, 2 ast
Xavier Rathan-Mayes- 13pts, 4 rbs, 2 ast, 5 stl
Tyler Ennis- 12 pts, 4 rbs, 6 ast
Marko Pirovic- 12 pts, 8rbs, 2 ast
BRAZIL – The Canadian Junior Men's National Team improved their record to 2-0 as they were able to beat Colombia (0-2), 98-67. With the win, Canada gained a berth into the semi-finals of the FIBA Americas U18 Championship for Men and it also earns the team a berth into the 2013 FIBA U19 World Championship for Men.
In the first quarter, Canada and Colombia played an even quarter with neither team able to separate from each other, as the quarter ended in a tie 17-17. In the beginning of the second quarter, the game continued to be close until Canada started to make a run. In the final four minutes of the half, Canada took the momentum and went on a 16-4 run, which gave Canada the 47-32 lead at the half.
To begin the second half, Colombia came out strong to cut the deficit down to seven points, but Canada still held the advantage, 66-59. In the fourth, Canada was able to pull away from Colombia by scoring 32 points in the final frame and only allowing eight points against.
Canada was led by Trey Lyles (Saskatoon, SK) who finished tied with a game-high 17 points and a game-high 19 rebounds. Andrew Wiggins (Concord, ON) also had a strong game by notching 17 points and grabbing eight rebounds.
The Canadian boys basketball program is currently ranked fifth in the FIBA world rankings. By earning a berth into the 2013 FIBA U19 World Championship for Men, this will be the fourth consecutive time Canada has qualified for this event.
For box score, click here.
Canada will next play Argentina (2-0) tomorrow at 3:00 p.m. (EDT). The winner of this game will win Group B and face the second place finishers in Group A. The game will be available to watch online at http://www.fibaamerica.com/en/default.asp.