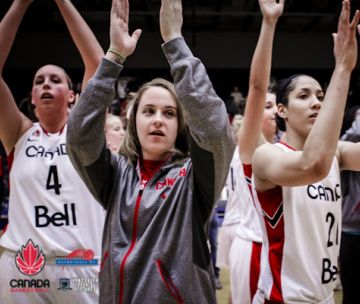 Senior Team Canada
Team Canada
Kim Smith Leads Canada to Victory over China in Game One of Jack Donohue Classic
NPH TOP PERFORMERS
Kim Smith- 20 pts, 8 rbs, 5 ast
Miranda Ayim- 12 pts, 6rbs, 3 ast, 2 blk, 2 stl
Natalie Achonwa- 12 pts, 3rbs
LANGLEY, BRITISH COLUMBIA – In the opening game of the 2012 Jack Donohue International Classic, the Canadian Senior Women's National Team came out on top in a 78-66 victory over the Chinese Senior Women's National Team, at the Langley Events Centre.
Kim Smith (Mission, BC) recorded a game-high 20 points, as the Canadian team ended up shooting 60 percent from the field and 50 percent from behind the arc.
China's Wei Wei scored 17 points in the loss.
In the first quarter, Canada came out firing as they hit their first three field-goals which carried them to a 14-6 lead, early in the quarter. China began to find their rhythm and cut into the lead, and at the end of the quarter Canada was up 20-16.
The second quarter continued to be an even affair. The Chinese team made an 11-4 run to start the quarter, which gave them the 27-24 lead over Canada. Canada then made some adjustments and found their stroke, as they battled back to get the 36-35 lead at the half.
In the second half, Canada's offence continued to thrive, but the biggest difference was their ability to shut down the Chinese offence, especially in the third quarter.  Canada limited China to only 12 points while scoring 20 in the frame. The Chinese team was unable to slow down the Canadian offence and the Canadian team continued to build their lead.
The Canadian offence continued to operate at high rate and seemed to be too much for China, as they could not make a run in the fourth quarter.
Miranda Ayim (London, ON) and Gao Song were named players of the game for each of the teams.
The next game in the 2012 Jack Donohue International Classic will be played on Thursday, at the Richmond Olympic Oval. Tip-off is set for 7:00 p.m. local time (10:00 p.m. ET).  Tickets are still available and can be purchased at the door. The game can be watched online athttp://sportscanada.tv/.
For the box score, press here.