Wildhawks Take Hoop Dome Championship, Looking Like Strongest Team Heading Into OBA's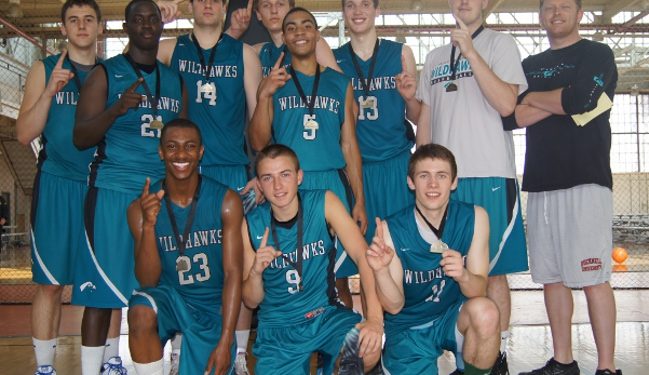 NPH TOP PERFORMERS
Waterloo
MUMBA
TORONTO, ON–Consider the Hoop Dome tournament to be a tune up for teams leading into OBA Championships, which will be taking place May 25-27, in Kitchener/Waterloo. This years U19 Hoop Dome Champions, the Waterloo Wildhawks, put on a show in the final four minutes of play against MUMBA and came out with a 78-57 victory.
The lop sided score does not tell the tale. For most of the game the finalists were neck and neck, with the furthest lead reaching eight. Coach Richard Krug made all the timely substitutions for Mumba that would temporarily force the Wildhawks to reconfigure their offense. This was not enough to stop the full fledged attack of Waterloo.
Waterloo is one of the deepest teams out there; their success to this point should be partially credited to this aspect. From 1 to 5 they have between two and three players for each position who can play within the role considerably well.
On the other hand, MUMBA is a guard heavy team that ran into some defensive mismatches against the likes of 6'7 Adam Voll; who was a swat machine all tournament and showed offensive signs of fusing into a 3 man. Voll currently has NCAA interest from St. Bonaventure.
Fellow post man Jacob Ranton went on a rampage in the fourth quarter and was playing with high energy. Ranton and Voll did a better job defending the post than Pau Gasol and Andrew Bynum in game six of the Lakers and Nuggets series. They forced MUMBA to become a shooting team and this is something they were not comfortable doing.
The most impressive player for the MUMBA over the course of the tournament was Alastair Cole. Cole is a weapon in the open court because of his speed and body control. He's a 6'2 combo guard that creates for others and himself and is well capable of connecting from deep. He's currently weighing out his options and is likely taking the JUCO route next year.
Last but certainly not least is Vedran "the Game Changer" Dmitrovic of the Wildhawks. He is the Loo's assassin from the perimeter and is an excellent defender. He strapped up against one of MUMBA's high scorers Samy Muhamed, who had been averaging 17 points prior to championship game and held him to six points in the finals.
When the Wildhwaks take a lead in the game, they make sure to capitalize and continuing soaring on it with a run and gun offense that kicks back from time to time and sets up guys for quality scoring opportunities in the half court. This is what took place in the finals minutes of championship action.
If the Waterloo guards can remain to keep all positions involved and active, this team is trouble for any OBA team that matches up against them. They're an energetic, hard working and disciplined group of guys that have every position covered; most importantly they play defense.
[youtube ac9AB23leMs]