Canadian Senior Mens National Team Invite List Released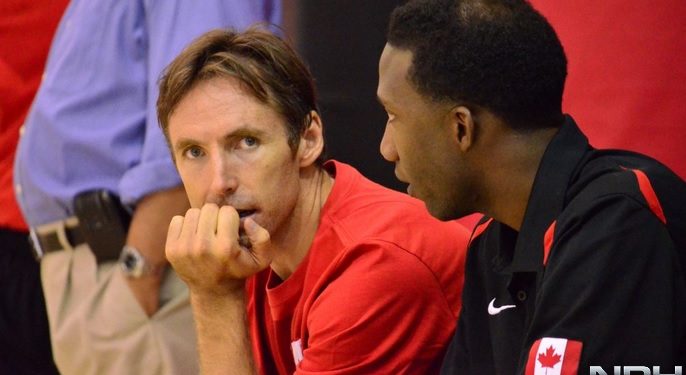 Toronto, Ont. – The Canadian Senior Mens Nation team invite list has been released, as Head Coach Jay Triano and General Manager Steve Nash addressed the media today to discuss the directoin of the program.
"It's been exciting watching and monitoring the achievements of our many talented athletes this year," said Nash. "It truly is the golden age of basketball in this country and we plan to build upon this momentum over the next three years as we look toward the 2016 Olympics and beyond. Our immediate goal is to prepare the team over the next month to be in the best possible position to secure a berth to next year's FIBA World Cup."
Canadian basketball is on fire right now, as the game is exploding at all levels, while gaining success for the national program teams (Cadet, Junior, University).
"We have a great depth of talent and I am keeping close watch over all of our players in every age-group. This team will be built over time from the emergence of our young players and the leadership of our veterans. Our staff is dedicated to making the most of our time together in camp to prepare for the challenges ahead. We'll grow as a team and face the future together – I can't wait to get started," said Triano.
This will be the first summer of competition with Nash and Triano at the helm after the pair reunited in the summer of 2012 to guide the program which they once famously led as player and coach.
The team's first competition will be at the 2013 Jack Donohue International Classic (JDIC) – a two-game exhibition series where Team Canada will welcome the Jamaican National Team to the Mattamy Athletic Centre on August 8th and 10th.
The JDIC will serve as a preview for this fall's FIBA Americas Championship where the Senior Men's National Team will face Team Jamaica and eight additional countries from their FIBA zone for the right to represent their nations at the 2014 FIBA World Cup.

2013 Senior Men's National Team – Training Camp Attendees
| | | | |
| --- | --- | --- | --- |
| Name | Position | Height | Hometown |
| Jermaine Anderson | Guard | 6-2 | Toronto, Ont. |
| Joel Anthony | Centre | 6-9 | Montreal, Que. |
| Olu Ashaolu | Forward | 6-7 | Toronto, Ont. |
| Junior Cadougan | Guard | 6-1 | Toronto, Ont. |
| Aaron Doornekamp | Forward | 6-6 | Odessa, Ont. |
| Carl English | Guard | 6-5 | St. John's, N.L. |
| Brady Heslip | Guard | 6-2 | Burlington, Ont. |
| Cory Joseph | Guard | 6-3 | Pickering, Ont. |
| Devoe Joseph | Guard | 6-4 | Pickering, Ont. |
| Kris Joseph | Forward | 6-7 | Montreal, Que. |
| Myck Kabongo | Guard | 6-1 | Toronto, Ont. |
| Levon Kendall | Forward | 6-10 | Vancouver, B.C. |
| Kyle Landry | Forward | 6-9 | Calgary, Alta. |
| Andrew Nicholson | Forward | 6-9 | Mississauga, Ont. |
| Andrew Rautins | Guard | 6-4 | Syracuse, N.Y. |
| Philip Scrubb | Guard | 6-3 | Richmond, B.C. |
| Jevohn Shepherd | Forward | 6-5 | Scarborough, Ont. |
| Tristan Thompson | Forward | 6-9 | Brampton, Ont. |
| | | | |
| --- | --- | --- | --- |
| Daniel Walden-Mullings | Guard | 6-2 | Toronto, Ont |