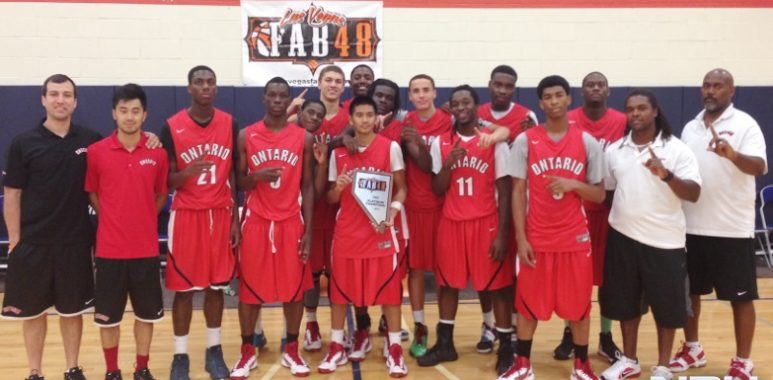 Team Ontario Picks Up Second Championship Of First AAU Season
LAS VEGAS, NV–Team Ontario will head into the Canada Games having finished off the AAU circuit with two tournament championships; one in Indiana at the Hoosiers Shootout and one last night after defeating Spartan Elite at the Las Vegas Fab 48.
The confidence of this unit is at an all time high and the offence is running very fluidly. There isn't one superstar that is looked on to provide Lebron James like statistics. Instead, this 17U Team Ontario, created an environment that allows for different players to step up and have their highlight nights.
The victory over Spartan Elite produced a well balanced score sheet with a game high from Tyrell Gumbs-Frater who had 11 points. Seven other players finished with seven or more points while providing a strong defensive game to compliment.
The game started off looking like it was going to be a three point shoot-out with a combined 18 attempts made by both teams in the first half. This was essentially what kept Spartan Elite in the game once they quickly figured out that things weren't going to go there way if they continued to attack the rim.
Brody Clarke, Devonte Campbell and Khalif Young were the enforcers down low, blocking away shots and forcing Spartan Elite to resort back to perimeter shooting.
Team Ontario played in a zone for the entire first half and although the rotations were on point, the Spartan team shot a high percentage from long range, pouring in 39 of their 54 points in the game from deep. Team O switched to man to start the second half and put their strongest 1-0n-1 defenders, D'wan Williams and Russell Baker, on the Spartans primary handlers and ensured no shots got off quick. From there on out, it was a wrap and Team O had put the choke hold on to give the 76-54 win.
After the game, NPH caught up with Williams to speak on the team's experience over the summer and we got feedback on how the squad has come together.
"At the beginning it started off a bit rocky, gradually as we spent more time together we became more of a unit, more of a family. As you can see on the court we play together and for each other. It's really good because this leads to winning."
Now coming into Canada Games which starts this week in Quebec, the team has every intention of continuing with first place finishes. Although there will be a huge drop off in terms of competition from AAU to Canada Games, the provincial program is looking to come hard at every team and not underestimate other provinces.
Quebec could come with some heat.
"We have to think of the other provinces as our enemies for the duration of the tournament. We're coming in with a lot of energy as we usually do. When we have a lot of energy as a team its a fun sight to watch," expressed lead guard Calvin Epistola.
Plain and simple Team Ontario will torch most of their opponents at Canada Games with the exception of Quebec, British Columbia and possibly Manitoba based on their recent success at nationals.