Tyler Ennis Highlights Canadians in ESPN National High School Invitational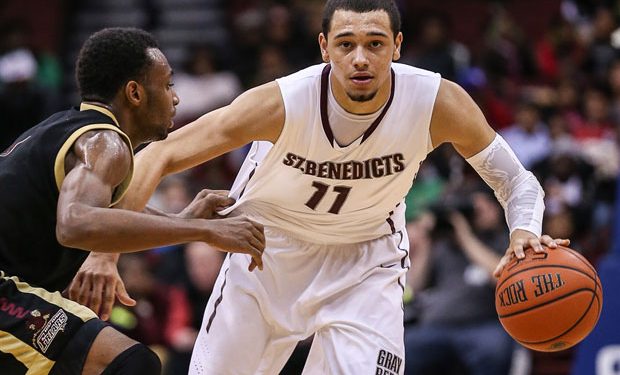 Andrew Wiggins just wrapped up his McDonald's All-American experience last night. However, there are several other Canadians participating on a big stage, starting today. ESPN brings a collection of top programs across America to compete for the NHSI title.
A total of six Canadians will take the floor in the ESPN Rise National High School Invitational, highlighted by Syracuse commit Tyler Ennis out of Brampton, Ontario. Ennis is the starting point guard for St Benedict's, leading the Gray Bees with 20.8 points, 6.1 assists and 5.1 rebounds per game. Old Dominion commit Denzell Taylor, also from Brampton goes to work on the glass, leading St Benedicts with over nine rebounds per game.
Look out for Munis Tutu out of Windsor, Ontario who could surprise some people as he has done before. Only a sophomore, Tutu came off the bench for La Lumiere and was key to the Lakers 46-35 victory over nationally ranked Huntington Prep.
Ennis is the top Canadian point guard in his class, while Tutu holds his weight in the class of 2015.
The featured game for Canadians is St Benedicts VS La Lumiere, tipping off at 2PM ET on ESPNU.
 Canadians at ESPN NHSI
Tyler Ennis
Denzell Taylor
Munis Tutu
Schedule
Quarterfinals: Thursday, April 4
Noon ET (ESPNU & WatchESPN): No. 3 Prime Prep (Texas) vs. No. 6 Blanche Ely (Fla.)
2 p.m. ET (ESPNU & WatchESPN): No. 4 St. Benedict's Prep (N.J.) vs. No. 5 La Lumiere (Ind.)
4 p.m. ET (ESPNU & WatchESPN): No. 2 Montverde (Fla.) vs. No. 7 Oak Hill Academy (Va.)
6 p.m. ET (ESPNU & WatchESPN): No. 1 Findlay Prep (Nev.) vs. No. 8 Montrose Christian (Md.)
Semifinals: Friday, April 5
2:30 p.m. ET (ESPN2 & WatchESPN): Prime Prep/Blanche Ely winner vs. Montverde/Oak Hill winner
4:30 p.m. ET (ESPN2 & WatchESPN): St. Benedict's/La Lumiere winner vs. Findlay/Montrose winner
Championship Game: Saturday, April 6
1 p.m. ET (ESPN & WatchESPN): Semifinal 1 winner vs. semifinal 2 winner