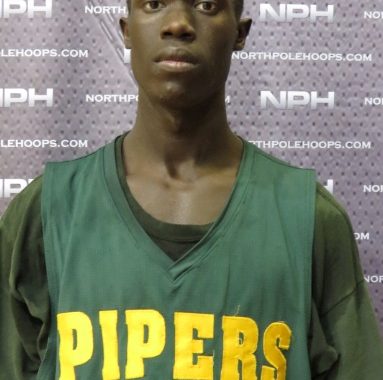 Kuet Kuet Put in the Work, Now Seeing Results
Every young kid wants to make it to the next level, whether it's the CCAA, CIS or the NCAA. While it's great to want to make it, doing it is another thing. Some kids expect to have their opportunities given to them.  Others go out and create it for themselves.
Kuet Kuet is one of those kids that wanted it. He went out and made his dream a reality.
Next season he'll be lacing up for the Winnipeg Wesmen as they look improve their third place finish at the Canada West Championships this past season. Kuet completed his senior year averaging 19 points, five rebounds and four assists for the John Taylor Pipers.
Kuet's ambition is matched by his work ethic, "my daily routine is getting up early and getting to the gym to put in work. School is an hour bus ride for me, but I know someone else is going to be putting in work if I sleep in."
After his morning tune up, he attends his classes up until lunch time, then heading back to the lab with some friends to work. If the gym is busy, he'll take a trip to the library for some extra studying. At the end of classes, if the John Taylor varsity basketball team doesn't have practice scheduled, home is the destination–another hour bus ride to finish his homework and get back in the gym for evening reps.
Not only is Kuet determined to improve his game, it is also evident that he takes pride in maintaining a high academic average and achieving success off the basketball court. He will be taking science courses at the University of Winnipeg and ultimately studying in the field of medicine.
Kuet began his basketball career playing at St. Johns, a smaller school with a rich basketball tradition but recently has seen its struggles. He was the go-to-guy and was asked to take on a heavy offensive load, to say the least.
He decided that moving schools would be the best decision for him to further his development, transferring to John Taylor, a yearly contender in the province of Manitoba.
"I transferred to John Taylor to look for an opportunity to get better and excel because I wanted to compete at the highest level and become the best player I could possibly be," Kuet told NPH.
"It was hard adjusting to the new scenario because I came from being the man to just swinging the ball to the best shooter. Adjusting to a high end program was tough; a new school, new friends and a new environment. I got used to it after a while, but the sacrifice was huge."
Kuet decided on joining the Winnipeg Wesmen over UBC-O, Mount Royal, Fraser Valley, Red River and CMU.
"I chose U of W because it's a good program and I have the support from the community, I'm starting to realize more and more the value of family, he said.
"It would have been great to leave [the province] but I have a situation at home that I just can't leave; I gotta make things better for those around me and for myself at the same time."
Kuet knows that the journey at the next level is going to be an even tougher one but says he's ready for the challenge. He spoke about the veteran guys Andrew Cunningham, Travis Krahn, and Jordan Clennon who he plans to learn from as much as he can as well as the younger guys Jordan Kelly and Kristjan Lamont who will help him adjust to the next level.
"I'm expecting every day to be something new for me and to learn from the vets, they're welcoming and I'm just excited to put in work."
All high school student-athletes who want to make it should take note of what Kuet Kuet has done. Once a practice player on the provincial team, now enters the CIS following countless hours of commitment.
If you put in the work, you will see the results.