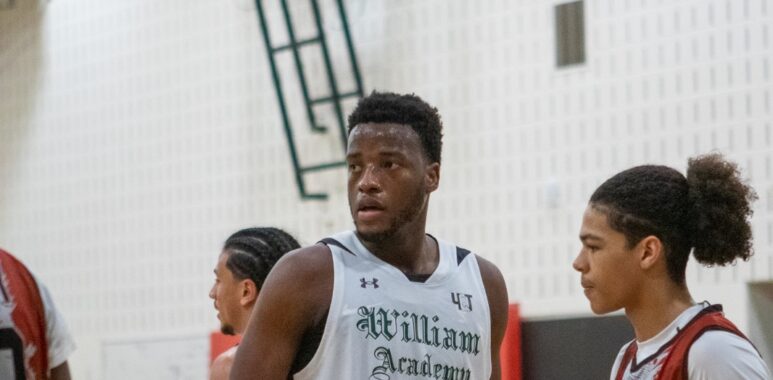 William Academy features multiple high-upside prospects in NPH Debut
Coming out of Colborne, Ontario, William Academy made an immediate impact in their NPH debut last weekend.
How immediate are we talking here? We're talking about a 41 point bomb dropped by their 6'8 2024 F Emmanuel Owonibi in just their second game. Followed up with an array of 3 point bombs from their 6'4 2024 wing Deng Makeer in the next game. All with steady contributions from 6'6 F Declan Andrade & 6'3 PG Landon Wright.

This squad's proven to have a great core of prospects who are already being looked at by USPORT programs including Laval & St. Mary's University. Here's a quick evaluation on each of those four prospects who we believe will have a spot at the next level.
2024 6'8 F Emmanuel Owonibi, 24.7ppg
If it wasn't for his injury in their third game of the session, Emmanuel's ppg average would be somewhere closer to the 30ppg mark. This strong & mobile forward dominated in the paint all session long getting virtually whatever he wanted. He showed some different dimensions to his game too, is a pretty good playmaker. Can operate in the post both as a scorer and facilitator, couple times he collected the defensive rebound and hit an outlet pass on the money.
First 40 point game of the @NPHShowcase season by 2024 6'9 Emmanuel Owonibi of William Academy. Strong & mobile Forward. Keeping my 👀 on him pic.twitter.com/akER0OMS2w

— Joe Moussa (@Joe_NPH) October 29, 2023
2024 6'4 G Deng Makeer, 18.3ppg
Was extremely impressed with this wirey, athletic wing Deng Makeer. Was automatic on spot up threes and showed a strong ability to finish at the rim from different angles. No wasted movements or dribbles type of guy. High degree of difficulty shotmaking ability. Checks off all the boxes of a next level prospect. To me, he's got one of the highest upsides of anyone playing in this league.
Another standout from William Academy was 2024 wing Deng Makeer. Caught fire from three in the second half and had some nice finishes at the rim. pic.twitter.com/mCrSHWaiQt

— Joe Moussa (@Joe_NPH) October 29, 2023
2024 6'3 PG Landon Wright, 9.3ppg
This skilled and crafty guard did a get job of steering the ship for his team. Set up the table for his teammates and scored when needed. Shoots it really well, particularly off the dribble. One/two dribble pullup is money. With so many offensive weapons on this team, Landon was still able to make his impact felt without forcing.
Nice pullup from 2024 PG Landon Wright. William Academy's definitely been a favourite of mine these first two days @NPHShowcase pic.twitter.com/BYkeyjsSVq

— Joe Moussa (@Joe_NPH) October 29, 2023
2024 6'6 F Declan Andrade, 10.3ppg
Declan seems to embrace his role as the emotional leader of this team. A "get things done" type of guy. Defends, scores, knocks down shots, and was vocal. Good size too at 6'6. Expecting some big games from him with Emmanuel & Deng seeing a lot of the defensive attention.
Coaches at all levels from both sides of the border should be looking at William Academy for their 2024 Canadian Recruitment.