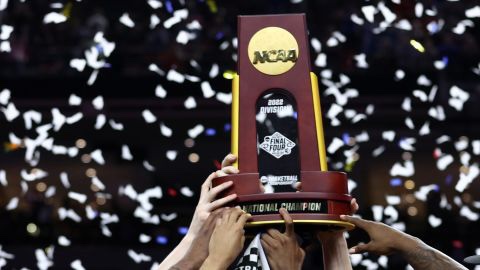 24 NCAA Division I Canadian Men will be going dancing this March.
Canadian basketball is on the rise, and there's no better evidence of this than the number of Canadian players participating in NCAA March Madness this season. With 24 players hailing from north of the border, it's clear that basketball is becoming a major sport in Canada.
The sheer talent of these Canadian players is also impressive. Names like Zach Edey of Purdue, Marcus Carr of Texas, and Xaivian Lee of Princeton are just a few of the standout players who are making a name for themselves in the college basketball scene.
Edey, who stands at an impressive 7'4″, has been a full blown unit on the court. His size and skill have helped lead the Purdue Boilermakers to a successful season thus far, and he's quickly becoming a fan favorite. Carr, on the other hand, has been a standout guard for the Texas Longhorns, averaging over 15 points per game and showing off his impressive ball-handling and shooting abilities. Lee, a freshman for the Princeton Tigers, has also shown immense potential, despite his young age.
But these three players are just the tip of the iceberg when it comes to the talent coming out of Canada. With players like Andrew Nembhard of the Indiana Pacers, Shai Gilgeous-Alexander of the Oklahoma City Thunder, and RJ Barrett of the New York Knicks already making waves in the professional basketball world, it's clear that Canadian basketball is only going to continue to grow.
One of the reasons for this growth is the increased investment in basketball exposure in Canada in recent years. Organizations like North Pole Hoops and the CEBL have been working to increase participation in the sport at all levels, from youth programs to professional leagues. This investment is paying off, as more and more talented players are emerging from Canada each year.
The future of Canadian basketball looks incredibly bright, and it's exciting to see so many young players making a name for themselves in the NCAA. With players like Edey, Carr, and Sangha leading the way, there's no doubt that Canadian basketball is becoming a factory for breeding future professional ball players.
Players:
Zach Edey

School: Purdue
Hometown: Toronto

Olivier-Maxence Prosper

School: Marquette
Hometown: Montreal, QC
Marcus Carr

School: Texas
Hometown: Toronto, ON
Luke Hunger

School: Northwestern
Montreal, QC
Hometown: Toronto, ON
Charles Bediiako

School: Alabama
Hometown: Brampton, ON
Enoch Boakye

School: Arizona State
Hometown: Brampton, ON
Emanuel Miller

School: Texas Christian
Hometown: Scarborough, ON
Ryan Nembhard

School: Creighton Blue Jays
Hometown: Aurora, Ontario
Ryan Young

School: Duke Blue Devils
Hometown: Montreal, QC
Hometown: Aurora, Ontario
Josiah Davis

School: West Virginia
Hometown: Kitchener, Ontario
Ose Okojie

School: Howard
Hometown: Brampton
Hometown: Kitchener, Ontario
Malcolm Bailey

School: Colgate
Hometown: Stratford, Ontario
Sam Thomson

School: Colgate
Hometown: Kitchener, Ontario
Okay Djamgouz

School: Drake
Hometown: Toronto, Canada
Sebastien Lamaute

School: Fairleigh Dickinson
Hometown: Saint-Bruno-de-Montarville, Quebec, Canada

Pier-Olivier Racine

School: Fairleigh Dickinson
Hometown: Gatineau, QC
Jasman Sangha

School: Texas A&M Corpus Christie
Hometown: Brampton, Ontario
Xaivian Lee

School: Princeton
Hometown: Toronto, Ontario
Javonte Brown

School: Texas A&M
Hometown: Toronto, Ontario
Patrick Emilien

School: Maryland
Hometown: Toronto, Ontario
Caelum Swanton-Rodger

School: Maryland
Calgary, Alberta
TJ Hurley

School: Vermont
Hometown: Pelham, Ontario
Sam Alamutu

School: Vermont
Hometown: Ajax, Ontario
Scott Morozov

School: Providence
Hometown: Toronto, Canada