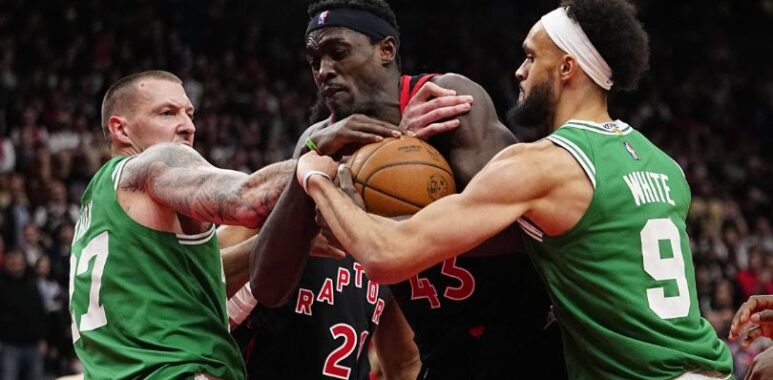 Dino Might – The Raptors claw up the rankings, welcome an old friend and open new possibilities
The High 5 – Week in Review – Week 24
The High 5 is where I review the last week of Toronto Raptors basketball including how the team did, who were the impact players as well as some news and notes from around the league.
The Thumb – How was the week?
For sports fans, especially those in Toronto, this is the best time of year.
The Maple Leafs have one of the best players in the league, Blue Jays baseball is just around the corner, March Madness is nearing its crescendo, the Raptors are embedded in a fierce playoff race, team Canada has finally made the World Cup, heck, its even Wrestlemania season.
However, the story that will carry the most weight in the city is the return of the prodigal son, Kyle Lowry. Without hyperbole, Lowry may be the most influential player that suited up for Toronto in the last decade. He took a middling franchise to heights never seen before. He led the team into relevance and laid the foundation of culture that will resonate for generations. Lowry is an icon and on Sunday, Toronto showed their appreciation by proclaiming April 3, 2022, as officially "Kyle Lowry Day" and by giving him a hero's welcome at Scotiabank arena.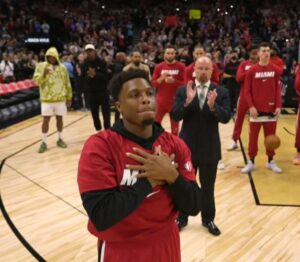 Though they lost the game against Miami, Toronto picked up a lot of ground with wins against Boston, Minnesota and Orlando. They have turned their quiet rumblings into a loud clatter, and they are not done yet. It would be absolutely incredible if they somehow gained home court advantage for the playoffs. Stranger things have happened, especially in a season like this.
Week Record (3 – 1)                                       Season Record (45 – 33)
Boston Celtics v Toronto Raptors                              W           115 – 112 OT
Boston turned some heads when they claimed the top spot in the East after a remarkable string of wins. The Raptors caught a break when Boston decided to sit a good chunk of their starting core. Toronto also had Trent Jr. back, but they were chasing the Celtics after the 1st. Both teams were getting under each others' nerves and calling for fouls on every possession. This was a tight game with an even tighter whistle. Siakam was a superstar but credit to the Celtics, they were outstanding. This was a war that needed extra time.
Minnesota Timberwolves v Toronto Raptors       W           125 – 102
It was pride night in the 6 and the Raptors have been giving their fans a lot to be proud about. They were looking to keep the good times going when the Timberwolves visited on Wednesday. The Wolves came correct and took it to the unsuspecting Raptors. They blocked enough shots to give the Raptors pause, but Toronto went on a run to close the 1st half. Toronto tore the game open in the 3rd off Pascal's playmaking and Trent's shooting. The Raptors length and tenacity was too much, they ran the Wolves out of the gym.
Toronto Raptors v Orlando Magic                            W           102 – 89
Toronto has fallen into the trap of playing poorly against lesser opponents, so they were wary of a Magic team with nothing to lose. The Raps rolled out a tight defensive front that flustered Orlando into turnovers. Toronto sputtered a bit in offensive sets allowing Orlando to keep it close, but they asserted their dominance by half. They balanced their attack with 6 players scoring in double figures. The Magic stayed just close enough to keep Toronto's attention but, in the end, it was a textbook win.
Miami Heat v Toronto Raptors                                   L              114 – 109
The Lowry circus dominated the lead up to this one with nothing but positive feels throughout the Scotiabank arena. The Heat were short handed, even missing their coach, but Toronto showed them no sympathy. VanVleet pushed Toronto to an early lead with a burst of offense. Miami kept chipping away and by the end of the 3rd they were finally able to wrestle the lead from the Raptors. The intensity raised to another level in the 4th as neither team would give an inch. Miami got a huge boost from Strus and Oladipo off the bench.
The Index – The Leader – Player of the Week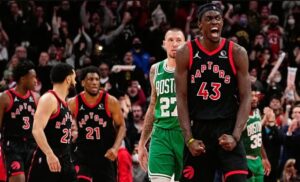 Pascal Siakam
After months of toiling in obscurity, Siakam is finally getting his due. For most of this season he has been questioned by the pundits. Is he actually an All Star? Is he actually All NBA? Those questions are being answered as Pascal has proven again and again that his place among the elite is not an anomaly but an expectation. His game has evolved beyond the spin cycle he built his reputation on. His numbers have steadily risen throughout the season as well as his presence and imprint on each game. He exploded for 40 against a storied rival, set a new career high in dimes against a team focused to keep him off the scoreboard. Picked up a casual double double in a cakewalk against the Magic and went off for a big night against the Heat. Pascal is the leader of the pack, his evolution into an impact player is enough to make your head spin.
| | | | | | | | | |
| --- | --- | --- | --- | --- | --- | --- | --- | --- |
|   | Points | Rebounds | Assists | Steals | Blocks | FG | 3PT | FT |
| v BOS | 40 | 13 | 1 | 3 | 2 | 17/29 | 0/4 | 6/8 |
| v MIN | 12 | 10 | 13 | 1 | 1 | 5/15 | 0/2 | 2/2 |
| v ORL | 16 | 11 | 3 | 0 | 0 | 7/18 | 0/3 | 2/3 |
| v MIA | 29 | 9 | 5 | 2 | 0 | 11/18 | 1/3 | 6/7 |
| | | | | | | | | |
| Weekly Avg | 24.25 | 10.75 | 5.5 | 1.5 | 0.75 | 40/80 | 1/12 | 16/20 |
| 4 Games |   |   |   |   |   | 50% | 8% | 80% |
| Season Avg | 22.3 | 8.4 | 5.2 | 1.2 | 0.6 | 49% | 36% | 75% |
| | | | | | | | | |
Honourable Mention: S. Barnes, F. VanVleet
The Middle – The Enemy – Best Opposing Player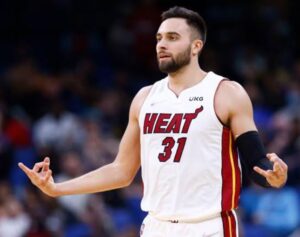 Max Strus – Miami Heat
Max Straus was a man on a mission. When he saw that primary options Jimmy Butler and PJ Tucker were going to sit, he knew he had the green light to put up as many shots as he wanted, and he was ready. Strus was hyper efficient from the field, connecting on 7 of his 9 attempts from deep. He was the ultimate release valve whenever Toronto closed in on Miami's featured players. His big second half was a key ingredient to the Heat's win.
| | | | | | | | | |
| --- | --- | --- | --- | --- | --- | --- | --- | --- |
|   | Points | Rebounds | Assists | Steals | Blocks | FG | 3PT | FT |
| v TOR | 23 | 4 | 1 | 1 | 0 | 7/10 | 7/9 | 2/2 |
Honourable Mention: M. Smart (BOS), A. Edwards (MIN), K. Lowry (MIA), T. Herro (MIA)
The Ring – The X Factor – Standout Performance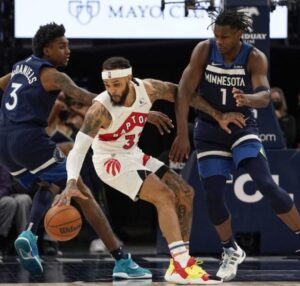 Gary Trent Jr. v Minnesota Timberwolves
It has been a while since Gary has found himself on the High 5. A post All-Star shooting slump and toe injury has hampered his production, but he regained some of his form against the Timberwolves. While everyone was marvelling over Siakam's ability to play distributer, Trent Jr. was quietly sticking daggers from beyond the arc. He was sneaky and efficient, whenever a defender turned an eye, he would relocate for an open look. In a game where the Raptors attacked collectively, Gary was the tip of the spear. He was a gunslinger, and the Wolves gave him easy targets.
| | | | | | | | | |
| --- | --- | --- | --- | --- | --- | --- | --- | --- |
|   | Points | Rebounds | Assists | Steals | Blocks | FG | 3PT | FT |
| v MIN | 29 | 2 | 0 | 0 | 0 | 9/13 | 6/8 | 6/8 |
Honourable Mention: P. Siakam v BOS, P. Siakam v MIN, F. VanVleet v MIA, P. Siakam v MIA
The Pinky – The Unsung Hero – Key Contributor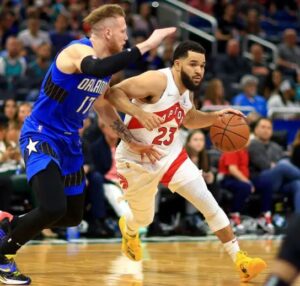 Fred VanVleet
Fred has not been himself for a while. His creaky knees have lost a step and aside from an occasional burst of magnificence, Fred has not been as offensively impactful. However, he remains one of the most cerebral players in the league with a basketball IQ on par with the galaxy brains of the NBA. Fred understands how he can continue to be effective despite his limitations and it has shown up on the defensive end. Fred's hands were lightning quick, he would swipe, slap, scratch, poke or deflect any ball that came within his radius. He was the step that all other players stubbed their toe on, the doorstop that denied entry. Fred was so disruptive and came away with so many steals (15), he would have made Gary Payton proud. He capped off a strong week with a big scoring performance in a loss against the Heat.
Honourable Mention: OG. Anunoby, S. Barnes, P. Achiuwa
News and Notes
Be Proud About It – Shoutout to the Raptors and staff at Scotiabank Arena for their efforts in celebrating Pride Night. It was an inclusive and welcoming atmosphere.

Photo Courtesy: @Raptors/Twitter

New Legacy – Fred VanVleet was the first to take down one of Kyle Lowry's franchise records when he became the new leader in 3 pointers made for a season. Ironic that it came against his old mentor, but neither player would have it any other way.
Thanks Bro – Fred VanVleet has been named a finalist for the Teammate of the Year award. He is 1 of 12 players to be named so being a winner is not a lock, however I am sure he would say it was enough just to be nominated.
It was Written – It cannot be understated how magical the moment was when the Toronto faithful acknowledged the Greatest Raptor of All Time. In the leadup to the big game, Kyle Lowry took to the Players Tribune to draft a few heartfelt words to capture his feelings. It was sincere and touching. He has created a bond with the city that will never be undone.

Photo Courtesy: @Playerstribune/Twitter

Love Reciprocated – Early Sunday afternoon, social media started to heat up with images of a Kyle Lowry statue around the Scotiabank Arena. Some may question the look of the face, but they certainly got the back side right.

Photo Courtesy: @TSN_Sports/Twitter
Around the League
Money Back – The polarizing Ben Simmons is trying to recoup some of his lost salary after he decided to sit out for the majority of the season, refusing to play with the Philadelphia 76ers. The grievance will go to arbitration for deliberation, but it would not surprise if he was at least partially successful.
Jerebk-no – Former NBA player Jonas Jerebko just burned a bridge. By accepting a contract with a Russian basketball team, his home country, Sweden, banned him from playing for their national team. He was a productive forward for Sweden, but I am sure the team is more that comfortable with the decision.
Chris Paul is for the Children – Chris Paul has joined President Joe Biden's advisory board with a focus on Black Colleges and Universities.
New Shine – The NBA revealed the new design for the Kareem Abdul Jabbar Social Justice Award. It was presented to last years winner, Carmelo Anthony, earlier this week.

Photo Courtesy: NBA.com
Up Next
Toronto will enjoy a comfortable home stretch before one last trip on the road to close out their season. On Tuesday they will host the Hawks, a team marred in their own playoff battles. On Thursday, Philadelphia comes to town, a team that Toronto could face in the first round of the playoffs. On Friday, they host the hapless Rockets and on Sunday, the Raptors will play their last game against the Knicks in New York.