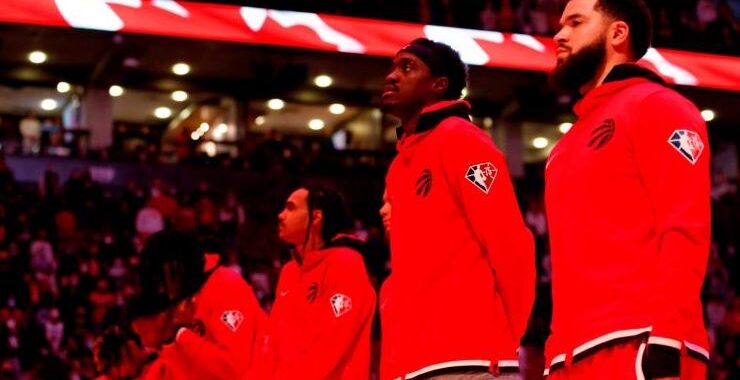 All Star Roundup – Toronto picks up a win to enter the much-needed break
The High 5 – Week in Review – Week 18
The High 5 is where I review the last week of Toronto Raptors basketball including how the team did, who were the impact players as well as some news and notes from around the league.
The Thumb – How was the week?
Toronto went 1 -1 for the week to wrap up their unofficial first half of the season (actually more like 2/3). They were completely caught off guard and embarrassed by the Pelicans in New Orleans. But they bounced back when they traveled to Minnesota and took a win off the Timberwolves. Aside from the loss, the Raptors have been playing well and entered the All-Star break on a high.
In Cleveland, All-Star weekend was upon us, and the stars were out. There were energetic musical performances led by DJ Khaled, who was not shy to remind people who the best was. As well as the usual collection of international media, fun interviews, and interactive festivities. But the basketball related events themselves were unfortunately lacking.
On Friday, the Celebrity and Rising Stars games were yawn inducing. The Saturday night events were a little better with some improvements to the Skills Challenge. It's still unclear what the rules were, or how the points were sorted, but it was visually stimulating, and seemed to generate the most fun and engagement. After all, who doesn't like a half court shot?
We also got to see Scottie Barnes run around with a big smile while Precious was being Precious. Fred VanVleet participated in the 3-point challenge, but he left his shot in Toronto and was eliminated early.
The pièce de resistance was to be the Slam Dunk competition but that was more burnt steak than filet mignon. It was so bad, Kareem Abdul-Jabbar walked out in the middle of it and the internet exploded with memes and screenshots of bored, tired, and exasperated people.
The game was what it always is. A glorified pick up run with only the last few minutes providing any real excitement. Steph Curry hit an incomprehensible number of 3 pointers to take home this years MVP.
With all that out of the way, Toronto still has a few days to rest, rehabilitate and reload for the final stretch of the season.
Week Record (1 -1)                         Season Record (32 – 25)
Toronto Raptors v New Orleans Pelicans                              L              120 – 90
For the second game in a row, the Raptors had to deal with an overwhelmingly imposing big man. Granted, Jonas Valanciunas isn't as skilled as Nikola Jokic, but he is just as wide and physical. His size gave the Pelicans a paint advantage which put the Raps in a hole. To make matters worse, Toronto's shooters were ice cold. The usual production from Barnes, Trent Jr., and Anunoby fell off a cliff. Without their contributions, Toronto had no way to keep up with the scoring pace set by the Pels. They waved the white flag early.
Toronto Raptors v Minnesota Timberwolves                      W           103 – 91
Toronto played their last game before the All-Star break against the improving Timberwolves. VanVleet sat out, which normally ignites a strong game from Trent Jr., and he did not disappoint. The Raptors got solid production from their bench, including newcomer Thaddeus Young. Young had a handful of polished drives and provided a strong body against yet another big man in Karl Anthony Towns. The teams were relatively even until the Raps blew the game open with a huge 4th quarter. Pascal was once again excellent, and Gary provided the late game theatrics for the win.
The Index – The Leader – Player of the Week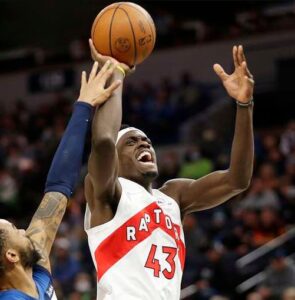 Pascal Siakam
With such a small sample size, there is not much to pull from for a Player of the Week, but Pascal was able to show some consistency with strong efforts in both games. In their loss, everyone put up sub par levels. However, in their win, Siakam played the point and nearly came away with a triple double. His numbers won't jump off the page but with everyone else's contributions in flux, he was somewhat reliable. Pascal also brought a lot of intangibles that didn't show up on the stat sheet, like his constant encouragement of his teammates despite the scoreboard and being a vocal leader on defense.
| | | | | | | | | |
| --- | --- | --- | --- | --- | --- | --- | --- | --- |
|   | Points | Rebounds | Assists | Steals | Blocks | FG | 3PT | FT |
| v NO | 18 | 5 | 1 | 0 | 1 | 7/19 | 0/2 | 4/5 |
| v MINN | 17 | 9 | 9 | 2 | 0 | 7/17 | 0/1 | 3/3 |
| | | | | | | | | |
| Weekly Avg | 17.5 | 7 | 5 | 1 | 0.5 | 14/36 | 0/3 | 7/8 |
| 2 Games |   |   |   |   |   | 39% | 0% | 88% |
| Season Avg | 21.9 | 8.7 | 5.2 | 1.3 | 0.7 | 50% | 35% | 74% |
| | | | | | | | | |
Honourable Mention: G. Trent Jr.
The Middle – The Enemy – Best Opposing Player

Slam Dunk Competition
The Slam Dunk competition is not what it used to be. To be fair, this shouldn't be only on the dunkers (or should I say, dunk attempters). The contest is sold as the main event, but the judging is subjective, participants are often young and in front of a massive audience of fans and peers and after decades of dunking, there is not much left that can impress the audience. There was a time when a through the legs dunk was absolutely mind blowing. Now, it has become so run of the mill, that even adding wrinkles to it may still only garner a score of 45. The event is hurting at best and cringeworthy at worst. Hopefully, the league rejigs the schedule to replace this event with another as its marquee (3-point competition would do nicely). New York's Obi Toppin took home the trophy, but he did not really win the contest, it was more like, he didn't lose it.
No, that was the rest of us.
Honourable Mention: J. Toscano -Anderson's Jersey/shoes, C. Anthony's Timberlands, J. Green's confidence
The Ring – The X Factor – Standout Performance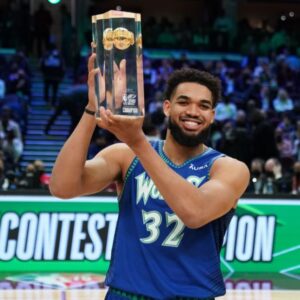 Karl Anthony Towns – Minnesota Timberwolves
All Star weekend put a twist on the High 5, as such, this weeks Standout Performer was the Big Kat. When it's all said and done, Anthony-Towns wants his name to be included with the best shooting big men of all time. That may raise a Spockian eyebrow for some, but he is speaking it into existence. In a loss against the Raptors, he led his team in points and boards with efficient shooting numbers. He carried that efficiency into the weekend where he shined on the brightest stage.
As the largest competitor in the 3-point contest, the Big Kat dwarfed all other shooters by at least a foot. He had a fluid motion on his shot with a silky-smooth stroke that splashed triples like raindrops. He beat a tough field and backed up his talk while earning some respect and admiration in the process. Somewhere, Dirk Nowitzki raised a glass.
 
Points
Rebounds
Assists
Steals
Blocks
FG
3PT
FT
v TOR
24
11
3
3
0
9/14
2/3
4/5
3 Point Results
Round 1

22

Round 2

29

*Out of a possible 40 points

*Finals included Clippers Luke Kannard, Hawks Trae Young
The Pinky – The Unsung Hero – Key Contributor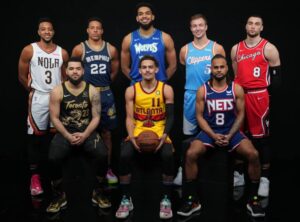 3 Point Competition
Continuing with the positive shooting vibes, this weeks Unsung Hero was the 3-point contest. This was easily the most entertaining event of the weekend. With the NBA shifting into a shooters league, and so much emphasis on analytics and accuracy it really deserves more focus. The field is bigger which means more competition and league representation, it's quick and easy and most importantly, if there is a poor competitor, fans don't have to wait, they will be gone within a minute.
Honourable Mention: S. Barnes smile, New Skills Competition Rules          
News and Notes
Raptor's contributions – The Raptors had their moments this weekend both good and bad.

Scottie Barnes missed a handful of baby floaters, and the internet did not let him forget it. His embarrassing gaffe stayed with him until he was rescued by his teammate.
Precious Achiuwa said hold my beer to Scottie, and Achiuwa'd all over the Rising Stars game. He was actually, really good and could have been considered the MVP, but he looked off a wide-open high percentage shooter and proceeded to air ball a crucial 3 pointer which eventually led to a loss. Expect to see both players show up on "Shaqtin' a Fool" this week.

Photo Courtesy: @Raptors/Twitter

Thanks for coming Fred VanVleet. Please rest those knees.

Photo Courtesy: @Raptors/Twitter

Shout out to Alex Antetokounmpo who got an invite to the party due to his last name, but still wore the Raptors 905 jersey proud.
Around the League
De-Chosen One – Chicago's DeMar DeRozan has set the league aflame with an unbelievable stretch of games. He is riding a 7-game streak where he scored over 35 points while shooting over 50% from the field. These are Chamberlain numbers. DeRozan has never played better.
A Shaq of Kind Words – In a weekend with few moments, Shaquille O'Neal may have given one of the most memorable ones after he gave a touching and heartfelt tribute speech just minutes before the All-Star game tipped off. It was authentic and raw. A humbling moment when Superman was human.
Pop Pop – Coach Popovich quietly passed the legendary Lenny Wilkens for all time regular season wins. He sits at 2nd and should pass Don Nelson to take the number 1 spot within a few games.
So Meta – NBA commissioner Adam Silver introduced the world to Coach Nat. He is a virtual reality coach, voiced by Shaquille O'Neal, that exists in the Metaverse. This resulted in furrowed brows and inquisitive looks from all corners of the league.

Photo Courtesy: thecomeback.com
Up Next
The Raptors will finally be back in action on Friday when they visit Charlotte for the first game of a back-to-back. On Saturday, it's onto Atlanta where the Hawks will no doubt be ready.