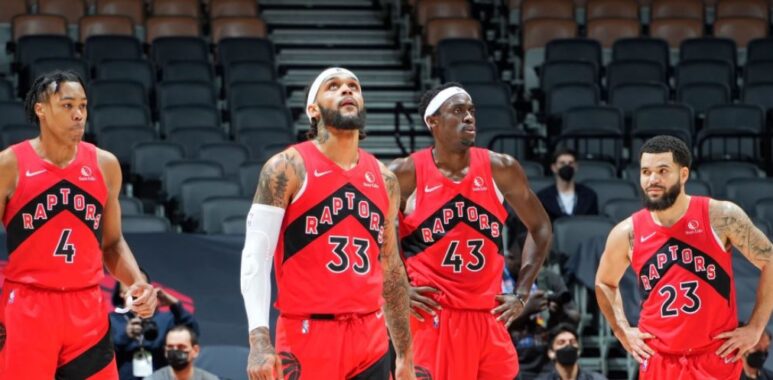 Apex Predators – The Raptors live up to their name by tearing through the NBA in a near perfect week
The High 5 – Week in Review – Week 17
The High 5 is where I review the last week of Toronto Raptors basketball including how the team did, who were the impact players as well as some news and notes from around the league.
The Thumb – How was the week?
The last few weeks has shown the league that the Raptors are not to be trifled with.
Toronto has used their hot streak to climb the ranks, leapfrogging teams on their way to the 6th seed. If not for an equally red-hot Boston Celtics, Toronto would have separated themselves from the third tier of the conference. Regardless, their outlook has shifted from competing for a spot in the play in tournament to competing for home court advantage. However, this is a jumbled East, teams are separated by a handful of games, meaning that the Raptors will still be gutting it out in the trenches for the foreseeable future.
They took the sting out of the Hornets, weathered the Thunder, and grounded the Rockets before running into a brick wall in Jokic and the Nuggets. Even in their loss against Denver, the Raps gave themselves a chance to win, they dropped that game by a single point.
Considering the teams improving health and a new addition in Thaddeus Young (so long, Dragic), there is hope that the Raptors can still get better. With the conference loading up in an arms race at the deadline, and teams preparing for their late season push, they will need to be.
Week Record (3 – 1)                       Season Record (31 – 24)
Toronto Raptors v Charlotte Hornets                     W           116 – 101
Although Pascal was not named an All Star, he certainly played like one. Spicy P helped the Raps break out to a 20-point lead early in the contest. The Hornets tightened their defense and chipped into the deficit. Their momentum nearly overtook the Raptors, but Toronto would not break. As the game wore on, Charlotte slowed while Toronto maintained their pace. This is a team used to playing heavy minutes. The Raps were never scared.
Toronto Raptors v Oklahoma City Thunder          W           117 – 98
Toronto overlooked the Thunder the last time these two teams met which cost them one of their most disappointing losses of the season. This time, the Raps were in OKC looking to return the favour. Pascal was blistering again, he scored 15 in the first 12. Quick starts are becoming his trademark. The Thunder were plucky, they kept the Raps in arms reach in the first half. But after the break Toronto systematically grew their lead and OKC could do nothing to stop them.
Toronto Raptors v Houston Rockets                        W           139 – 120
VanVleet sat out this one and his absence was felt early. It took the Raps a few minutes to get organized with Pascal running the point. However, their defense was locked in. Anytime they turned up the pressure the Rockets would buckle. Houston used their youthful exuberance to try to keep up with Toronto. Trent Jr. mean mugged his way to a new season high in points and Siakam cooked defenders like a culinary expert. With such a big lead, Coach Nurse let his bench play a little and he was rewarded with positive moments.
Denver Nuggets v Toronto Raptors                          L              110 – 109
The Raptors returned home to take on the Nuggets on Saturday. Both OG and Trent Jr. had off nights which hurt Toronto's attack. Siakam and VanVleet did their best to supplant the scoring, VanVleet was 5/6 from deep and Siakam scored the bulk of his points in the paint, even though he was inexplicitly kept off the stripe. Toronto battled hard but the game slipped away from them in the 3rd. They found a way to give themselves a fighting chance in the end but Nikola Jokic stuffed OG's put back attempt at the buzzer.
The Index – The Leader – Player of the Week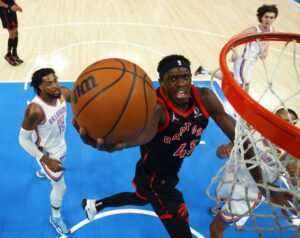 Pascal Siakam
Who else could it be? Pascal's rise to top 15 player in the league has been chronicled for weeks here at the High 5. Flirting with triple double's has become a regular occurrence for Spicy P. There are few in the league that possesses his combination of strength, size, length, and speed and even less that can match his skill. His midrange jumper is as smooth as it has ever been and his collection of jukes and drives left defenders swiping at shadows. It has gotten to the point where Siakam makes the amazing almost routine. Considering how often he goes to the net, only being rewarded with 10 free throws over 4 games is a crime. Despite this lack of respect, Siakam has been cooking with ghost peppers, his game should come with a warning sign.
| | | | | | | | | |
| --- | --- | --- | --- | --- | --- | --- | --- | --- |
|   | Points | Rebounds | Assists | Steals | Blocks | FG | 3PT | FT |
| v CHA | 20 | 11 | 8 | 0 | 1 | 10/16 | 2/4 | 2/5 |
| v OKC | 27 | 16 | 5 | 1 | 1 | 13/17 | 1/3 | 0/0 |
| V HOU | 30 | 3 | 4 | 0 | 0 | 13/19 | 1/4 | 3/5 |
| v DEN | 35 | 10 | 7 | 2 | 0 | 16/22 | 3/7 | 0/0 |
| | | | | | | | | |
| Weekly Avg | 28 | 10 | 6 | 0.75 | 0.50 | 52/74 | 7/18 | 5/10 |
| 4 Games |   |   |   |   |   | 70% | 39% | 50% |
| Season Avg | 22.1 | 8.7 | 5.2 | 1.3 | 0.8 | 50% | 36% | 73% |
| | | | | | | | | |
Honourable Mention: G. Trent Jr.
The Middle – The Enemy – Best Opposing Player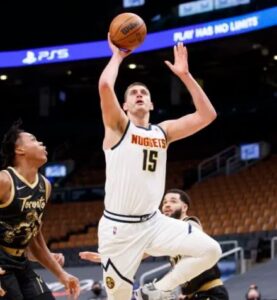 Nikola Jokic – Denver Nuggets
The Joker was all smiles after his outstanding game helped throw cold water on the red-hot Raps. He was the definition of a load on Saturday. He leaned on defenders with one arm and with the other he would coral rebounds, flick up put backs or hit cutters in their stride. Jokic seemed unbothered by Toronto's wave of lengthy clones. His 6'11, 285-pound frame hulked about in the paint like a loose Rhino. He was the catalyst for Denver's late game push and his block on OG to win the game was a thing of beauty. It's easy to see why he won an MVP trophy.
| | | | | | | | | |
| --- | --- | --- | --- | --- | --- | --- | --- | --- |
|   | Points | Rebounds | Assists | Steals | Blocks | FG | 3PT | FT |
| v TOR | 28 | 15 | 6 | 0 | 2 | 10/16 | 0/2 | 8/10 |
Honourable Mention: M. Bridges (CHA), K. Porter Jr. (HOU)  
The Ring – The X Factor – Standout Performance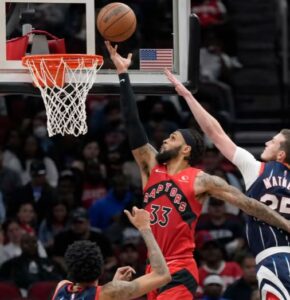 Gary Trent Jr. v Houston Rockets
When Toronto announced that VanVleet would miss the game, Gary sat back and rubbed his hands together in anticipation. He then went on to have his best shooting night of the season. He was a literal flamethrower as again and again he torched the nets with a fury of fireballs. He shot the ball with so much confidence that it didn't matter who Houston threw at him. All he needed was a quick step back, sidestep or hesi and it was over. This was Scary Gary, and he was not shooting to miss.
| | | | | | | | | |
| --- | --- | --- | --- | --- | --- | --- | --- | --- |
|   | Points | Rebounds | Assists | Steals | Blocks | FG | 3PT | FT |
| v HOU | 42 | 1 | 4 | 4 | 0 | 15/26 | 6/13 | 6/7 |
Honourable Mention: P. Siakam v CHA, P. Siakam v OKC, P. Siakam v HOU, P. Siakam v DEN
The Pinky – The Unsung Hero – Key Contributor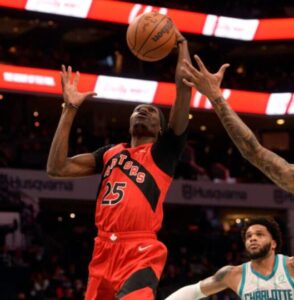 Chris Boucher
If we consider only numbers, then there is an argument to be made for VanVleet to pick up this accolade. Anunoby and Barnes both have cases as well, however this week's key contributor was Chris Boucher. Chris has really settled into his own as of late. He is a reliable bench player, something that Toronto sorely lacks, and he brings consistent effort and energy. He has learned to pick his spots and how to play stronger than his wiry frame would suggest. His effort may not always be reflected on the stat sheet, and he still struggles against larger opponents (see: Jokic) but he has become a valuable part of the rotation.
Honourable Mention: F. VanVleet, S. Barnes, OG Anunoby
News and Notes
Committed – Fred VanVleet has agreed to participate in the 3-point competition at All Star weekend. It is a deep field and there are new rules to the challenge, but VanVleet has as good a shot as any.

Photo Courtesy: nba.com

Scottie Skills – Along with playing in the Rising Stars game, Scottie Barnes will be a participant in the Skills competition. There is a unique format to this challenge, and he will be on a team with two other high prospect rookies, Detroit's Cade Cunningham and OKC's Josh Giddy.

Photo Courtesy: nba.co

Stronger Together – In an admirable show of support, Coach Nurse has decided to forgo his All-Star break and instead travel with VanVleet, Barnes and Achiuwa to Cleveland for the festivities.
Forever Young – The only move that the Raptors made this deadline was the trade for Thaddeus Young. He is a solid vet that will help Toronto's forward core develop. It has felt like Young's name has been bellowed about for years, and though he has aged, he is still a welcomed addition.
Around the League
Breaking the Law-son – Former leaguer Ty Lawson was arrested in Spain after he got physical with employees at an airport over facemasks. In the following days he was in another altercation at a restaurant where he threw a glass at a customer which then needed stitches. Finally, he had yet another physical altercation on the streets of Ibiza. If this is not a cry for help, I am not sure what is.
Oh, Randle – The frustrating saga of New York's Julius Randle continued this week as his temper blew again. However, instead of taking his ire out on the fans or media, he turned on his own assistant coach and got into an altercation mid game against the Lakers.
Frustrating times – Players are not the only ones with boiling frustration. Washington's assistant coach Mike Batiste was suspended for 2 games after he confronted a fan in the stands at a home game against the Heat.
Put the W in Women – ESPN had an all-woman crew for the recent Warriors/Jazz game. What makes this unique is that unlike other times when women only had on air roles, for this game, the on-air personalities were joined by 33 other women who managed all other production duties.
The Calm after the Storm – This was a whirlwind of a trade deadline with big and small deals made throughout the NBA. It would take another High 5 to break down all the changes. These next few weeks will dictate which teams made the right moves.
Up Next
The Raptors look to get back on track on Monday night when they travel to the Big Easy to take on the Pelicans. On Wednesday, they will be in Minnesota to challenge the Timberwolves. From there, it is a back-to-back with the Raps in Charlotte on Friday for a game against the Hornets, and Saturday in Atlanta to face the Hawks. These are all inferior opponents on paper, but Toronto will need to be sharp, focused and locked in to come out of this week unscathed.