The New Normal – Raptors build identity on defense and hustle
The High 5 – Week in Review – Week 3
The High 5 is where I review the last week of Toronto Raptors basketball including how the team did, who were the impact players as well as some news and notes from around the league.
The Thumb – How was the week?
There has never before been so much discussion about how many deflections the Raptors have forced. Gary Trent Jr. and Fred VanVleet have been league leaders with OG not far behind. On the whole, the team leads the association in that category. But why has such an innocuous stat received so much attention?
Well, it directly speaks to Toronto's ability to disrupt opponents' offensive rhythm and timing. It also means more loose balls and potential for steals, another category the Raptors lead the league in. Everyone loves a flashy cross over, a deep triple or a huge slam dunk, but there are few things as sweet as seeing someone lock up an opponent.
Toronto carried their win streak from last week into this one by reeling off two more before hitting a Cavalier speedbump. After a long stint on the injured list, Pascal Siakam rejoined the starters giving Coach Nurse an All-Star calibre weapon to add to his arsenal. His addition was certainly welcomed but it was not enough on Sunday.
Though the Raps finish the week with an even record, the optimism and excitement for this team continues to simmer at a high heat.
Week Record (2 – 2) Season Record (6 – 5)
Toronto Raptors v New York Knicks W 113 – 104
Toronto and New York clashed in the big apple on Monday. The Knicks have improved dramatically now that Randle and Barrett are legitimate threats. Barnes was out giving Svi Mykhailiuk the surprise start. Banton also got a chance to gobble some early minutes and Flynn finally got some burn. The Knicks zipped the ball around the court until they found cracks in Toronto's armor. Toronto battled back with, what else, defense. They chipped at the Knicks until they kicked the flood gates open. Anunoby, VanVleet, Trent Jr., and Mykhailiuk were a dangerous quartet.
Toronto Raptors v Washington Wizards W 109 – 100
After how badly they played in the season opener, Toronto must have circled this game on their calendar. The Raps look completely different from the last time these two teams met. The game was a stalemate until the trio of Boucher, Birch, and Banton generated energy with their work on the glass. Toronto showed excellent poise and patience which helped them keep the Wizards at bay. They played like a seasoned group. Don't look now, that's 5 straight.
Cleveland Cavaliers v Toronto Raptors L 102 – 101
The Raps were back in the 6 to host the Cavs on Friday. Cleveland featured the number 3 pick Evan Mobley, but the Raptors countered by re-introducing rookie Scottie Barnes to the starters group. Toronto continued to build on their identity of sharing the ball and forcing turnovers. The starters took turns scoring and passing, even among Cleveland's forest of big men. The Cavs muscled and mucked up the game until they wrestled a 1-point lead with seconds on the clock. It was a mad scramble at the end, the rook had a chance, but his tip rimmed out.
Brooklyn Nets v Toronto Raptors L 116 – 103
The return of Siakam grabbed headlines on Sunday before the Raptors hosted the Nets. Siakam didn't waste time, he nailed an early triple and collected a pair of boards within the first 5. Brooklyn is absolutely loaded with top tier talent. Kevin Durant was a savant with the basketball, he carried the Nets and attracted so many eyes that others got free. Toronto's phalanx of switchable defenders fought valiantly, but KD was a 1 man wrecking crew. Once Harden started cooking, it was over.
The Index – The Leader – Player of the Week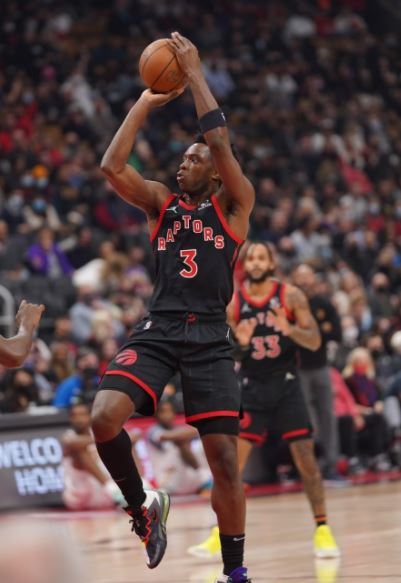 OG Anunoby
OG did his best Kawhi Leonard impression this week by playing like a true 2-way player. He was a beast against the Knicks, outplaying his All-star counterpart en route to a new career high and he shredded the Nets with a baby mid range J. He took fearless shots down the stretch of games and locked up opponents to an impressive degree. He may not look it, but OG is a low key shot maker. Anunoby tried on the shoes of a superstar and realized they fit quite nicely.
| | | | | | | | | |
| --- | --- | --- | --- | --- | --- | --- | --- | --- |
| | Points | Rebounds | Assists | Steals | Blocks | FG | 3PT | FT |
| v NYK | 36 | 6 | 2 | 1 | 0 | 13/27 | 4/12 | 6/7 |
| v WASH | 21 | 5 | 1 | 3 | 1 | 9/20 | 3/5 | 0/0 |
| v CLE | 23 | 6 | 5 | 1 | 1 | 10/21 | 3/7 | 0/0 |
| v BKN | 16 | 8 | 3 | 0 | 0 | 7/16 | 1/6 | 1/2 |
| | | | | | | | | |
| Weekly Avg | 23.75 | 6.25 | 2.75 | 1.23 | 0.5 | 39/84 | 11/30 | 7/9 |
| 4 Games | | | | | | 46% | 37% | 78% |
| Season Avg |  20.6 |  5.6 | 2.8  | 1.7  | 0.7  | 42%  | 36%  | 84%  |
| | | | | | | | | |
Honourable Mention: F. VanVleet, G. Trent Jr.
The Middle – The Enemy – Best Opposing Player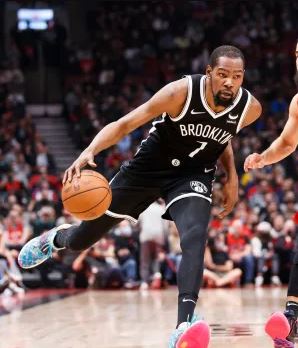 Kevin Durant – Brooklyn Nets
The slim reaper played his first game in Toronto since his final's appearance with Golden State. Many identify Durant as the perfect scorer. He can get anything he wants on the offensive end, and that is not hyperbole. Durant was the personification of silky smooth. His height and skills made his jumper unguardable as he put up buckets with ease. Toronto threw everything they could at him but sometimes a player is just that good.
| | | | | | | | | |
| --- | --- | --- | --- | --- | --- | --- | --- | --- |
| | Points | Rebounds | Assists | Steals | Blocks | FG | 3PT | FT |
| v TOR | 31 | 7 | 7 | 0 | 0 | 11/18 | 3/6 | 6/6 |
Honourable Mention: R. Barrett (NYC), B. Beal (WASH), J. Allen (CLE)
The Ring – The X Factor – Standout Performance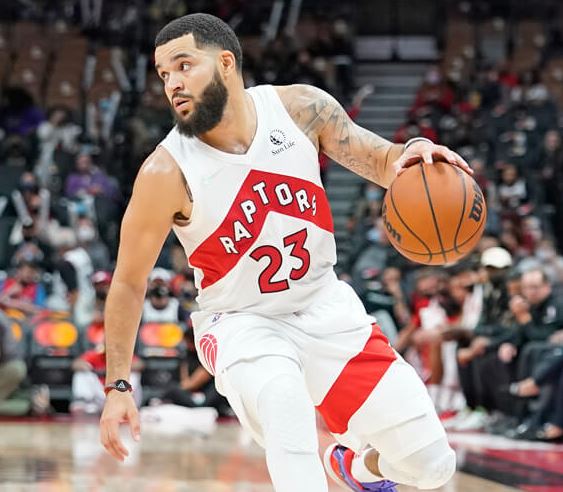 Fred VanVleet v Washington Wizards
VanVleet looked comfortable as the leader against the Wiz. His midrange game was in full effect. He only needed a fraction of space to stick the jumper and he did it often. While opponents were trying to keep track of Toronto's hyperactive forwards, Fred was slipping daggers into the weak points of the defense like a skilled assassin. He gave the team what they needed when they needed it. Give the man his flowers.
| | | | | | | | | |
| --- | --- | --- | --- | --- | --- | --- | --- | --- |
| | Points | Rebounds | Assists | Steals | Blocks | FG | 3PT | FT |
| v WASH | 33 | 3 | 6 | 1 | 1 | 13/22 | 3/6 | 4/4 |
Honourable Mention: O. Anunoby v NYC, O. Anunoby v CLE, F. VanVleet v BKN
The Pinky – The Unsung Hero – Key Contributor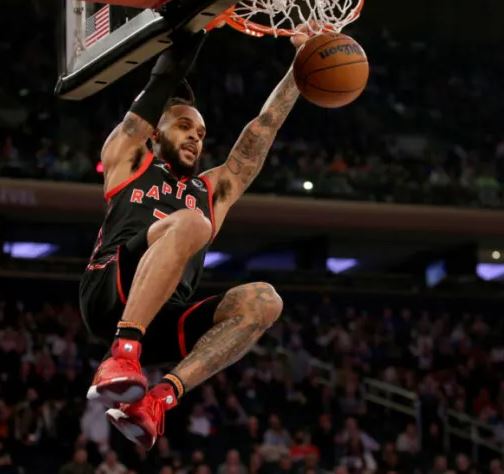 Gary Trent Jr.
Trent Jr. was once thought to be an equivalent player to the one he was traded for, Norman Powell. Norm took years to develop into a reliable spot up shooter, sometimes slasher and occasional defender. At 6 years younger, Trent Jr. has all that and already looks like a more versatile scorer who can create for himself. As for defense, whoa boy, the comparison isn't even close. Trent Jr. is currently leading the league in steals, this week alone he grabbed 13 in 4 games. His slight of hand would make any magician jealous.
Honourable Mention: F. VanVleet, S. Mykhailiuk
News and Notes
In the beginning – The Toronto/New York game on Monday was the 75th anniversary of the NBA's first ever game. That game took place in 1946 in front of just under 8000 fans in Toronto.
Hit the Dekk – Fond farewells to Sam Dekker who was waived by the team ahead of his contract guarantee date. The "American Sniper" fit well in his short time with the club, I expect him to be scooped up soon.
Stay Humble – To celebrate love and acceptance, a Humanity Art Instillation was put up outside of Scotiabank Arena for everyone to enjoy.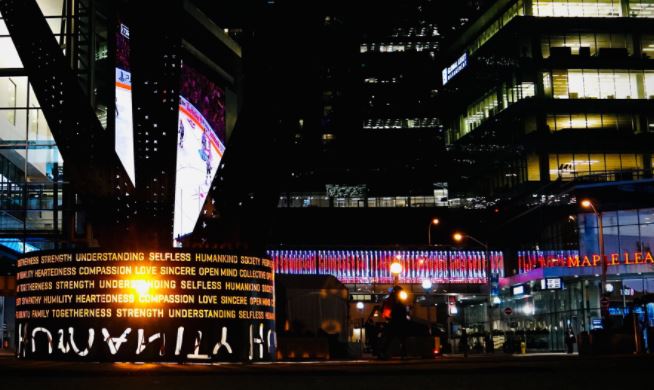 Around the League
Ball talk – A lot of players have suggested that it will be some time before they are acclimated to the new Wilson basketballs that were introduced this year. Could this be the reason why there is an early dip in scoring?
Point God Ascending – Phoenix guard Chris Paul has now claimed sole place of 3rd overall in the All-time assists list. He jumped Steve Nash and Mark Jackson but still has a bit to go to catch Jason Kidd at 2.
Where are they now? – One of the most random stories this week was the announcement that former NBA guard Deron Williams will take on former NFL running back Frank Gore in a celebrity boxing match. This will not be good.
Skeletons in the closet – Phoenix Suns owner Robert Sarver is under investigation over allegations of racist and misogynistic behaviour. The story is far too detailed to do justice in the High 5 but it does include Raptors assistant Earl Watson who was recently with the Phoenix organization.
Et tu, Portland – The Trailblazers are conducting an investigation, through the help of an outside firm, over the nature of the workplace environment at their practice facility. To mitigate concerns, the team released a statement on twitter re-affirming their dedication to having a safe and inclusive work environment.
Coach 'em up – Congrats to Philly coach Doc Rivers who earned his 1000th career win. He joins a list that only includes 9 others.
So so fresh – The NBA has released their City Edition jerseys to commemorate the NBA's 75th season. They look fantastic.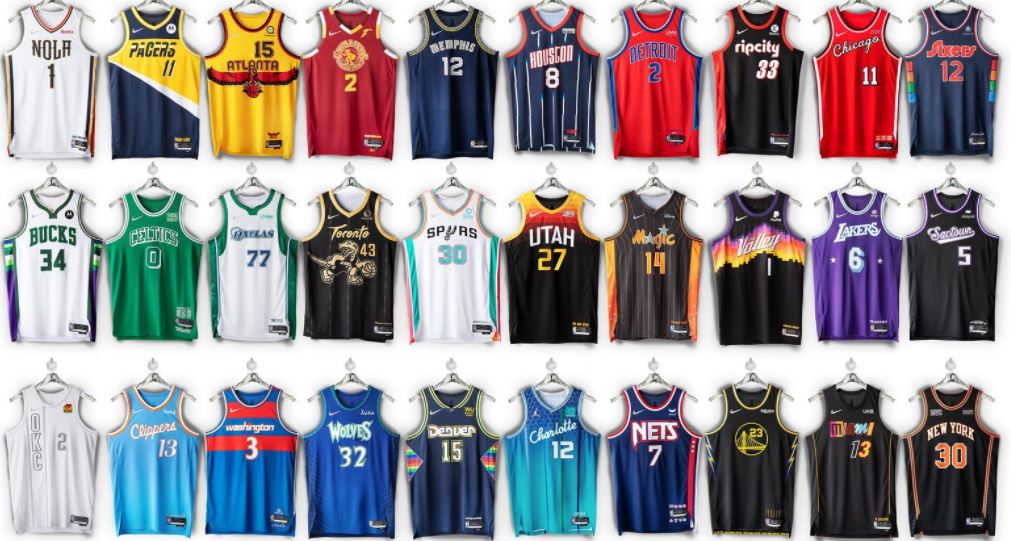 Up Next
Toronto gets a few days reprieve before picking up the action in Boston for a Wednesday game against the Celtics. They will then face Philly on a difficult back-to-back in the city of brotherly love. Their week ends with a Saturday night clash against the Pistons in the 6. The Pistons, coached by former Raptors bench boss Dwane Casey, have the number 1 pick Cade Cunningham and 3 Canadians, Kelly Olynyk, Cory Joseph, and Trey Lyles. Could we see 6 Canadians on the floor at once?