Tricks and Treats: The Raptors challenge expectations and get rewarded
The High 5 – Week in Review – Week 2
The High 5 is where I review the last week of Toronto Raptors basketball including how the team did, who were the impact players as well as some news and notes from around the league.
The Thumb – How was the week?
The Raptors entered the week with a losing record, but their defeats were deceiving. It wasn't that Toronto was getting beat, it was more like they were fumbling away victories. Simple mistakes and turnovers kept them sloppy and prevented them from building steam. Now that Coach Nurse had a good look at his team, he started tightening a few screws, and the wins are coming.
This week, players are clearly more comfortable now that roles are being defined. It has created a quiet confidence. Last year they would often enter a contest overmatched, this year they look ready to take on anyone. With a bench so deep, Toronto doesn't need to rely on one player to carry the load, if someone is off, another is ready to step up.
Barnes has already surpassed the most generous of expectations and Banton's production off the bench has made Masai Ujiri look like a genius once again. The scary thing is, this team will only get better with the continued evolutions of Anunoby and Trent Jr., and the addition of a galvanized Siakam.
Of course, there will be setbacks, but the Raps are coming together quick.
Week Record (3 – 1) Season Record (4 – 3)
Chicago Bulls v Toronto Raptors               L 111 – 108
It was all love pre-game as the Raptors welcomed DeMar and the raging Bulls. Raps got a bit of offense from Trent Jr., but it was an otherwise gritty affair. Halfcourt creativity was lacking which caused a lot of turnovers and jolted possessions. Toronto defended hard but they left more than a few gimmies on the table. The sloppiness continued in the second half where Chicago was gifted a 20-point lead within minutes of the 3rd. Toronto clawed back with shrewd substitutions, tough defense, and the sheer will power of VanVleet. Fred just missed a 3 at the buzzer to tie the game. Turnovers were their undoing.
Indiana Pacers v Toronto Raptors             W 118 – 100
Indiana and Toronto were both looking for their second win of the season on Wednesday. Toronto was sharper than last game, especially Anunoby and Barnes, they gave Indy fits in the front court. Their combination of strength and determination overwhelmed the Pacers. Coach Nurse opted to try Banton with the second unit instead of Dragic and the boost in energy was obvious. Toronto played suffocating defense and behind VanVleet, they slowly amped up their scoring until they opened a 20-point lead. Indy made a mini run, but Freddy had himself a night.
Orlando Magic v Toronto Raptors            W 110 – 109
An Orlando/Toronto matchup may not peak the interest of an NBA casual, but this game featured the No. 4 pick, Scottie Barnes for Toronto and the No. 5 pick, Jalen Suggs for the Magic. Suggs and Barnes are good friends off the court, but by game time it was all about winning. Toronto carried momentum by sharing the ball and playing stingy D, but the Magic kept pace. Barnes was beasting and Banton once again brought solid bench minutes. Barnes led the way in scoring, but VanVleet and Trent Jr. are starting to heat up. Credit to the Magic, they pushed Toronto to the final moments.
Toronto Raptors v Indiana Pacers             W 97 – 94
For the second time this week the Raptors took on the Pacers, this time in Indiana. Indy was without Malcolm Brogdon, but they welcomed Caris LeVert back from injury. LeVert and Sabonis helmed Indy's attack while the Raps scored by committee and defended so hard that Indiana's TV commentators marvelled at their length and defensive ability. Barnes continued to impress with two-way action and polished post moves. The Raptors were occasionally sloppy with the ball and the Pacers took those opportunities to stay on their heels, but they stayed the course until the clock read zeroes.
The Index – The Leader – Player of the Week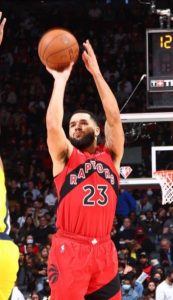 Fred VanVleet
Fred must have felt slighted by his omission in the last High 5 because this week, he was balling on another level. He set a new career high in assists in a loss against Chicago and then followed that by setting a new career high in rebounds in a win against Indiana. Although he still struggles with drives to the rim, Freddie is finding the range on his jumper. It surprises no one that he can rain threes from anywhere behind the arc, including the logo. Fred is learning where his teammates want the ball, whether it's an ally-oop for one of his bigs or finding shooters in the pocket. Expect Fred to start flirting with double-double's on the regular in the coming weeks.
| | | | | | | | | |
| --- | --- | --- | --- | --- | --- | --- | --- | --- |
|   | Points | Rebounds | Assists | Steals | Blocks | FG | 3PT | FT |
| v CHI | 15 | 6 | 17 | 2 | 0 | 6/13 | 1/4 | 2/2 |
| v IND | 26 | 10 | 6 | 1 | 0 | 10/18 | 6/7 | 0/0 |
| v ORL | 19 | 1 | 6 | 0 | 0 | 7/16 | 3/10 | 2/3 |
| v IND | 16 | 6 | 4 | 2 | 1 | 6/14 | 2/7 | 2/3 |
| | | | | | | | | |
| Weekly Avg | 19 | 5.75 | 8.25 | 1.25 | 0.25 | 29/61 | 12/28 | 6/8 |
| 4 Games |   |   |   |   |   | 48% | 43% | 75% |
| Season Avg | 17 | 5 | 7.3 | 1.6 | 0.4 | 42% | 33% | 71% |
| | | | | | | | | |
Honourable Mention: S. Barnes, OG Anunoby
The Middle – The Enemy – Best Opposing Player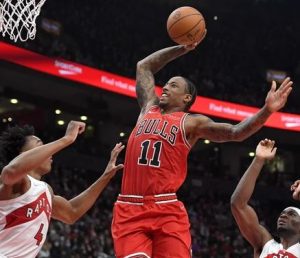 DeMar DeRozan – Chicago Bulls
One of Toronto's favourite adopted sons came back to the 6 and brought his game with him. DeRozan was masterful in Chicago's win where he led his team in points and assists. His mid range attack was expectedly deadly. He baited defenders into fouls or shook them with one of his endless number of moves. DeMar has rounded out his game to become a complete player. Lord help the Eastern Conference if he ever learns how to hit a consistent triple.
| | | | | | | | | |
| --- | --- | --- | --- | --- | --- | --- | --- | --- |
|   | Points | Rebounds | Assists | Steals | Blocks | FG | 3PT | FT |
| v TOR | 26 | 4 | 6 | 0 | 0 | 7/19 | 2/4 | 10/10 |
Honourable Mention: Mo Bamba (ORL), D. Sabonis (IND)
The Ring – The X Factor – Standout Performance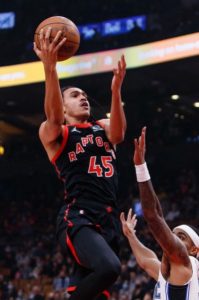 Delano Banton v Indiana Pacers (Game 1)
In a game between two evenly matched teams, Delano was the difference. His numbers may not raise eyebrows, but the eye test certainly impressed. While the Pacers and Raptors tried to figure each other out, Delano was out there causing chaos. In just 16 minutes Banton ran the floor, filled the lane, deflected shots, while adding 10 points including a pair of triples. Banton was sprinting while others walked, and his effort changed the complexion of the game. He has raised his stock and now has Coach Nurse considering him as a facilitating option off the bench.
| | | | | | | | | |
| --- | --- | --- | --- | --- | --- | --- | --- | --- |
|   | Points | Rebounds | Assists | Steals | Blocks | FG | 3PT | FT |
| v IND | 10 | 1 | 3 | 0 | 1 | 4/7 | 2/3 | 0/1 |
Honourable Mention: F. VanVleet v IND, G. Trent Jr v ORL, S. Barnes v IND
The Pinky – The Unsung Hero – Key Contributor
Scottie Barnes
If not for a couple of career nights from VanVleet, Barnes would have picked up his second Player of the Week honours. He continues to build on what will be his ROY resume with each passing game. Scottie has shown an acceleration in his development that has raised his overall ceiling. Scottie is a matchup nightmare. He can do damage with a soft touch, an underrated jumper, a growing bag of post moves or a monster 1-handed tomahawk. Barnes has the trust to bring up the ball and trigger the offense, his IQ and creativity adds a level of intricacy and unpredictability. The kid has been a revelation, we are looking at the future.
Honourable Mention: G. Trent Jr., S. Mykhailiuk                   
News and Notes
Paying Dividends – In last weeks High 5, I praised the addition of Earl Watson to Toronto's coaching ranks. It seems my sentiments were warranted. After a strong game against the Pacers, Banton credited Coach Watson for helping his development.
Global Game – A documentary will be made covering the launch of the Basketball African League (BAL). Founder of the league, Raptors President Masai Ujiri, will be an executive producer for the project.
Spicy Coaching – One of the early season joys is seeing how much Siakam supports his team. Despite being unable to play, Pascal shows just as much enthusiasm as anyone from the sidelines. He is always clapping, shouting, and celebrating his brothers.

Photo Courtesy: @Raptors/Twitter
Around the League
Stay ME7O – Carmelo Melo passed the great Moses Malone for number 9 in the All-time scoring list. This is an incredible feat considering Carmelo was just about out of the league a few seasons ago.
Scoring Dip – In an effort to keep the action flowing, officials are now calling games much looser and allowing more physicality. Without ticky-tack calls and foul baiting, the league is showing the lowest number of free throws per game ever. There are also dips in field goal and 3-point percentages. The numbers of every notable scorer has taken a hit.
Up Next
The Raptors continue their road trip on Monday with a visit to New York to challenge Canadian RJ Barrett and the improved Knicks. On Wednesday, they get their chance to avenge their opening day loss with a game against the Wizards in Washington. On Friday, they are back home to take on the exciting Cavs in what should be a winnable game. Sunday afternoon is the big one. That's where the Raptors will need to be at their best when they host the star-studded Brooklyn Nets.