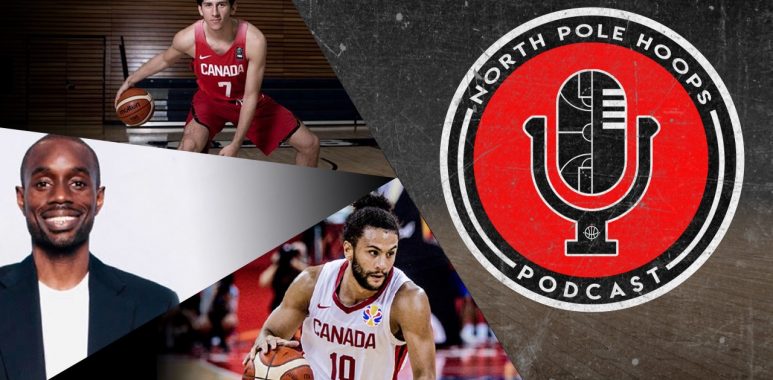 CEBL
NCAA
Podcast
Pro
USPORTS
THE NORTH POLE HOOPS PODCAST: DANILO DJURICIC, KAZA KAJAMI-KEANE, JERMAINE ANDERSON AND MORE
The North Pole Hoops podcast is back with episode 4! If you want to hear these episodes on the radio, make sure to listen to Sauga960 Am on Saturdays at 1 PM EST or Sundays at 3 PM EST.
This week on the show, host Jason Thom brought in another trio of exciting and timely guests from the basketball world.
For the individual interviews, check out the YouTube videos below!
For the full show, make sure to check out and subscribe to our podcast feed, links are at the bottom!
Sat on the NPH Hour:

Brampton's @3danil0d on graduating @HarvardMBB & joining @SantaClaraHoops @KazaKajamiKeane checks in from France to talk euro bball & how @CURavensBBall made him a pro

Jermaine Anderson GM @HM_HoneyBadgers of @CEBLeague puts his MBA to work in China pic.twitter.com/6z3OeGKvXF

— @Sauga960AM (@sauga960am) April 30, 2021
Thom is joined by Danilo Djuricic to talk about graduating from Harvard, transferring to Santa Clara, a year without basketball thanks to COVID-19, U-19 Gold with Canada Basketball, staring in the NPA and much more!
First I want to thank all the schools that have recruited me throughout this process. It is with excitement that I announce my commitment to @SantaClaraHoops @SantaClaraUniv to further my education and continue my college career! Looking forward to this new chapter of my story! pic.twitter.com/KokisaDXH8

— Danilo Djuricic (@3danil0d) March 5, 2021
Kaza Kajami-Keane
Former Carleton Ravens star Kaza Kajami-Keane joins Thom to talk about how transferring to Carleton from NCAA D1 changed his life, playing pro in Europe, the NCAA vs U Sports decision and things upcoming recruits should know and much more!
D1 or Bust? 🤔

PRO Baller @KazaKajamiKeane explains on Podcast with @_jasonthom 🎙

If you are a student-athlete Find the best fit for YOU 💯

Don't just get caught up in the levels & the hype@CURavensBBall @USPORTSca @USPORTS_Bball @OUAsport @CEBLeague @GRCELITE @CanBball pic.twitter.com/1tj7SJa1x5

— NorthPoleHoops (@NPHShowcase) May 1, 2021
Jermaine Anderson
Jermaine Anderson speaks with Thom on his non-profit Fifty for Free, the Canadian basketball point guard legacy, his work in the Chinese Basketball Association, leading the Hamilton Honey Badgers, the opportunities of the CEBL and much more!
And our international tour heads to the Far East where the OG Jermaine Anderson is developing players with the Shanghai Sharks while putting his MBA to work @fiftyforfree and spreading the word of @CEBLeague @HM_HoneyBadgers
Past, present, future of @CanBball @sauga960am 1pm EST pic.twitter.com/UevTGakDGT

— Jason Thom🇨🇦🏀 (@_jasonthom) May 1, 2021
For the full show in podcast form, find us on:
It's another exciting episode of the North Pole Hoops Podcast, make sure to check it all out on our YouTube page, Podcast platforms and also to listen in live next week on Sauga960 for the next episode!