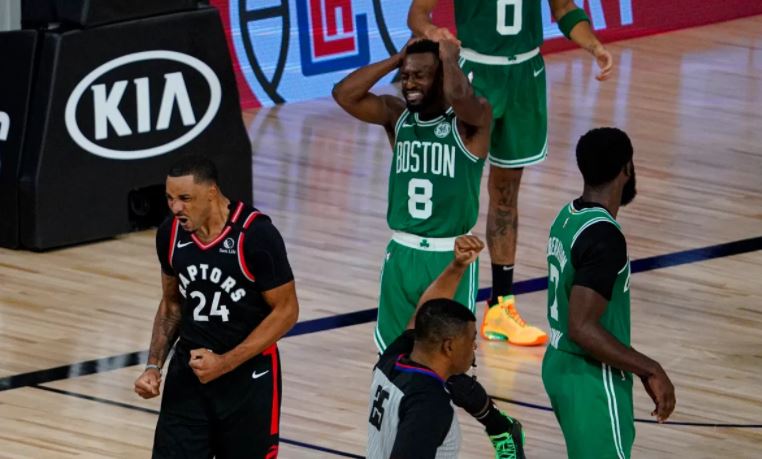 Bubble Raps – Still breathing. Toronto staves off elimination with a thrilling win in double OT
The High 5 – Round 2 – Game 6
The High 5 is where I review the last week of Toronto Raptors basketball including how the team did, who were the impact players as well as some news and notes from around the league.
The Thumb – How was the game?
After a sound beating in Game 5, it was gut check time for the Raptors. The microscope was once again on Siakam, Toronto hoped that their heir apparent could have a strong performance and quiet the doubters. If he could find his game, Siakam could really elevate this team into legit title contention. He may not be ready for that pressure yet, but luckily Coach Nurse still had a few tricks left up his sleeve. With elimination looming, the Raptors pulled out all the stops in hopes to fight another day.
Series record (3 – 3)
Toronto Raptors v Boston Celtics – W 125 – 122 OT
It was another frustrating start for the Raptors as their offense abandoned them once again. The Celtics were shooting well, but Toronto's defense kept Boston from running away with it.  Toronto had to grind for everything they got whereas shots seemed to flow freely through Boston's gunners. Their corner triples decimated Toronto's zone defense. Jaylen Brown was a problem early, but in the second half, VanVleet and an angry Gasol pushed Toronto back into the game. With hearts racing, both teams played anxious, impulsive basketball leading to a tie at the end of regulation. Nothing was solved in the extra frame prompting a second overtime. The game was a highlight reel of monster plays, an emotional rollercoaster of end to end action. Finally, with less than a minute, Toronto's proven playoff performers, Lowry and especially Powell, emerged to put on their heroic capes. This was NBA basketball at its finest. Fantastic win for Toronto.
The Index – The Leader – Player of the Game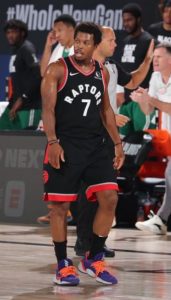 Kyle Lowry
Toronto's floor general, Kyle Lowry, would not go quietly into the night. He knew the importance of the game and was engaged on every trip down the floor, even taking one on the chin. He hunted his shots and took them without conscious. His rainbow 3's barely extended past the fingertips of his defenders. Kyle would not die, he kept chipping away, climbing each hurdle with zombie like persistence. Nothing easy for KLOE, this man has ice in his veins.
| | | | | | | | | |
| --- | --- | --- | --- | --- | --- | --- | --- | --- |
|   | Points | Rebounds | Assists | Steals | Blocks | FG | 3PT | FT |
| v Celtics | 33 | 8 | 6 | 2 | 1 | 12/20 | 6/10 | 3/4 |
| | | | | | | | | |
| Series Avg | 21.5 | 6.3 | 6.8 | 2.1 | 0.6 | 43/95 | 14/43 | 29/37 |
| 6 games | | | | | | 45% | 33% | 78% |
| Season Avg | 19.4 | 5.0 | 7.5 | 1.4 | 0.4 | 41.6% | 35.2% | 85.7% |
| | | | | | | | | |
Honourable Mention: N. Powell, F. VanVleet
The Middle – The Enemy – Best Opposing Player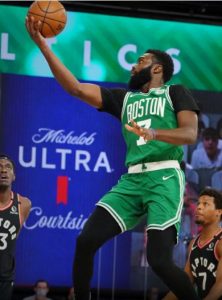 Jaylen Brown
Jaylen brought his bag of tricks to the game tonight with a sublime offensive performance. Much like Tatum, Brown plays with balance, poise, control and creativity. He had 21 by half and shot the ball at an impressive clip while doing herculean work on the glass. His jumper was wet, his drives were crafty, and his euro step was a trip. Jaylen was solid on both ends; he did a lot of everything for Boston.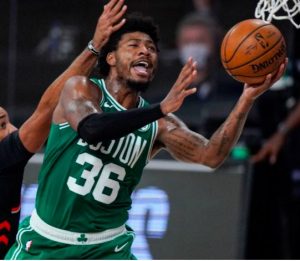 Marcus Smart
Marcus is a rare talent that can play well along side any player. What stood out most was his leadership. Smart rallied his troops when the Raptors were making their run to keep his team composed and locked in. He brought energy and sacrificed his body on multiple occasions, creating positive plays out of thin air. Smart earned a triple double with an incredible performance down the stretch.
| | | | | | | | | |
| --- | --- | --- | --- | --- | --- | --- | --- | --- |
| | Points | Rebounds | Assists | Steals | Blocks | FG | 3PT | FT |
| J. Brown | 31 | 16 | 2 | 2 | 0 | 11/30 | 4/13 | 5/5 |
| M. Smart | 23 | 11 | 10 | 1 | 0 | 7/15 | 6/11 | 3/3 |
Honourable Mention: J. Tatum – He went about his business and earned a near triple double with a massive line.
The Ring – The X Factor – Standout Performance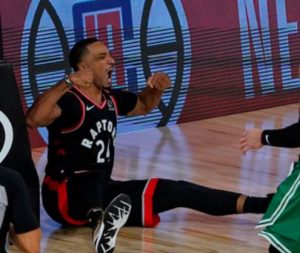 Norm Powell
It was only a matter of time before the real Playoff P showed up again. After a quiet game in regulation, Norm erupted in the extra frame with a collection of game changing plays. He nailed big jumpers, pressure filled free throws, played lockdown D and showed no fear on his drives. His emotions spilled over as he flexed and screamed after each big play. To say Norm was big would be an understatement. He saved Toronto's season a couple of times in this game.
Honourable Mention: F. VanVleet
The Pinky – The Unsung Hero – Key Contributor
Fred VanVleet
Fred did an excellent job pursuing the basketball, always looking for opportunities. He did not shy from the pressure and instead played with a sense of urgency and determination. Fred took a ton of shots (7/22) but scored a crucial 21 points. He contributed on the glass (9) and dished out a bunch of dimes (7). VanVleet played with a swagger and confidence that would rival any player.
Honourable Mention: S. Ibaka, O. Anunoby
Around the League
King of Kings – With last nights victory, LeBron James is now number 1 on the All-time playoff wins list. His 162 wins passes, *checks notes*, Derek Fisher (?!) for top spot.
Doesn't fit the Bill – OKC coach Billy Donovan let his contract expire without coming to terms to a new deal. This appears to be an amicable split but, it's surprising news as Donovan was instrumental to OKC's magnificent season and was in consideration for Coach of the Year.
Finally, some love – After facing a wave of criticism, the NBA relented on their rules and will now allow Coaches to have guests present throughout the conference finals. I am sure this decision would have been welcomed weeks ago, but better late than never.
Progress – Doris Burke will be the game analyst for the conference and NBA finals. Doris is one of the best to do it and will be the first woman ever to hold that title.
Underrated Pro – Congrats to Bucks forward Marvin Williams for retiring after 15 NBA seasons. Marvin was a consummate professional who brought his lunch pail to work everyday.
D – Men – The NBA announced their all defensive teams. I would have loved to see a Raptor make a team and I am honestly surprised that Houston's PJ Tucker didn't earn a spot. He does yeoman's work for the Rockets in a loaded Western Conference.

Photo Courtesy: @Ringer/Twitter
Up Next
It wasn't easy but the Raptors are not done yet. After such incredible action, it's only fitting that this series would go to a Game 7. The Raptors can punch their ticket to the conference finals with a win on Friday night.