Bubble Rapped – The Raptors season ends at the hands of the Celtics
The High 5 – Round 2 – Game 7
The High 5 is where I review the last week of Toronto Raptors basketball including how the team did, who were the impact players as well as some news and notes from around the league.
The Thumb – How was the game?
It doesn't matter what happened throughout Games 1 – 6, it all came down to this. Both teams have laid it all on the line, leaving their blood, sweat and tears on the floor in a battle of basketball attrition. The experts have calculated the odds and foreshadowed events but, as we have learned throughout this year, anything is possible. Games 7's are where rivalries are born, and legends are made.
Series record (3 – 4)
Toronto Raptors v Boston Celtics – L 92 – 87
The Raptors and Celtics locked horns for the final time in what has shaped out to be an epic 2nd round series. The Celtics played their usual brand of hard-nosed basketball while the Raptors were running out of time to cure their offensive struggles. Coach Nurse went to his bench early, calling on Matt Thomas to shake their shooting woes. Toronto had their best start of the series but traded control with Boston throughout the half leading to a 4-point deficit. Toronto was uncharacteristically sloppy with the ball, their turnovers burned them again and again. Siakam struggled mightily, his hands were made of granite, and his shot was cringe worthy. He will be having nightmares of Jason Tatum for weeks. Lowry was obviously gassed; his effectiveness was limited, and the rest of the team struggled with indecisiveness. Boston appeared to be the superior team but somehow the Raptors kept hanging around. In the end, Toronto could not put together any extended runs; they were the victims of their own errors. However, we must not discredit the Celtics. They earned this win with disciplined, aggressive basketball. They came up with plays when the Raptors couldn't and deserve the right to face the Heat in the conference finals. The basketball gods did not favour Toronto on this day.
Let's raise a glass to our fallen champions. May they rise again.
The Index – The Leader – Player of the Game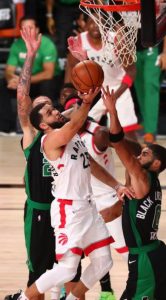 Fred VanVleet
Fred is such a skilled professional. Despite being faster than most players on the floor, his grace and control makes him always appear to be moving in slow motion. He kept a tight handle, and in spite of the occasional block, drove confidently. Fred hit huge shots down the stretch, some well beyond the arc. He was exposed on the defensive end, but he did a good job standing up opponents in post up situations. Fred needed someone to make his life easier, he fought hard in defeat.
| | | | | | | | | |
| --- | --- | --- | --- | --- | --- | --- | --- | --- |
|   | Points | Rebounds | Assists | Steals | Blocks | FG | 3PT | FT |
| v Celtics | 20 | 3 | 6 | 0 | 2 | 8/20 | 4/9 | 0/0 |
| | | | | | | | | |
| Series Avg | 18.7 | 4.6 | 6.4 | 1.9 | 0.7 | 47/135 | 24/76 | 13/15 |
| 7 games | | | | | | 35% | 32% | 87% |
| Season Avg | 17.6 | 3.8 | 6.6 | 0.3 | 1.9 | 41.3% | 39% | 84.8% |
| | | | | | | | | |
Honourable Mention: K. Lowry
The Middle – The Enemy – Best Opposing Player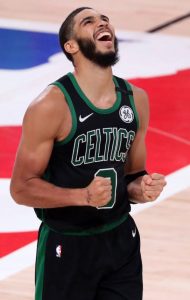 Jason Tatum
Tatum's star shined brightest as he had another masterful offensive performance. Sometimes, he can go long stretches unnoticed but it's because he does his business with a Kawhi-like demeanour. Whenever Toronto made their runs, it was usually Tatum that would snuff them out. He sealed the win for his team with a big block on VanVleet's last effort shot.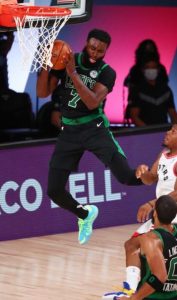 Jaylen Brown
Brown never took his foot off the gas; he was the epitome of hustle. He was at the right place at the right time for most of his shots and made each one count. What was most impressive was his ability to mix up strong fundamentals with unbridled grittiness. For every tough basket he had a beautiful triple or a high arching fadeaway. He should get the lions share of the credit for locking up Siakam.
| | | | | | | | | |
| --- | --- | --- | --- | --- | --- | --- | --- | --- |
| | Points | Rebounds | Assists | Steals | Blocks | FG | 3PT | FT |
| J. Tatum | 29 | 12 | 7 | 1 | 1 | 9/23 | 4/8 | 7/10 |
| J. Brown | 21 | 8 | 2 | 4 | 0 | 10/17 | 1/7 | 0/1 |
Honourable Mention: K. Walker
The Ring – The X Factor – Standout Performance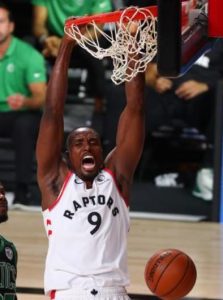 Serge Ibaka
Serge made some noise in Game 6 when he kick started Toronto's offense. He had been one of Toronto's most consistent shooters, especially from deep, and Toronto's only post presence. In 20 minutes, Serge scored 14 points and grabbed 8 boards. When he wasn't on the floor, he was encouraging his teammates like a second coach. There is an argument to be made that Serge should have played more, he was a positive force off the bench.
Honourable Mention: N. Powell
The Pinky – The Unsung Hero – Key Contributor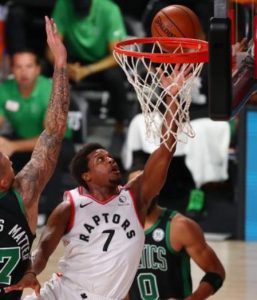 Kyle Lowry
Lowry further solidified his place in Raptors lore with his unbelievable Game 6. His praises rang from coast to coast as if the world was finally realizing what we already know; Kyle Lowry is that good. He was slowed by all the minutes played but turned up the intensity in the second half. Lowry mucked up the action and chipped in with 16, 6 and 4. His determination made up for his fading athleticism, but Kyle needed more in the tank.
Honourable Mention: N. Powell
Around the League
Party House – Investigations have concluded on Houston's Danuel House after stories surfaced that he brought a COVID-19 testing official into his hotel room. The investigation forced the entire Rocket's into a quarantine period on Tuesday and expelled House from the bubble.
Christmas Present – Early talks are that the 2020-2021 season may begin no earlier than December 25. There are still a lot of discussions about how the season will be played including the idea of a partial or hybrid bubble season.
Importance of Rest – The NBA will take a long look at their travel schedules for this upcoming season. The benefits of less travel have helped recovery time, improved the quality of basketball and increased the energy levels of players league wide.
Up Next
This will most likely be the last time that Toronto's core players will suit up together. With free agency pending, Masai Ujiri and Bobby Webster will have to make some difficult decisions about where to take this franchise next. Despite how painful this loss was, this was a campaign that should be commended. Toronto was a force in the East and proved many people wrong while shining light on the good things that are happening north of the border.
It was a disappointing end but a fantastic season. Thanks for letting me share their stories.
*I will take a break throughout the conference finals but return to cover the NBA final in a few weeks.