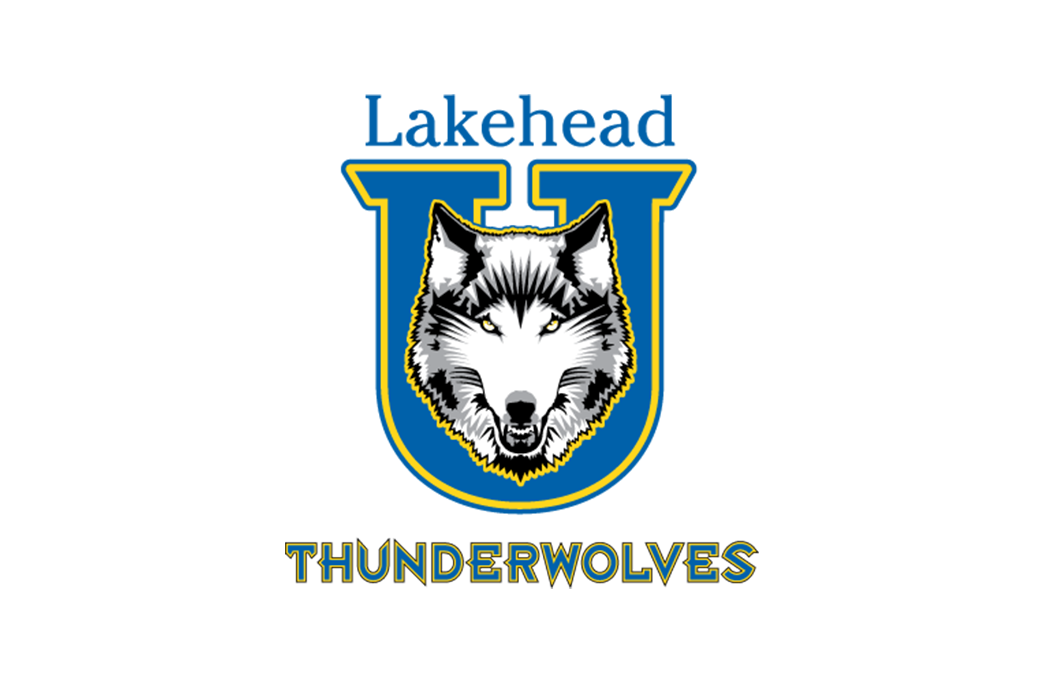 Keeping Up With the U Sports Classes: How A Former Thunderwolf is Bringing His Alma-Mater Back to OUA Prominence
Working at your alma-mater can create a unique level of pressure. There's a pre-existing relationship between you and the school, and few things hurt worse than falling short of expectations at a place you really care about.
In the case of Lakehead's men's basketball coach and Thunderwolves' alum Ryan Thomson, he also has the advantage of having played for the school when it was at its peak as a program. Thomson was a part of four straight National's appearances from 2010-2013 and played in a national title game for the Thunderwolves in 2013. 
Not many U SPORTS programs in the country have proven they have that type of ceiling. Even fewer have a coach who experienced that level of team success during their playing days.
"Getting the opportunity to bring a little bit of success to Lakehead as a player," said Thomson who just completed his third season as head coach. "I saw how important it was to Scott (Morrison), to the community and I also saw what it took to be successful."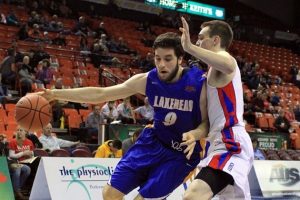 Photo Courtesy: Leith Dunick/tbnewswatch.com
Thomson and former head coach Scott Morrison, who coached Lakehead during Thomson's playing days, developed a chemistry that went beyond player-coach. When Morrison left Lakehead in 2013, he joined the Maine Red Claws and Boston Celtics' organizations. In 2014 he was named head coach of the Red Claws, the Celtics' G-League affiliates, and a year later would bring Thomson in as a member of his staff. 
"Well I have to thank Scott for a lot, not only as a player but as a coach," said Thomson. "I worked for him two years in the G-League and without that I wouldn't be where I am now."
When Morrison joined the Thunderwolves in 2003, he helped take them from a team that struggled to win double digit games annually to a consistent conference title contender. He was really the first coach in the program's history to find success navigating around Lakehead's unique challenges. For Thomson, getting the chance to start his coaching career under Morrison's tutelage was likely a major factor in his early success and the 17-5 record the team enjoyed last season. 
Located all the way in Thunder Bay, the school can seem isolated or far away to potential recruits, especially to those hailing from big cities like the GTA. That fact isn't lost on Thomson at all, but he thinks once they get the kids to campus, they can see the special place Lakehead can be for them.  
"One of the unique advantages of Lakehead is we are so far away," said Thomson who came to Lakehead from Oakville, Ont. "Guys are sort of forced to build friendships and relationships with their teammates that you know, if you're a commuter school or you have the opportunity to live at home and commute, you might not have to." 
A key aspect of Lakehead's recruiting pitch is getting the players on campus. Once they come to Thunder Bay and get a chance to see the environment, that's when players really get to see what Lakehead is all about. 


Photo Courtesy: Lakehead University
"For us visits are huge," said Thomson. "We're not really able to be visible at a lot of the OSBA, NPA stuff… Obviously we're watching online but our physical presence isn't there. So, I think that makes it difficult at first with guys but once we get a guy on campus, I feel like we have a pretty good shot at him." 
Much like many other programs so far in this series, Lakehead is capitalizing on the growth of prep basketball and the strength of young talent in these top leagues. That said, they also take advantage of another major development in the Canadian basketball recruiting game of late: targeting Canadians at American post-secondary schools.
As more Canadians head south for Junior College or NCAA Division One opportunities, Thomson has found success in recruiting players from that pool that aren't thrilled with their roles at their schools. 
"It's not necessarily going to be somebody's first option out of the OSBA or NPA league to go to Lakehead," said Thomson. "But, when guys realize what we're about, maybe they've had an experience where they weren't as thrilled by it you know, the (NCAA) Division one level or junior college level, they come back and realize that we are about you guys and that we're here to help you improve, get a degree and if you want to, hopefully play pro."
Michael Okafor, Dylan Morrison and Jevon Westcarth may have headed south initially, but this upcoming season, they find themselves as members of Lakehead's class. Talent's like theirs used to never touch the U SPORTS level but now we see them across the country. For Thomson, as a former player, the growth of the league in just seven years since he finished up playing is incredible.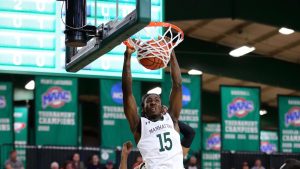 Photo Courtesy: Vincent Dusovic/Manhattan College
"Going back to when I played, the calibre of player is so much higher now than it was my last year," said Thomson. "Just the athleticism of guys, the pace of play is all just, it feels like a different game which is great. It's just such an influx of talent, I think it's great for the league and for U SPORTS going forward. It's great for their marketability." 
It's hard to disagree with Thomson after the incredible depth of talent we saw at the guard position in the OUA alone last season. Multiple All-Star level players missed the cut simply because of the depth the conference and U SPORTS now has to offer.
To answer that influx of talent, Thomson is taking a modern approach to the game. After seeing major success with star guard Isaiah Traylor and dominant defensive force Lock Lam among others this past season, Thomson has continued to look for more modern, athletically gifted, positionless players, evidenced by the 2020 class.
"I think that's really part of our DNA and what we're trying to instill in our guys," said Thomson. "The ability to switch and to not just switch for switching's sake but to do it because it's actually successful or an advantage." 
After coaching at multiple professional levels and now finding success early on with a 17-5 record at his alma-matter, it appears that Thomson's strategy is working in Thunder Bay. For someone who has been around a program at the sport's highest level though, he knows one year doesn't define anything.
It's about the consistency he saw as a player under Morrison that he will try and draw from in the hopes of sustaining another great run of Thunderwolves basketball in the OUA.
The Class
| | | | |
| --- | --- | --- | --- |
| Name | Previous | Position | Hometown |
| Nas Roberts | Central Tech | Wing | Toronto, ON |
Coach's Scouting Report: Nas is a really good kid, good athlete. Can defend multiple positions and plays hard and wants to improve and that's kind of the redeeming quality of most of our guys is they want to get better.
| | | | |
| --- | --- | --- | --- |
| Name | Previous | Position | Hometown |
| Michael Okafor | Manhattan College (NCAA D1) | Guard | Toronto, ON |
Coach's Scouting Report: Mike is one of those returners (from the US). Really, really explosive athlete. Can handle the ball, get to the rim, defends. We anticipate him sliding into a pretty big role for us.
Name

Previous

Position

Hometown

Dylan Morrison

Lamar


(NCAA D1)

Guard

Toronto, ON
Coach's Scouting Report: He's a big wing. Kind of like Lock (Lam) in that he has great timing, really athletic, pretty skilled on the floor. Can really put the ball on the floor, get to the rim and finish. He's going to bring some versatility for us.  
| | | | |
| --- | --- | --- | --- |
| Name | Previous | Position | Hometown |
| Jevon Westcarth | Jacksonville CC (JUCO) | Wing | Ottawa, ON |
Coach's Scouting Report: Can shoot it. He's a full 6'6/6'7, can shoot it, defend, rebound. He's one of those guys who'll have three years and we're pretty excited what he'll bring to the table for us.
| | | | |
| --- | --- | --- | --- |
| Name | Previous | Position | Hometown |
| Ethan Willmore | St. Ignatius | Wing | Thunder Bay, ON |
Coach's Scouting Report: He's a local kid. A piece potentially for the next six years. High academic kid can shoot it. Played really well this year. He's a long term piece but can really shoot the ball.  
| | | | |
| --- | --- | --- | --- |
| Name | Previous | Position | Hometown |
| Chris Sagl | St. Thomas Aquinas |  Guard | Hamilton, ON |
Coach's Scouting Report: Really, really intelligent kid. Plays hard, kind of a natural leader. Shot's improving but we look for him to come in and really help us push the pace, make good decisions and defend.
NPH Scouting Report (Mickias Mikre): Chris is a tough kid who'll no doubt be a great addition to the locker room. On the court, he can make difficult shots and isn't afraid of the moment or sacrificing his body. Good passer with a high IQ and a knack for getting into the lane and drawing contact.
Name

Previous

Position

Hometown

Flynn Gilmour

London Basketball

Academy

Forward 

Mississauga, ON
Coach's Scouting Report: Flynn is a great addition to our recruiting class. He has great size, the ability to shoot the ball and is an unselfish teammate with a high basketball IQ.
NPH Scouting Report (Mickias Mikre): Flynn is a high IQ stretch four that can really shoot the ball. He's a willing passer with great instincts and you can trust him to make the right play on the perimeter, whether it be a touch pass to a diving big or knocking it down for deep. Strong, tough kid that has the potential to change the dimensions of the court on offence.