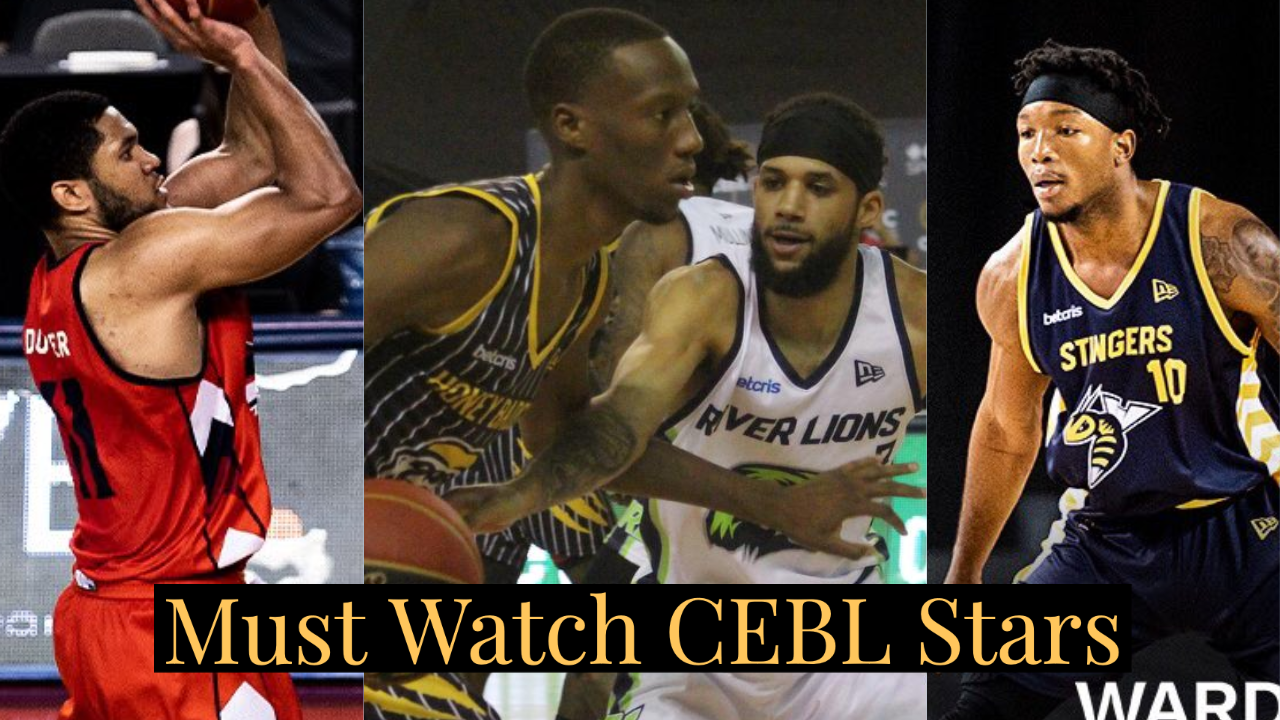 CEBL Summer Series- Kamba, Mukama, Robertson, Duvivier and the other Breakout Stars of 2020
Well, another CEBL season has come and gone. While the format of the league's second season was the first of its kind , the CEBL's ability to act as a springboard for breakout Canadian stars felt very familiar. Last year, it was a guy like Xavier Moon that found a way to shine north of the border. 
This season, from the league champion Stingers all the way down, each team in the Summer Series had a breakout player who should figure largely in the future of Canadian hoops. Here's my list of the best and brightest young stars coming out of the 2020 CEBL Summer Series.
Edmonton Stingers- Mathieu Kamba
ICYMI: Yesterday's Elam Ending winning bucket by Mathieu Kamba of the @ED_Stingers💰#OurGame pic.twitter.com/fkzk1uvjlM

— CEBL (@CEBLeague) July 28, 2020
Mathieu Kamba is the type of special athlete that doesn't come along very often. This summer, his explosiveness was on full display for the champion Stingers as Kamba constantly gave teams fits. He finished top five on the team in points, rebounds, assists and steals per game while also shooting 51.4 percent from the field, extremely impressive for a guard. Beyond the numbers, his defensive tenacity was a key for Edmonton's championship run. At just 24 years old, Kamba has a long future ahead of him in pro basketball in this country. Expect his name to be a staple in this league for years to come as he continues to add to an already impressive skill set.
Fraser Valley Bandits- Malcolm Duvivier
Fraser Valley Bandits x Hamilton Honey Badgers

Malcolm Duvivier knocks down a triple + Ammanuel Diressa basket plus the foul.#CEBL pic.twitter.com/ZCO53bnbG1

— BasketballBuzz.ca 🇨🇦🏀🍁 (@basketballbuzz) August 8, 2020
In just his second year out of college, Toronto's Malcolm Duvivier had a breakout Summer Series for the Fraser Valley Bandits. Duvivier displayed an impressive ability to shoot the basketball, highlighted by his 41 percent clip from distance. He also averaged over five rebounds a night despite standing at just six foot two, helping lead a feisty Bandits team to the championship game. The former St. Mike's star has certainly found a home with the Bandits and will likely figure large in a potential shot at finishing the job next season.
Guelph Nighthawks- Tre'Darius McCallum
The @GNighthawks seal the win over the @ott_blackjacks off the put back by Tre'Darius McCallum. #CEBL #OurGame pic.twitter.com/TymAJ7K0eW

— CEBL (@CEBLeague) July 25, 2020
As one of a handful of guys coming from the G-League, Tre'Darius McCallum came into the Summer Series with some added pressure. The Windy City Bull acclimated nicely to the FIBA game though, and gave Guelph its most consistent offensive threat. McCallum is a competitive player who loves to attack the rim and is at his best when he's making his threes. In such a short amount of time, it was a testament to McCallum's basketball IQ for how quickly he was able to find his stride in a completely new set of rules. With a solid foundation laid this season, don't be surprised to see him step in next year as a major threat in the CEBL.
Hamilton Honey Badgers- Jean-Victor Mukama
Hamilton Honey Badgers Jean-Victor Mukama 21p/3s/1r/, 8/10 FG, 5/8 3PT 🔥#CEBL pic.twitter.com/mdOVYkffw4

— BasketballBuzz.ca 🇨🇦🏀🍁 (@basketballbuzz) August 8, 2020
Jean-Victor Mukama continues to show he's the kind of player who's always improving. After an outstanding career at Ryerson that saw him grow from a freshman scoring 6.6 points a night to a senior averaging 18, Mukama has pushed that trend into his professional career as well. His season in Rwanda was a great start to his professional career and now in St. Catharines, Mukama proved he has a long pro career in front of him. JV put up 14 points a game as a starter for a loaded Honey Badger team and showed no signs at all of being in over his head. It's pretty clear Hamilton found a foundational piece who just so happens to be a hometown guy as well.
Niagara River Lions- Kassius Robertson
Kassius Robertson can't stop scoring 🔥

In a must win game for the @RiverLions he has 26 points including 14 in the 3rd quarter as they are down by just one #OurGame 🏀

Watch the 4th quarter finish: https://t.co/ktqzXwxDk8 pic.twitter.com/XoYOwN9HsL

— CBC Sports (@cbcsports) August 5, 2020
After his time in Niagara was cut short last summer, Kassius Robertson more than made up for it with his impact on this season's iteration of the River Lions. Robertson is a dynamic player to watch when the ball is in his hands. He's quick, explosive and to top it all off has range all the way out to the three-point line. Simply, he's the modern FIBA guard who has a long future in front of him in the CEBL. The Toronto native was able to average 14.7 a game while shooting a very good 37 per cent from three on high volume. He has the type of talent that could make a major impact in some of the most competitive leagues around the world. For now, though we'll celebrate the fact we get to watch him play here at home in Canada in the summer.  
Ottawa BlackJacks- Johnny Berhanemeskel
Johnny Berhanemeskel scores the first-ever points for the #Ottawa Blackjacks franchise#CEBL pic.twitter.com/8aqqURjehu

— BasketballBuzz.ca 🇨🇦🏀🍁 (@basketballbuzz) July 25, 2020
Ottawa's own Johnny Berhanemeskel had quite the introduction to the CEBL this summer. A proven scorer at every level from high school to university to now the pros, it should've come as no shock the effectiveness he had at scoring the basketball in the CEBL. Berhanemeskel's 12.8 points per game was second on the team as was the 42 per cent he shot from three. Playing at home is one of the great advantages of this league and Berhanemeskel made sure to make the most of it this summer for the pro club in his hometown. After starring in high school at Lester B. Pearson, then OttawaU in university, it is only fitting Berhanemeskel is one of the most memorable players from the BlackJacks inaugural campaign.
Saskatchewan Rattlers- Kemy Osse
Kemy Osse with the KO. Icing the game for your Saskatchewan Rattlers. #FearTheFang x #OurGame pic.twitter.com/82AcLEWc9p

— Saskatchewan Rattlers (@SASK_Rattlers) July 26, 2020
2020 didn't go according to plan for the inaugural CEBL champions from Saskatchewan but that doesn't mean there were no positives taken from the Summer Series. With a completely revamped roster, it was understood that shots would be available and Montreal's own Kemy Osse was ready to take them. Osse finished second on the team with 14.2 points per game. What was most impressive in how he scored the ball was the blistering 47 per cent clip he shot from deep on 5.3 attempts. Every team needs a knockdown shooter and the Rattlers found that in Osse. After showing the abilities he did this summer, expect for him to have a long CEBL career.