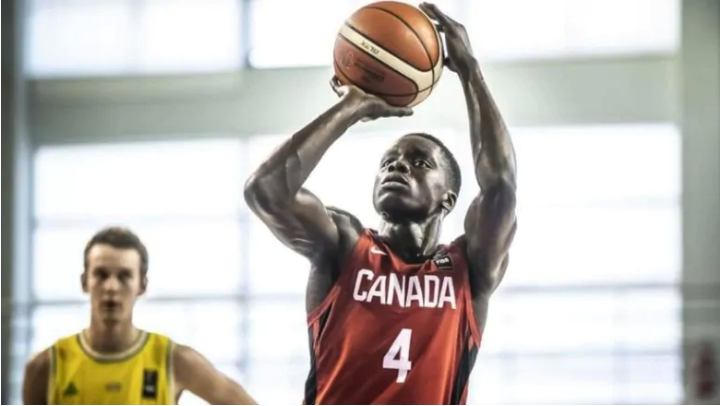 Commitments
NBA
NCAA
Pro
Team Canada
Karim Mane Will Remain in NBA Draft, Looking to Make Quebec Basketball History
It was just over a year ago when Karim Mane inserted himself into the NBA Draft conversation. The 6'5 PG was coming off an MVP season where he led the Vanier Cheetahs to a perfect 16-0 regular season and 2019 Provincial Championship.
His name was already starting to buzz after a few dominant sessions with Canada Elite on the Under Armour Circuit. He even picked up over 10 NCAA offers in one April weekend.
Mane followed that all up with a stellar performance representing Canada at the FIBA U19 World Championships. He averaged 11.7 points and multiple eye-popping plays per game, looking the part of a physically-dominant guard with the skill and feel to get to the rim at will.
He left that tournament as an NBA prospect and his status as an international prospect meant that he could enter the draft as soon as 2020.
Today Karim Mane took to Twitter to announce that he will be keeping his name in the 2020 NBA draft. If selected, he'll become the first ever prospect to be drafted to the NBA straight from CEGEP and third ever straight from Canada, joining Thon Maker in 2016 and Will Njoku in 1994. At least one Canadian player has been selected in every NBA draft since 2010, including a record six Canadians selected last season.
All praises to the most high pic.twitter.com/K1TbTjx9EF

— Karim Mane (@KarimMane_) July 16, 2020
Mane told ESPN's Jonathan Givony that after speaking with over 15 NBA teams, the feedback he's received has him feeling confident that this is the best move.
Although he's received offers from dozens of elite NCAA programs, Mane's unique situation combined with the uncertainty surrounding the 2020-21 NCAA season due to COVID-19 made the draft an alluring option. Even if he doesn't get selected, Mane is giving himself a shot to earn a 2-way contract à la Luguentz Dort or play professionally somewhere in Europe.
Mane is not the only 5-star 2020 prospect to forego the upcoming NCAA season, as a number of top prospects including Jonathan Kuminga, Jalen Green and Isaiah Todd decided to join NBA's G League Select Team.
Unlike those prospects however, Mane will have a shot to (virtually) shake hands with Adam Silver and have his name called out on the October 16 2020 NBA Draft.