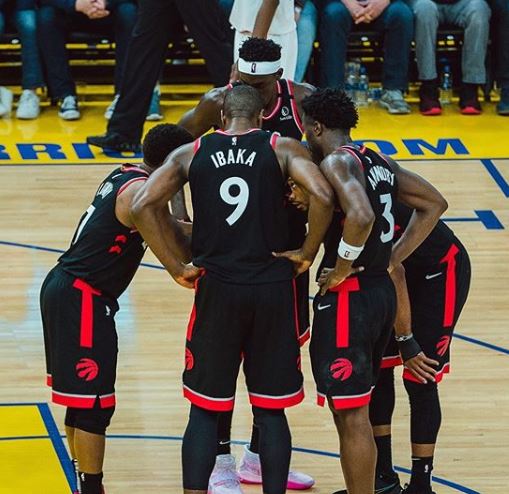 Western Battles – The Raptors build momentum; spoil Steph's return in finals rematch
The High 5 – Week in Review – Week 20
The High 5 is where I review the last week of Toronto Raptors basketball including how the team did, who were the impact players as well as some news and notes from around the league.
The Thumb – How was the week?
The Raptors entered the week on unfamiliar ground; losers of 3 straight. Though they battled hard, this recent stretch brought the doubters and naysayers back from out of the woodwork. The Raps were still without VanVleet, Gasol and Ibaka and their absence has certainly been felt. However, not enough is being said about Coach Nurse's ability to manage the revolving door of roster players while still keeping his team competitive. His genius has kept the Raptors winning, he has coaxed career seasons out of his vets and accelerated the development of his younger players. Imagine what he could do with a healthy lineup.
Week record (3 – 0) Overall Record (45 – 18)
Toronto Raptors v Phoenix Suns – W 123 – 114
The Raptors visited the Suns on Tuesday night with a chip on their shoulder. Pascal had been struggling and Coach Nurse openly called out his bench over their lack of production. As they have all season, the Raptors responded. Though they found themselves in a hole early, the Raps battled back behind Siakam and Lowry. Lowry went to the locker room with, you guessed it, an (eye) injury but he made his return before half. Powell looked like he hadn't missed a beat since coming back from injury. He netted 26 points to go with Lowry's 28 and Siakam's 33. However, the story of the game came in the form of a career night from Chris Boucher who had 19 points and 15 rebounds. The Suns had three players with double doubles in response, but the Raps were just too good on this night.
Toronto Raptors v Golden State Warriors – W 121 – 113
What was initially considered a harmless matchup between one of the Eastern conferences best and one of the Western conferences worst suddenly became must-see television when the Warriors announced that Steph Curry would make his return from injury. The Warriors had a hard fall from grace, but the Raptors know better than most how one elite player can change the fate of a team. This was a rematch from last years finals and neither team wanted to take a loss. Curry galvanized the entire arena, elevating the calibre of his teammates in the process. Powell caught fire in the second quarter and rode the hot hand to a new career high in points (37). Kyle was masterful down the stretch; he manufactured scoring opportunities and kept the Warriors out of sync. Golden State pushed Toronto to the limit until the Raptors flexed their championship pedigree to notch their second consecutive road win.
Toronto Raptors v Sacramento Kings – W 118 – 113
The Raptors continued their road trip into Sac-town to take on the rebuilding Kings on Sunday night. Toronto finally got some good news on the health front as Marc Gasol made his long-awaited return to the lineup. The Kings are still a few years away from making any real noise, but they play above their heads and have a solid group of hard-nosed energetic players. Powell continued his hot shooting to lead a balanced Toronto attack. He not only cashed in from distance, but he also caught a few bodies while throwing down a pair of thunderous tomahawks. To their credit, the Kings did not relent, the kept Toronto within arms reach all game. The Raps had a couple of dry spells which allowed Sacramento to cut into their lead. Down the stretch, both teams traded highlight reel plays for dramatic results. Kyle was exceptional in the clutch; he had another stellar night. The game was decided in the final seconds when Powell nailed his foul shots to secure the victory.
The Index – The Leader – Player of the Week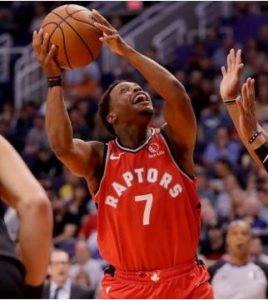 Kyle Lowry
Toronto's Point God quietly had one of his best weeks in recent memory. The narrative of the Raps has been their health, the emergence of Powell and Siakam's return to form, but among all that has been Lowry steady guidance and leadership. What made Lowry's week stand out was his aggressive scoring approach and how he consistently hunted down shots. Lowry showed surprising explosion to the rim and gritty defensive determination. He was the spark that lit Toronto's fire and a pit-bull when the game was on the line.
| | | | | | | | | |
| --- | --- | --- | --- | --- | --- | --- | --- | --- |
|   | Points | Rebounds | Assists | Steals | Blocks | FG | 3PT | FT |
| v Suns | 28 | 5 | 6 | 1 | 0 | 8/19 | 4/8 | 8/8 |
| v Warriors | 26 | 5 | 10 | 2 | 0 | 6/14 | 4/12 | 10/10 |
| v Kings | 30 | 5 | 8 | 3 | 0 | 10/15 | 6/10 | 4/5 |
| | | | | | | | | |
| Week Avg | 28 | 5 | 7 | 2 | 0 | 24/48 | 14/30 | 22/23 |
| |   |   |   |   |   | 50% | 46.6% | 97% |
| Season Avg | 19.5 | 4.8 | 7.7 | 1.3 | 0.4 | 41.2% | 34.9% | 86.7% |
| | | | | | | | | |
Honourable Mention: Norm Powell, Pascal Siakam
The Middle – The Enemy – Best Opposing Player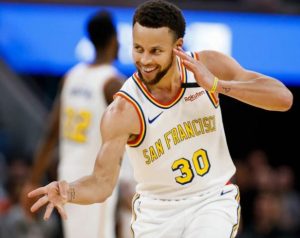 Steph Curry – Golden State Warriors
After a 4-month hiatus, Steph made an impactful return to action against the Raptors on Thursday night. Steph has the uncanny ability to slow the game down and dance around defenders with his silky-smooth handles. He is an artist with the rock; grace personified. After only a few minutes of action, he was back to doing no look behind the back passes, nailing deeply contested rainbow triples and electrifying his raucous crowd. He gave the lowly Warriors a legit chance of stealing one against the defending champs. Steph will re-assume his place among the leagues best in short order.
| | | | | | | | | |
| --- | --- | --- | --- | --- | --- | --- | --- | --- |
|   | Points | Rebounds | Assists | Steals | Blocks | FG | 3PT | FT |
| v TOR | 23 | 6 | 7 | 0 | 0 | 6/16 | 3/12 | 8/8 |
Honourable Mention: D. Booker (PHX), A. Wiggins (GS)
The Ring – The X Factor – Standout Performance
Chris Boucher v Phoenix Suns
Boucher heeded the call from Coach Nurse for more production with an exceptional performance against the Suns. He fought tooth and nail with top draft pick Deandre Ayton for every inch of the paint and ended up winning the battle on the glass. Boucher played with pogo sticks for legs, he was quick with second effort rebounds and he surprised more than one shooter with his ungodly length. Boucher set a new career high in boards and he showed no hesitation when he needed to put up a shot. Outstanding game from the hungry Canadian.
Honourable Mention: Powell v Warriors, Siakam v Suns
The Pinky – The Unsung Hero – Key Contributor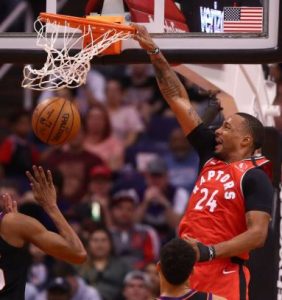 Norm Powell
Since returning from injury, Powell has flown under the radar. While his teammates grab all the headlines, Powell has been shooting at an alarming rate and continues to put up scoring totals in the high 20's. Powell is crafty enough to realize when he is crowded and how to explode past defenders to attack the rim with ferocity. His evolution into professional scorer continued this week as his 3-point shot has become one of the prettiest (and most consistent) in the league. Powell would have been in contention for 6th Man of the Year if only he could have stayed healthy.
Honourable Mention: OG Anunoby, Pascal Siakam
News and Notes
Clinched! – The Raptors clinched a playoff spot with their win over the Warriors. There is something extra sweet about securing a trip to the post season off the back of Golden State.
Honourable Man – Raptors President Masai Ujiri will receive an Honorary degree from the University of Toronto for his humanitarian and social initiatives.
Around the League
Safety First – The NBA has begun to float the idea of playing games in empty arenas to combat the spread of the Coronavirus. This is obviously not ideal, and some players have voiced their concerns, but the public's safety is priority.
Big Fundamentals – Is Coach Popovich grooming Hall of Famer, Tim Duncan, to serve as his successor? Maybe not quiet yet, but Tim got his first crack as a head coach when he led his Spurs to a victory on Tuesday night.
Puzzling – The Brooklyn Nets and their Coach, Kenny Atkinson, surprised the league by mutually parting ways on Saturday. There will be no shortage of callers for his services, but it's a puzzling move from Brooklyn since Atkinson has proven to be a solid Coach.
The Goat – LeBron James joined elite company as he became only the 3rd player in NBA history to score over 34 000 points.
Up Next
The Raptors wrap up their Western road trip with a visit to Salt Lake City on Monday night. This will be a difficult test as the Raps will be coming off a game the night before and the Jazz are one of the most defensively sound teams in the league. Toronto will get a few days after that to heal their bumps and bruises before returning to action on Saturday night at home against the terrible Detroit Pistons.