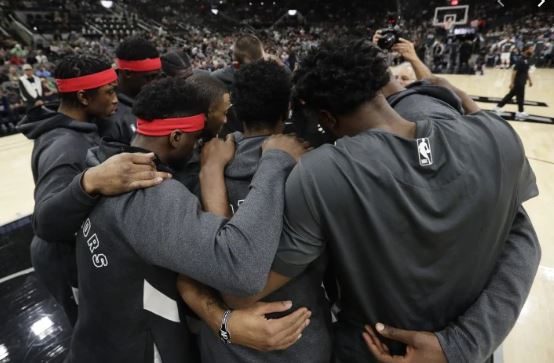 Believe the hype, Siakam leads Toronto to an undefeated week
The High 5 – Week in Review – Week 14
The High 5 is where I review the last week of Toronto Raptors basketball including how the team did, who were the impact players as well as some news and notes from around the league.
The Thumb – How was the week?
After reeling off 3 straight, Toronto started this week within striking distance of 2nd in the East. With a healthy roster, Coach Nurse now has an absurdity of riches, it was just a matter of making all the parts fit. Though 3 of their 4 games were on the road, they were all against beatable opponents, giving Toronto ample opportunity to work out the kinks and build momentum. With a locked in first unit and a reliable bench led by the scorching hot Powell, the Raptors were ready to remind the league how dangerous they can be.
Week record (4 – 0) Overall Record (32 – 14)
Toronto Raptors @ Atlanta Hawks – W 122 –117
It was an early start for the Hawks and Raptors as they met in Atlanta on Monday afternoon. Atlanta did a good job catching Toronto flat footed to assert themselves early. They matched the Raptors shot for shot and took a modest 3-point lead into the break. Toronto maintained their stalwart defense but couldn't cash in on the other end. That was until the third when Toronto's hottest player came alive to rain hellfire from distance. Powell went off for 27 points including a perfect 7 – 7 from deep. His stretch was so exciting that the Raptors bench turned into a mini dance party after every made triple. The Raps surged ahead on the scoreboard but just when victory was all but assured, Trae Young showed that he still had a few tricks left. Young led a rabid late game rally to turn an easy win into an unnerving nail biter. Toronto eventually broke Atlanta's pressure and took advantage of some mental mistakes to escape with the win.
Philadelphia 76ers v Toronto Raptors – W 107 – 95
Toronto and Philly locked up on national television to write another chapter in their bitter rivalry on Wednesday night. Philly was without Embiid, but in his absence Ben Simmons has truly blossomed. The 76ers punched first, but they were suddenly derailed when they lost Josh Richardson to a hamstring injury. The Raps know all to well how that feels. Fortunately for Toronto, Philly does not have the same resiliency as the defending champs. The Raps chipped their way back into the game, spreading the offense around and setting defensive walls. They locked up Simmons, forcing him into 8 turnovers and only 2 fourth quarter points. Every Raptor who scored had 16 plus, with Siakam netting a double double with 18 and 15. The 76ers battled but VanVleet's 6 triples powered the Raptors into the driver's seat. It was academic from there as Toronto secured another home win.
Toronto Raptors @ New York Knicks – W 118 – 112
The Raptors thought they would celebrate Siakam's first All-Star appearance by beating up on the embarrassing Knicks on Friday night. The Knicks are languishing at the bottom of the East, but they were amped up to make a statement against one of the conference heavyweights. It was Star Wars night at MSG and at least for a half, the force was strong with NY. The Raps gave up a lead but, as they have proved so far this season, they are quite adept at playing from behind. Lowry turned up the intensity to come up with a boatload of intangibles that quickly erased New York's advantage. The Knicks stayed in it by spreading the scoring and gobbling up 14 offensive rebounds. Toronto's usual suspects went to work with Siakam and especially Lowry making an impact. KLOE was easily the best player on the floor and too much for New York to handle. Toronto keeps the streak going with another win.
Toronto Raptors @ San Antonio Spurs – W 110 – 106
With heavy hearts, the Raptors and Spurs took the floor on Sunday afternoon. It was hard to stay focused on an innocuous mid-season game with such devastating news hitting the league only minutes before tip off. Players were notably shook as both teams let the shot clock expire on their respective first possessions once the game started in memory of Kobe Bryant. Siakam led Toronto with his best game since his injury. He was simply un-guardable and set a franchise record with 25 first quarter points. The Raptors moved the ball and got whatever they wanted on offense, but the Spurs found away to climb back in it in the third. It was a nervous fourth quarter as the teams traded leads into the final minutes. In the end, the reigning champs pulled through to earn a sombre victory on a difficult day.
The Index – The Leader – Player of the Week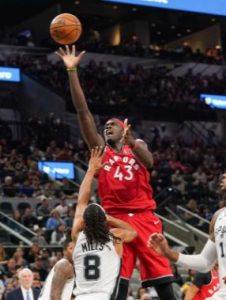 Pascal Siakam
Siakam has gotten stronger with each game since returning from injury. It's no coincidence that the Raptors have found their offensive rhythm now that he has regained his form. Siakam has been gradually heating up, culminating in a massive game against the Spurs on Sunday. He can slice to the hoop like a hot knife through butter and draw the attention of multiple defenders with or without the ball. With a deep bag of post moves, an unending motor, and an improving jumper, defenders need to pick their poison when they cover Siakam; he has the heat to burn in different ways.
| | | | | | | | | |
| --- | --- | --- | --- | --- | --- | --- | --- | --- |
|   | Points | Rebounds | Assists | Steals | Blocks | FG | 3PT | FT |
| v Hawks | 18 | 6 | 1 | 1 | 1 | 6/13 | 0/4 | 6/7 |
| v 76ers | 18 | 15 | 3 | 1 | 0 | 8/23 | 1/8 | 1/2 |
| v NYK | 23 | 7 | 3 | 0 | 1 | 9/15 | 2/5 | 3/3 |
| v Spurs | 35 | 8 | 3 | 1 | 0 | 12/23 | 5/11 | 6/9 |
| | | | | | | | | |
| Week Avg | 23.5 | 9 | 2.5 | 0.75 | 0.5 | 35/74 | 8/28 | 16/21 |
| |   |   |   |   |   | 47% | 29% | 76% |
| Season Avg | 23.5 | 7.6 | 3.5 | 0.9 | 1.0 | 45.7% | 36.8% | 81.6% |
| | | | | | | | | |
Honourable Mention: Kyle Lowry, Fred VanVleet
The Middle – The Enemy – Best Opposing Player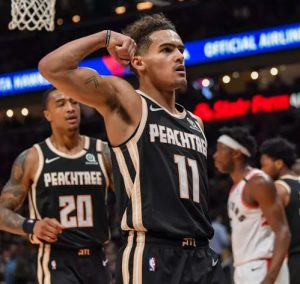 Trae Young
In his short career, Trae Young has already proven to be a generational talent. He is a prideful player, blessed with gifts that allow him to do anything he wants on the floor. Despite Toronto's frigid defense, Young still went off for a big scoring night, the next leading scorer on the Hawks had 25 less points. He is already benefiting from the 'superstar call' as he made his paycheck from the foul line. Young was also incredibly unselfish showing off impressive vision. Trae has the right mentality and demeanor to lead a team, he just needs the talent around him. The first time All Star nearly stole a win all by himself.
| | | | | | | | | |
| --- | --- | --- | --- | --- | --- | --- | --- | --- |
|   | Points | Rebounds | Assists | Steals | Blocks | FG | 3PT | FT |
| v TOR | 42 | 6 | 15 | 1 | 0 | 11/20 | 2/7 | 18/21 |
Honourable Mention: Ben Simmons (PHI)
The Ring – The X Factor – Standout Performance
Fred VanVleet v 76ers
Many people forget that VanVleet was nearly unplayable against the 76ers in last years playoffs. Ever since then he has carried a mountain sized chip on his shoulder whenever these two teams meet. Freddy did considerable damage from beyond the arc where he connected on 6 of his 7 attempts. He led the Raps in points, assists and minutes. Fred embodied the Raptors swag as he brushed away the 76ers like dirt off his shoulder.
Honourable Mention: Powell v Hawks, Lowry v Knicks, Siakam v Spurs
The Pinky – The Unsung Hero – Key Contributor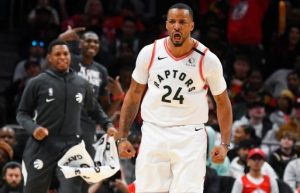 Norm Powell
Powell has been the perfect supplementary player, able to make an impact at a moment's notice with stellar D and dead eye shooting. His three-point accuracy has improved significantly which has opened up space in the frontcourt. Though his scoring has tapered off with Siakam's return, he was exceptional in Atlanta with a team high 27 points in 25 minutes. Norm has elevated his reputation with his recent play and has become a versatile asset for Coach Nurse that can compete in any situation. Leave him open in the corners at your peril.
Honourable Mention: Terrence Davis II, Fred VanVleet
News and Notes
Make it Hot – The Raptors have had an All-Star starter in each game since 2015. This year they will make it spicy with the debut of first time All Star, Pascal Siakam.
Medic! – The Raptors can't go a week without picking up injuries. Defensive specialist Patrick McCaw took a shot to the face against the 76ers breaking his nose. Rondae Hollis-Jefferson joined him on the injured list with a sprained ankle on Sunday afternoon.
Around the League
Splash of Colour – The NBA released this year's All-Star game jerseys. Included are jerseys for the East and West, USA and World Rising stars, the Celebrity game and the NBA Cares Special Olympics game. The 8 colours represent the 8 Chicago transit lines and the 6-sided star is lifted right off Chicago's city flag.
High Fashion – The NBA and Louis Vuitton will design a custom travel trunk for the Larry O'Brien trophy. This is a multi-year partnership that will keep the trophy among the best dressed in the league.
Prayers Up – Atlanta's Chandler Parsons fell victim to a drunk driving incident that may have ended his career. By all accounts, it will be a long road to recovery.
Let's Talk – Former player Delonte West suffered a tragic mental health incident that unfortunately went viral on social media. There has been an outpour of support since, but it served as a reminder for all of us how important mental health is. Let's talk about it.
Mamba Forever – The basketball world remains in shock as one of the greatest players of all time, Kobe Bryant, along with his daughter and 7 others, died in a tragic helicopter accident. Kobe was a true ambassador of the game, a basketball God, and an inspiration to a generation. He may be gone but the impact of his legacy will never be forgotten. Rest in power.

Photo Courtesy: Garrett Ellwood/NBAE via Getty Images
Up Next
The Atlanta Hawks will be looking for revenge when they visit the 6 on Tuesday night. From there the Raptors embark on a mini back to back road swing through Cleveland on Thursday and Detroit on Friday. They close out their week with a home game against the Chicago Bulls on Sunday afternoon. Considering how this team is playing, don't be surprised if they go 4 -0.