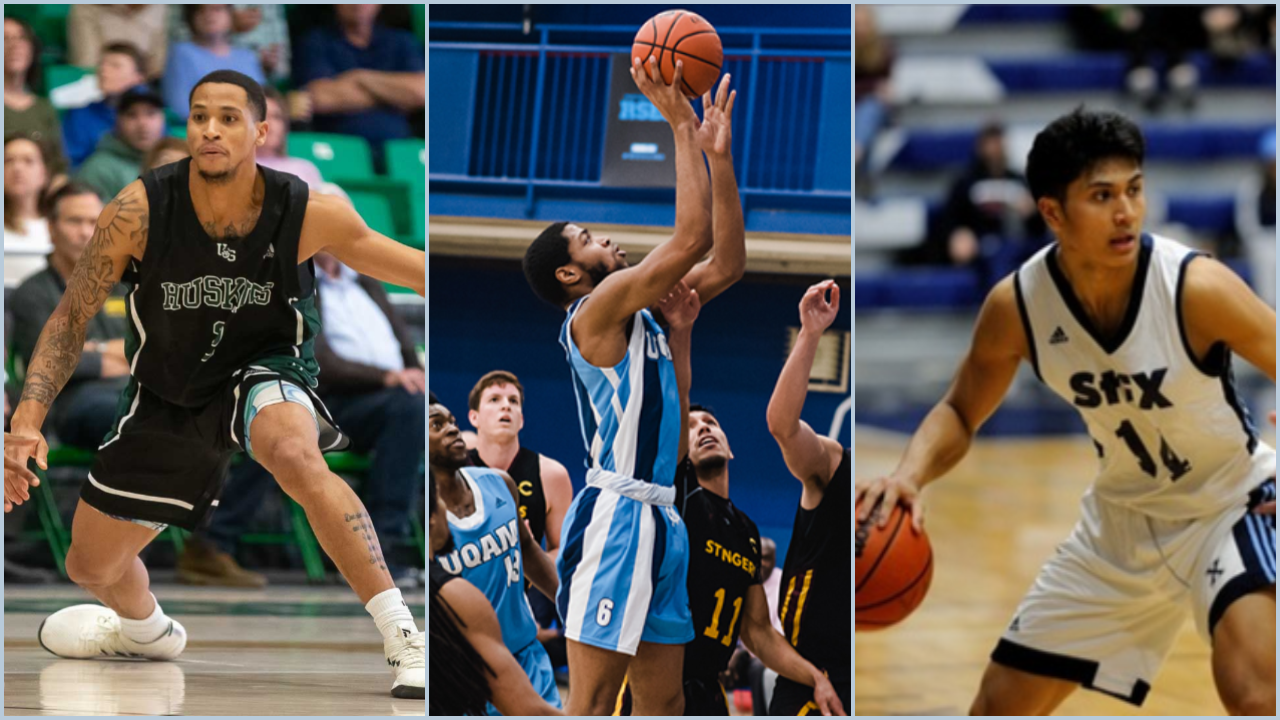 Lochard, Ngom and Gray takeover big games while a monumental upset shakes up the entire national landscape
Monumental upsets, stars stepping up when it matters most and, teams separating themselves from the pack. When you see these three things you know the second half of the season is underway in USPORTS… so let's get started:
Canada West- Robinson and Ellis star in battle of two of the West's best while Gilbreath, Cohee and Browne continue to be a class above the rest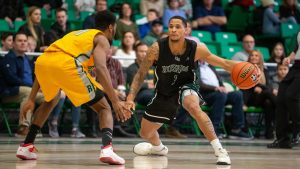 Photo Courtesy: Getmyphoto.ca
It was a battle of two of the conference's best this weekend in Saskatoon and each came away with a victory. For Saskatchewan, JT Robinson was outstanding in both games for the Huskies while Matthew Ellis lead the Victoria Vikes to an important bounce back win after a hard-fought Friday night loss. Both teams will once again face elite competition next week as Saskatchewan heads to Manitoba for a date with the Bisons while Victoria plays host to UBC. Manitoba had a dominant weekend in Calgary against Mount Royal and with elite talent like Rashawn Browne, James Wagner and Keiran Zziwa will give the Huskies an important test. Meanwhile, Victoria's test is a UBC team that had an important bounce back week this week against Trinity Western and superstar Ja'Qualyn Gilbreath. Gilbreath almost averaged a 30-point triple double but even still, it wasn't enough to knock off the Thunderbirds. If Jadon Cohee and Co. can remain playing up to their potential, their matchups against Victoria may be the most exciting of the weekend. The reason their form may be in question though is thanks to a UFV team that took them down last weekend in a gigantic upset. It appears though that that performance from the Cascades may have been a preview of the second half rather than a one night aberration as they swept UNBC this week on the road and will face Gilbreath and the Spartans next week in a fascinating litmus test for the potential feel good story of 2020. For the conference's best team, a star is emerging as Mason Foreman had another outstanding weekend for the Dinos, this time against Lethbridge. The same can be said for Regina and their rising star Carter Millar who was once again instrumental in two Cougar victories. 
OUA- Ngom and Gray the difference against some of the nation's best while Sow is back and on a mission
🚨UPSET AT THE MAC🚨@RyersonRamsMBB takes down #10 @WesternMustangs for @ryersonrams second win over ranked opponents today at @MattamyAC. @ImTallT went OFF for a program-record 23 rebounds and had 23 points to match. #WeRrams pic.twitter.com/dFBTQ8fnLe

— Christian Bender (@cbenderphoto) January 11, 2020
I billed it as the game of the week and Laurentian did not disappoint against Ottawa on Friday night. In a battle of two nationally ranked teams, the Voyageurs were once again led by Kadre Gray in a huge win. The next night the story was a little different versus Carleton as the Ravens once again proved they're the class of the OUA behind a ridiculous third quarter on the road in Sudbury. Over in Toronto, the Western Mustangs ventured to the city for two big games against U of T and Ryerson. After a close win in the Varsity Blues gym, the Mustangs were looking for a sweep of the six but Ryerson had other plans. Behind Tanor Ngom's second massive game of the week, the Rams led from start to finish for their second win over a nationally ranked opponent. The first came against Jordan Henry's McMaster Marauders who were able to bounce back with a tight win over York following their home loss to Ryerson. Another team heating up to start the second half is Laurier. In their two wins against Waterloo and Windsor, Ali Sow was on another level averaging 33 points per game. If Sow plays at that level for the remainder of the season, the Golden Hawks could live up to their preseason hype. Finally, history was also made this past week in the OUA, but I'll save that for later in the column!
AUS- Tigers lose first game, Acadia makes some noise and Johnson and Gibson form a dynamic duo for the Huskies
https://twitter.com/NorthPoleHoops/status/1216827627513819137?s=20
After weeks of domination, for the first time since January 20th 2019, the Dalhousie Tigers did not go home winners after an AUS regular season game. Following a 43-point win just two nights before against the same StFX X-Men they were playing that night, the Tigers could not get the job done once more. Avan Nava was the star of the game for the X-Men as they pulled quite possibly the biggest upset so far this season. There was good news for basketball fans in the capital of Nova Scotia despite the Tigers loss as the Saint Mary's Huskies got back on track thanks to their dynamic duo of Johneil Johnson and Qyemah Gibson as both were exceptional in wins over UPEI. Speaking of stars, Cole Long was back after missing last week but even with him in the lineup, Acadia was able to get two huge wins. Marcus Upshaw was the best player on the court for the Axemen this weekend but, fans of the program will remember it for Brett Speedy's buzzer beater that stole a win from a Seahawks team that lead for most of the game. It will be interesting to see if the weekend will be the turning point in the season for the Axemen who came in to it with a 3-5 record but leave it 5-5 and firmly in play for second place in the conference. One of the other teams fighting for second is UNB. The Varsity Reds depth shone through once again as Ibrahima Doumbouya, Chris Spurrell and Markus Masters were all fantastic all weekend for UNB who now have a 6-4 record.
Quebec- Mayali and Lochard show the importance of star players for their schools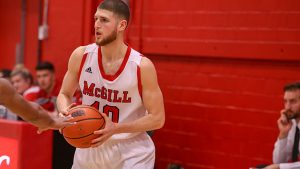 Photo Courtesy: University of McGill Athletics
No matter how you look at it, basketball is a sport defined by its best players. When one team's best consistently outshines another, it usually is pretty easy to figure out who will ultimately win the game. That exact situation is what unfolded this week in Montreal between UQAM and Concordia. Alix Lochard was a man on a mission all weekend long and the Stingers had no answer. The forward averaged 28 points for the Citadins and was a consistent force when they needed it most. The same can be said for Montreal's third team as Jamal Mayali was once again superb for McGill. If Mayali alone doesn't concern you though, the fact that McGill has to be one of the deepest teams in the country should, as they have four players averaging in double figures. Depth like that is a huge reason they've been able to go on a six-game win streak. Next week will be fun as McGill will look to avenge their lone loss of the season against the Citadins in a two-game weekend set. Laval, the team McGill swept this past week, will be led once again by young rising star Sidney Tremblay-Lacombe as they head to Sherbrooke to take on Bishop's.
Upset Special- Dal loses to StFX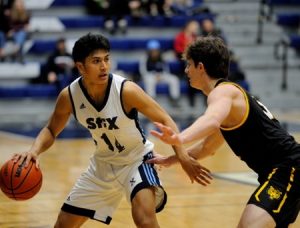 Photo Courtesy: Bryan Kennedy
Coming into this game, the Tigers seemed destined for the national championship game. I mean any time a team makes a 30-point conference victory a regularity, it is hard to deny them and their potential. Even coming into this game, the Tigers beat the X-Men by 43 points in Antigonish just two nights before. However, this night was different. Behind 25 points by Avan Nava, timely scoring down the stretch and the ability to get key stops, the X-Men pulled off arguably the biggest upset of the 2019-20 USPORTS season so far. It is entirely possible that no one else beats the Tigers again this season but on January 11th the X-Men did, and it's a moment for the program many in Antigonish won't soon forget.
Player of the Week- RSE- Alix Lochard (UQAM)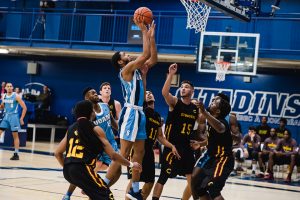 Photo Courtesy: Maude Touchette 
There is no better feeling for a coach than when your best player dominates a key game against a rival and that is why Alix Lochard is the player of the week this week. The RSEQ's leading scorer was sublime all weekend averaging 28 points, 11 rebounds and three steals in a sweep of crosstown nemesis Concordia. Coming into the week, the Citadins were two games back of the Stingers and yet, we stand today with them even and a lot of the credit goes to Lochard. 
         Runners up: Canada West- Ja'Qualyn Gilbreath (Trinity Western) / OUA- Tanor Ngom (Ryerson) / AUS- Johneil Johnson (SMU)
Why we love USPORTS- Ontario Tech's First Win
WARNING: Video guaranteed to put a smile on your face @NorthPoleHoops @OT_Ridgebacks @ontariotech_u @OUAsport @USPORTSca @TSN_Sports @BarDown https://t.co/ObcfRlrYNW https://t.co/FOvkQyrxRF

— Will Baldwin (@Will_NPH) January 13, 2020
Find me a better story in sports this week than the Ontario Ridgebacks getting their first win in USPORTS, I DARE you. AJ Cummings had 24 and Graddy Kanku had 21 as the Ridgebacks made history in Oshawa. If you need something to make you smile, look no further than the video above.
Growing the game- UBC's Kevin Hanson becomes winningest coach in Canada West History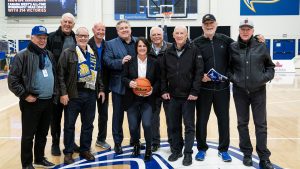 Photo Courtesy: Rich Lam UBC Thunderbirds 
There is no better use of the growing the game segment of this column then for Kevin Hanson and what he accomplished this past Thursday against Trinity Western. Versus the Spartans, the Thunderbird's head coach notched his 314th regular season victory, a record for the conference. Congratulations coach on an unbelievable career, your work to help grow the game in this country has not gone unnoticed! Thank you for everything and here is to 314 more!
Game of the week- Western Mustangs vs #8 McMaster Marauders
After a tough loss last week against Ryerson, the Western Mustangs will have a big chance to rebound this week and regain their national ranking. First and foremost they have to beat Brock on Wednesday in St. Catharines (not exactly easy) and then, they head to Hamilton for a date with the Marauders on Saturday night. If Western can sweep this week they will not only regain a national ranking but also, firmly cement themselves in the USPORTS Final 8 wildcard bid discussion.  The same can be said about McMaster who after also losing to Ryerson will have a chance at high quality win to bolster their own resume in USPORTS Final 8 wildcard bid discussions. It's a huge one in Hamilton and the whole country should be tuning in. 
USPORTS National Top 10
🏀 U SPORTS Top 10: @CURavens @AUS_SUA | @CanadaWest | @OUAsport | @RSEQ1 | @CanBball #ChaseTheGlory | #ViserHaut

🔗EN: https://t.co/qlOLCKXssx /🔗FR: https://t.co/VdH509nCsG pic.twitter.com/1IPMMc60p0

— U SPORTS (@USPORTSca) January 14, 2020
This weeks rankings sees four major changes. Firstly at the top was the inevitable drop of Dalhousie after their loss to StFX. What's interesting about the Tigers loss is that USPORTS has them as the highest ranked one loss team, a testament to their dominance so far this season. Meanwhile, Laurentian's defeat of Ottawa has resulted in the Gee-Gees losing a spot and the Voyageurs gaining two. It was the game of the week for a reason last week, look no further than the results it had on the rankings. Finally, the Manitoba Bisons are in the rankings for the first time this season ahead of a matchup this week with #9 Saskatchewan. Safe to say those games will impact the rankings next week!