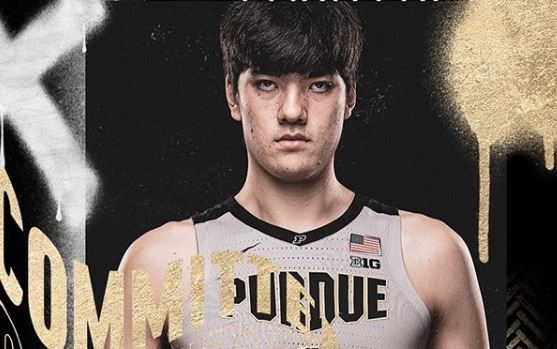 Purdue Scores Commitment from Canada's biggest prospect Zach Edey.
"We were called the Flinstones because we didn't have wifi, but I had a strong vocabulary, and pretty much a book in hand at all times, no devices," the words of Zach Edey.
Today, the Canadian center, 7'3 Edey used his wifi connection at IMG Academy to announce that he has committed to the Purdue Boilmakers.
Edey is the 5th overall Canadian prospect from the 2020 class. He marks the third prospect from the class to commit along with Olivier-Maxence Prosper (Clemson Commit) and Joshua Hemmings (Harvard Commit).
Asides from the most obvious advantage being his size, one thing that will prove to be huge for Purdue is his overall intelligence, IQ and ability to build rapport and relationships with teammates and the community. He's truly a class act.
The three schools that were narrowed down to (Purdue, Baylor, Santa Clara) are really different from each other, their geography, religious affiliation, size of the school and being private vs public. Purdue ended up being the top fit from a geography standpoint and overall fit for Edey's style of play.
Purdue will have their share of big men on the roster, an environment that Edey thought would be excellent for him to develop in.
Coach Steve Lutz made sure to drive that message him throughout the recruiting process.
He won't be the only 7'3 guy on deck since Matt Haarms, of the Netherlands is a Junior at Purdue, meaning Edey will have a chance to learn the ropes from Haarms and transition into BIG 10 play quite seamlessly.
Down the pipeline, it doesn't like there's another Canadian prospect as big as Edey. Purdue has scored the biggest Canadian prospect.