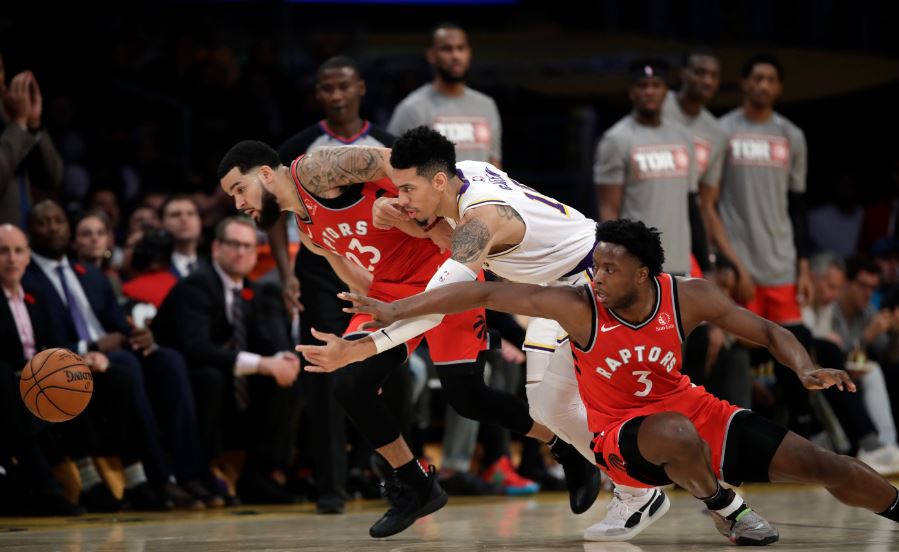 THE HIGH 5 – WEEK IN REVIEW – THE SIZE OF THE FIGHT IN THE DOG – WEEK 3
The High 5 – Week in Review
Week record (3-0) Overall Record (7-2)
The Thumb – How was the week?
Somehow, despite a strong record coming into the week, the Raptors have yet to be considered among the leagues best. It seems that the life of a Raptor (and Raptor fan) is to always be underestimated. That suits Coach Nurse and his leader Kyle Lowry just fine as they have made a career off being overlooked. Toronto will be more than content to fly under the radar while picking up dubs. Lowry has played like a man on fire, he has been excellent in this early stretch of the season. In support, Pascal Siakam has been great, but you can see that teams are starting to focus their efforts to slow him down. Pascal's defense was also questioned after being called for a handful of silly fouls which took him out of his game. This week, he made adjustments to remain effective and on the floor. Aside from a home contest against the Kings, the Raptors embarked on a difficult road stretch which included a revenge game against the Pelicans and a tough Sunday night matchup against LeBron James and the Lakers. Here is where the fun begins…
Sacramento Kings @ Toronto Raptors – W 124 – 120
Considering the tough road schedule ahead, this game was crucial for the Raps to pick up. The Kings, led by the exciting De'Aaron "Star" Fox, are a few years away from making any real noise but that doesn't mean they can't make teams sweat. Their constant pressure made the game closer than it should have been; at one time Toronto enjoyed a 15-point lead but the Kings were able to whittle it down to 3. Kyle led Toronto in points (24),assists (6) and (unfortunately) minutes (40) with Pascal adding to the damage with a solid 23, 13 and 5. Perhaps the best thing to take out of this game is the exciting play brought on by Serge Ibaka (21, 6, 2) and OG Anunoby (18, 6, 5). Toronto even got a lift from newcomer Matt Thomas who looked comfortable in his limited minutes.
Toronto Raptors @ New Orleans Pelicans – W 122 – 104
Many thought the season was lost for New Orleans after Zion went down to injury, but when one door closes another one opens and the former number 2 pick, Brandon Ingram, has absolutely kick down the door of opportunity to make his impression on the franchise and the entire NBA. As of writing, the rail thin forward is averaging an outstanding 26, 7, and 4. However, the Raptors have their own young power forward, Pascal Siakam, who has already impressed the masses with his inspired play. Spicy P erupted for a monstrous game, all but sealing the performance of the week award with an obscene 44 points (including 5-10 from deep), 10 and 4. Siakam was flanked by OG Anunoby who continues to play well (21, 7 and 4). However, despite the results, this game cannot be considered a complete win as Toronto was severely hampered by injuries to two of their main players. Kyle Lowry gutted through what turned out to be a fracture to his thumb, while Serge Ibaka turned his ankle and was seen in a walking boot shortly after the game. Both players are projected to miss significant time. This does not bode well with such a difficult schedule ahead, but such are the rigors of the NBA.
Toronto Raptors @ Los Angeles Lakers – W 113 – 104
Toronto was in it tough on Sunday night against the incomparable Lebron James, the talented Anthony Davis and the rest of the showtime Lakers (including former Raptor Danny Green). This was Toronto's first game without Lowry and Ibaka and they needed much more from the likes of Gasol, VanVleet and Powell to help shoulder their absence. Coach Nurse had to pull out all his tricks and reach deep down his bench to counter the Lakers massive frontcourt. VanVleet carried the offense until Pascal came alive in the third quarter. It was an exciting game, but the real story was the play of Toronto's bench. Chris Boucher, Terrence Davis II and Rondae Hollis-Jefferson all played spectacular minutes to highlight an improbable win.
The Index – The Leader – Player of the Week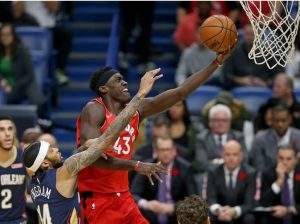 Pascal Siakam
At the start of the week, I thought Pascal's numbers would take a hit as defenses started to gear up against him. However, Siakam showed impressive growth in his game by adjusting his play to meet those changes. He continues to rack up double-doubles but, of course, the highlight of his week was his huge game against the New Orleans. Pascal roasted the Pelicans in the open floor and cooked defenders that tried to check him leading to a very spicy night. It's safe to say that right now, Siakam is one of the hottest players in the league.
| | | | | | | | | |
| --- | --- | --- | --- | --- | --- | --- | --- | --- |
|   | Points | Rebounds | Assists | Steals | Blocks | FG | 3PT | FT |
| v SAC | 23 | 13 | 5 | 2 | 0 | 8-13 | 0-3 | 7-8 |
| @ NO | 44 | 10 | 4 | 0 | 0 | 17-28 | 5-10 | 5-5 |
| @ LA | 24 | 11 | 4 | 1 | 3 | 9-25 | 1-8 | 5-8 |
| | | | | | | | | |
| Week Avg | 30.3 | 11.3 | 4.3 | 1 | 1 | 34-66 | 6-21 | 17-21 |
|   |   |   |   |   |   | 51.5% | 28.6% | 81% |
| Season Avg | 27.9 | 9.2 | 3.6 | .8 | .1 | 51.9% | 41.3% | 95% |
| | | | | | | | | |
Honourable Mention: OG Anunoby
The Middle – The Enemy – Best Opposing Player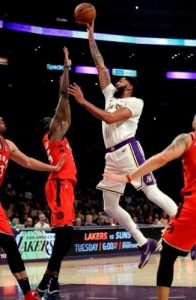 Anthony Davis
The Brow was omnipresent against the Raptors on Sunday night. He is so versatile and athletic for a big man that it seems like there is nothing he can't do on the floor. Imagine how intimidating it would be to try and drive to the hoop when he is sharing the court with Dwight Howard and Lebron James. Anthony Davis played incredible on Sunday night and if not for a red-hot Toronto Raptors bench, he would have picked up the win. Solid game for the big man despite the loss.
| | | | | | | | | |
| --- | --- | --- | --- | --- | --- | --- | --- | --- |
|   | Points | Rebounds | Assists | Steals | Blocks | FG | 3PT | FT |
| v TOR | 27 | 8 | 3 | 2 | 4 | 10-20 | 2-5 | 5-6 |
Honourable Mention: Brandon Ingram
The Ring – The X Factor – Standout Performance
Pascal Siakam vs New Orleans Pelicans
Pascal had his spiciest night of the year going off against the Pelicans for 44, 10 and 4. Much of that was by necessity as the Raptors lost Lowry and Ibaka throughout the game, but Spicy P was more than capable of picking up the slack. He was a terror in the open floor, he showed his explosive step in the half court and he put a couple of hapless Pelicans in his vintage spin cycle. Siakam was worth the price of admission on Friday night.
Honourable Mention: Fred VanVleet vs Los Angeles Lakers
The Pinky – The Unsung Hero – Key Contributor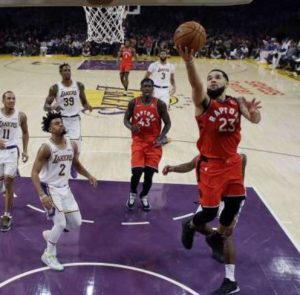 Fred VanVleet
Fred VanVleet has been solid, if unspectacular, early this season. With Lowry on the mend, he is going to get an extended run as Toronto's premier guard and with that, a real opportunity to show what he can do. He has already developed great chemistry with OG and Pascal and is starting to hit from distance with consistency. Fred is the type of player that excels under pressure and big moments and he will have plenty of opportunity for both over these next few weeks.
Honourable Mention: OG Anunoby
News and Notes
Challenging Coaches – Coach Nurse has been lauded as one of the brightest young minds in the game. He has been able to break down defenses and opposing schemes and has won championships at every level. But until Sunday night, he was 0-6 in coach's challenges. He finally got one to go his way against the Lakers much to the joy of the Raptors bench and commentators. Coach Nurse now sits at 1- 6 on challenges this season.
How Hungry are you? – If you haven't done so yet, I strongly encourage you to check out Serge Ibaka's "How Hungry are you?". His episode with Kevin Durant is fascinating. Not only was Durant funny, but he was also humble, charming, and most of all, honest.
Injury Bug – As mentioned, the Raptors are now without their leader in Kyle Lowry and their energetic centre in Serge Ibaka. They join three-time NBA champion Patrick McCaw who went under the knife to address a lingering knee injury early last week.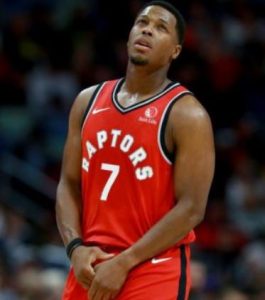 Around the League
Death of an Icon – As my NPH brothers have already documented, this week Canadian basketball legend Eli Pasquale passed away at the age of 59. He may not be the most recognizable name but real one's know what he did for the game and how he inspired so many to pick up a basketball. Rest in Power.
Going H.A.M. – One of the classiest players in the league and former beloved Raptor, Jose Calderon, has called it a career after 14 NBA seasons. He was one of the best set up men ever and still holds Toronto's record in all time assists.
Managing Loads – The NBA has a load management problem and has no idea how to deal with it. Kawhi Leonard's random rest games were not a problem last year, but this season, the league has taken a harder stance (I wonder if it has anything to do with the number of nationally televised games for the Clippers this year vs the Raptors last year). The Clips were fined $50 000 because of conflicting medical reports which brought into question the validity of Leonard's injury. It will be interesting to see how the league continues to manage this as I am sure there are others looking to take advantage of 'load management'.
Psychedelic – Miami Heat guard Dion Waiters suffered a seizure flying from Phoenix to LA on Thursday night after consuming some bad edibles. Panic attacks are no joke, but you would think that a professional athlete, who is paid to care for his body, would have a better grasp of what he was putting into it.                                                                                        
Up Next
The Raptors have a quick turn around and will face the title contending LA Clippers on Monday night. Toronto will be excited to play their former teammate, Kawhi Leonard, and they will be riding the high off Sunday night's emotional win. From there the Raptors will travel to Portland on Wednesday to play Damian Lillard and the always dangerous Trailblazers before heading to Dallas to take on Luka and the Mavericks on Saturday night. Toronto has played great so far on this road trip but still have some difficult challenges ahead.