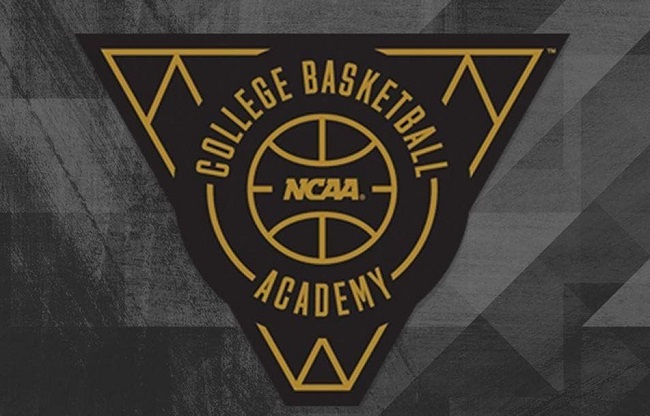 32 Canadian Invites to NCAA Basketball Academy
Every U.S college coach that starts dialogue about Canada is in awe at the amount of talented prospects that are coming out of the North. Numbers are continuing to rise in the NCAA and in the NBA with the biggest year yet in the Draft. This year's NCAA Live period will bring in 32 Canadians.
The final evaluation period for the 2019-2020 summer brings about a new platform that has been carried out by the NCAA. The period runs from July 23-28, 2019 and will be in four regions throughout the United States. Each session brings in a collection of talent of the rising sophomores, juniors and seniors. Up to 2,400 student-athletes have been selected between the four regions.
Each regional event will have two sessions with separate rosters for each, to give NCAA coaches a chance to evaluate a plethora of talent as they participate in drills, games and life-skills sessions.
Prospects are decided on through a voting system where every D1 coach/staff places 5 votes for players that will automatically be invited to camp. Since it often occurs where multiple schools from the region may be recruiting the same prospects, any duplicate votes turn into nominations that are selected by an advisory committee.
Below are the names of the Canadians attending the regional camps along with links to their player profile. College Coaches looking to clamp down in Canada and get full access with in-depth player profiles, National rankings and more feel free to reach out at esbiet@northpolehoops.com.
East Regional – University Of Connecticut
Session II
2021 | Olivier-Maxence Prosper | Rosemere, Quebec |  Lake Forest Academy 
2021 | Tre-Vaughn Minott |  Montreal, Quebec | Champlain College 
2020 | Ben Li | Markham, Ontario | Middleburg Academy
South Regional – University of Houston
Session I
2020 | Keon Ambrose-Hylton | Whitby, Ontario | Andrews Osborne Academy
2020 | Kobe Antwi | Oakville Prep | Crestwood Prep
2020 | Matteus Case | Pickering, Ontario | Chaminade Prep
2020 | Alexander Nwagha | Milton, Ontario | King's Christian
2020 | Alexander Root | Welland, Ontario | Ridley College
2020 | Johnny Vrdoljak | Georgetown, Ontario | Christ the King Secondary School
2021 | Zach Edey | Toronto, Ontario | IMG Academy
2021 | Kordell Charles | Caledon, Ontario | Andrews Osborne
2022 | Shaedon Sharpe | London, Ontario | H.B Beal
2022 | Jayden Webley | Calgary, Alberta | Montverde Academy
2022 | DJ Jackson | Mississauga, Ontario | St. Martin's Secondary School
2022 | Dylan Kalambay | Brampton, Ontario | St. Edmund Campion
2022 | Jaden Kirkwood | Kanata, Ontario | Ashbury College
2022 | Brody Adams | Ottawa, Ontario | Canada Topflight Academy
2022 | Jalen Thompson-Samuels | Markham, Ontario | St. Thomas Villonova Prep
Session II
2020 | Louth-Mohamed Coulibaly | Ottawa, Ontario | Canada Topflight Academy
2020 | Mattew-Alexander Moncrieffe | Toronto, Ontario | Orangeville Prep
2020 | Kellen Tynes | Dartmouth, Nova Scotia | Rothesay Netherwood School 
2020 | Coleman Stucke | Oakville, Ontario | Orangeville Prep
2020 | Kobe Elvis | Brampton, Ontario | Southwest Academy
2020 | Malachi Ndur | St. Thomas, Ontario | Cushing Academy 
2020 | Jalen Celestine | Ajax, Ontario | Long Island Lutheran
2020 | Joshua Morgan | Brampton, Ontario | Father Henry Carr
2020 | Sam Thompson | Halton Hills, Ontario | Brooks School
2021 | Benedict Mathurin | Quebec | NBA Academy Latin America
2021 | Javonte Brown | Toronto, Ontario | Mount Saint Joseph
2022 | Jayden Clayton | Whitby, Ontario | Andrews Osborne
2022 | Josiah Davis | Kitchener, Ontario | Huron Heights Secondary School
Midwest Regional – University of Illinois at Urbana-Champaign
2022 | Nigel Hylton | Toronto, Ontario | Lake Forest Academy
West Regional – Grand Canyon University
2021/2020 | Victor Radocaj | Richmond, British Columbia | Thornlea Secondary
2020 | Alan Spoonhunter | Regina, Saskatchewan | Edge School