AAU
High school
Tournaments
CNIT Upperclassmen Preview – Waterloo Wolverines Enter Hot, Red Rush Look For Gold, & Monarchs Want Now
16U (Grade 11)

Pool A
Our 16U Division features three pools, with Pool A headlined by the Waterloo Wolverines. One of the hottest teams on the AAU scene this year, the Wolverines are a top team in CYBL and have won 3 tournaments in the U.S. They're lead by Brock Newton, MVP of 2018 Hamilton NPH Showcase and Rowan Steele. Both players rank in NPH's top 50 of the 2021 class and bring a nice mix of skill and toughness that contributes to winning. The Wolverines have captured a CNIT crown in the past at the 17U division, led by Nedim Hodzic. Can these 16s do the same?
Triumph 204 will be a presence in the 16U division as well. A number of their players were at the Toronto NPH Showcase last month, with Emmanuel Ugbah making a notable impression. The explosive wing was selected into the Top Prospects game and is ranked 53rd by NPH in the 2021 class. His leaping ability and lockdown defence stand out immediately. Heady PG Edge Capuno joins Ugbah as players to watch from this Winnipeg squad.
London Gold medal enter CNIT as one of the top teams in the province, ranking in OBA's top 8. This squad turned some heads at CNIT last year and are set to grow on that success in 2019. They'll be led by Kuol Kuol (rank 35), a strong wing known to throw down some vicious dunks, and Oscar Pena, a skilled big-man who was another standout at the Toronto Showcase.
Niagara Tigers round out Pool A and are coming off a productive Signature League season. Cormac McMahon–a returner to CNIT who raised his confidence from last year's experience–is an all-around bucket getter who will be leading the way for the Tigers this weekend.
Pool B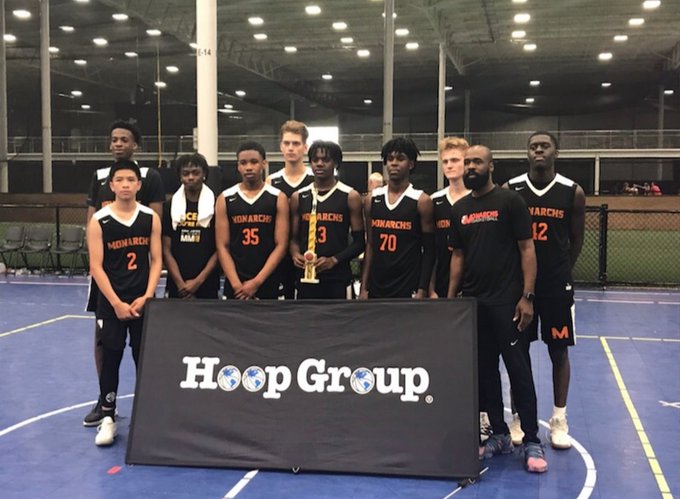 The Mississauga Monarchs are the top ranked team in Pool B and come in with a number of prospects looking to make a name at CNIT. Daren Clarke is a top dog, and combo guard who has an excellent feel for the game and good length for his position. Thomas Matsell is another Monarch to watch after impressive Signature League & high school seasons.
Burlington Force will be right on the Monarchs' heels in Pool B with a roster full of some of Ontario's top prospects in this age group. NPH Top 20-ranked Marko Milivojevic, has great skill at the power forward position and can score in a variety of ways. Nana Owusu-Anane  is a mobile big man with a high IQ and joins Marko to form one of the best frontcourts in the division. Luke Degannes is a jack-of-all-trades wing with a strong frame – he'll be someone to keep an eye out for as well.
The Northern Kings West are playing a year up in the 16U division and will be looking to turn some heads as they play against some older competition. The RWI Kings are the fourth team in Pool B coming off a solid season in CYBL's second division.
Pool C
https://www.instagram.com/p/Bw0P9VoAYCR/
In Pool C,  we have Quebec's Red Rush squad, representing a program that comes into CNIT every year on a mission. Having won the Hang Time Championships in Toronto and Hoops Fest in Pittsburgh earlier this summer, this year shouldn't be any different. Arguably the most notable memory in CNIT history has come from this program, where Tyrese Samuel lead his squad to 17U gold over UPlay Canada on a buzzer beater.
Jalen Shirley and the Brampton Warriors are 11-1 in CYBL Division 2 play so far. Shirley can make plays for others and his crossover will have defenders looking silly all weekend. Ancaster Blitz also competed in CYBL's second division and enter the CNIT with an 8-4 record.
North Toronto Huskies round out Pool C and will be playing up a year this weekend. Led by Nigel Hylton, who played in the BioSteel Futures & Toronto NPH Showcase Top Prospect games, the North Toronto Huskies are 8-1 in CYBL play and haven't lost since their first game of the season. Hylton is one of the best rim protectors and rebounders in his class and has a solid face up game on offence. Autrey Dawkins controls things on the perimeter for this squad. His combination of strength and shooting make him a handful for other guards to deal with. Shaedon Simpson is a 3 & D wing that does a lot of the little things for the Huskies as well.
17U (Grade 12)

Pool A
The Northern Kings 16U team will be playing up in the 17U CNIT Pool A, but are not to be taken lightly after a strong season in the Under Armour Rise Circuit. They finished with a 20-16 record and have high-level contributors across the roster. Jasha'juan Downey has the ability to make plays for himself and others as a lead guard. Jayden Grange is a 3 & D wing that can knock down contested shots, and Marcus Moore is smooth offensively and can get to the rim at will.
Packed stands yesterday watching North Star United's intro into CYBL with our 17U squad. Day ones got two dubs. #WhoAreWe #NorthStarsOn3 #FamilyOn6 https://t.co/RTLM2TOsx6 pic.twitter.com/NXYZu3dYHM

— North Stars BBall (@NorthStarsUni) March 17, 2019
North Star United have been dominant in CYBL play thus far with a 9-1 record. They're back home after playing in the Ballin' Under 1 Roof tournament in Kentucky last weekend and making it all the way to the finals. Lorenzo Barbieri is a player to watch on this squad. The shifty lead guard can attack the basket, finish through contact and create clean looks for his teammates.
Forest City and Motion Express will be hoping to upset these two heavyweight squads and advance to championship Sunday. The SuperSonics are representing London Ontario and are led by Ahmad Athman from London Basketball Academy of the NPA. Brampton's Motion Express is in the midst of a strong season with an 8-3 record in CYBL Division 2 play so far, and will have new names looking to make a splash.
Pool B
Red Rush headlines Pool B as one of two teams from Quebec in the 17U division. With the 6'9 Bryant Selabangue (rank 17) leading the way for one of the biggest squads in the weekend, the 2017 CNIT winners of this division will be here looking for more gold.
The 16U Northern Kings West are undefeated in CYBL Division 2 play thus far, sporting a 10-0 record. They dominated at the Pittsburgh Summer Invitational last weekend, winning all of their games by over 20 points. They'll look to maintain that momentum while playing a year up at CNIT.
.@Gatluak35 showed out and earned the 2019 Windsor @NPHShowcase Upperclassmen MVP 🎖

Who's got next? Ottawa and Toronto Senior #NPHShowcase's are coming up. Join the #NPHFamily: https://t.co/a77VMZLZja pic.twitter.com/ao2iFGOlqz

— NorthPoleHoops (@NPHShowcase) June 6, 2019
The WP Suns Elite are making the trip from Windsor as one of the wildcard teams in the 17U group. Gatluak James, the Windsor NPH Showcase MVP, is the feature player on this squad. He's a strong, athletic 6'6 wing that can handle the ball and knock down the outside shot. Hamilton Selects rounds out Pool B with upsets on their mind against some tough competition.
Pool C
https://twitter.com/SignatureLeague/status/1137815531573141506
The Mississauga Monarchs are the team to beat in Pool C. They won the Signature League championships on a last second shot in June and were led by Scott Jenkins' MVP performance. Christopher Sagl played a major role for the Monarchs in their championship run as well. Mostly known as a 3 point shooter, Sagl has added a breakdown ability to his game this season.  Look for him to flash some of that new skill this weekend.
Steven Lazar, a knockdown shooter from three that can hit the pull up shot in the midrange as well, leads Coach Krenk's Grassroots squad. The Grassroots program has won four championships in CNIT over the last three years and will be on the hunt for a fifth one this weekend.
Ste. Foy and Hoops Canada join them in Pool C. Ste. Foy boasts a roster of some of Quebec's best ballers, including Loic Savard who's ranked 27th in the 2020 class. Savard is a skilled 6'7 power forward who can score the ball from anywhere inside the arc.
Hoops Canada played tough in CYBL action this season and are a sleeper team in 17U to keep an eye on– always tough and well coached, don't expect them to take any possessions off.