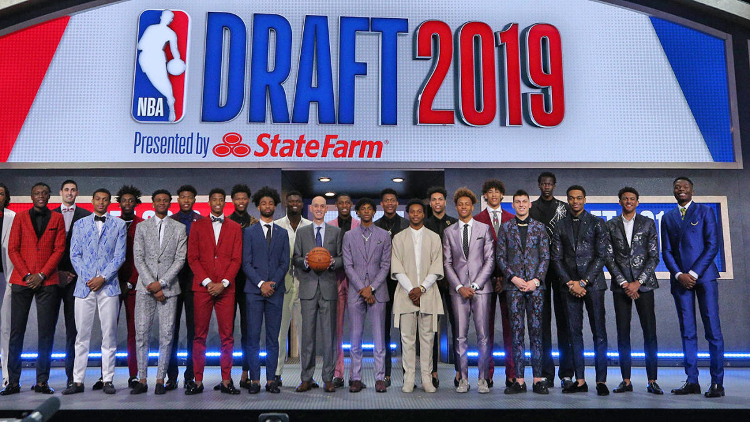 Canada Breaks Records Again In 2019 NBA Draft, 6 Names Called
The 2019 NBA Draft fed off the momentum of the Toronto Raptors Championship which was a major win for Canada. This Draft broke a record and brought in 6 Canadians into the NBA, growing the list of Canadians players in the NBA from 14 to 20. RJ set the table as he will do in New York and Brandon Clarke and Nickeil Alexander-Walker followed in the first round.
Canadian media is sounding like a broken record, and that's because records keep breaking as the explosion of Canadian talent continues. Next year we are projecting three potential first round picks in AJ Lawson, Andrew Nembhard and Jaelin Llewellyn with the potential of Isaiah Mike and others making their splash. Jahcobi Neath in my opinion is a potential one-and-done candidate.
Canadians Selected in the 2019 NBA Draft
RJ Barrett 3rd pick to New York Knicks
Nickeil Alexander-Walker 17th pick to Brooklyn – traded to New Orleans Pelicans
Brandon Clarke 21st pick to OKC – traded to Memphis Grizzlies
Mfiondu Kabengele 27th pick to Brooklyn – traded to LA Clippers
Ignas Brazdeikis 47th pick to Sacramento Kings – traded to New York Knicks
Marial Shayok 54th pick to Philadelphia 76ers
RJ Barrett as expected went at #3 to the New York Knicks. For the first time in a long time we didn't hear the boos from the New York Knick fans. They were ecstatic and RJ even got a standing O from Spike Lee. Many in New York are seeing RJ as a saviour to the slump in the Big Apple.
Nickeil Alexander-Walker got scooped up as the 17th picked by Brooklyn and was traded to New Orleans to play with the #1 pick in the Draft Zion Williamson. NAW's play making ability will be translating effective immediately in the NBA. His ability to score, pass and use both hands are what make him a special player. Explosiveness is an area that he has targeted and worked on and will continue to improve in. We can expect him to have a similar year to that of his cousin Shai Gilgeous-Alexander.
Brandon Clarke selected by OKC at #21 was traded to Memphis. He'll be a versatile 4 man out of this draft. High motor, help side defender developing an outside game; he's the type of player that OKC has had success developing in the past. If he ends up stretching his game out enough, Clarke could end up in the Andre Roberson mold.
Mfiondu Kabengele was selected at #27 by the Brooklyn Nets and will be traded to LA Clippers to play with fellow canuck Shai Gilgeous-Alexander. Kabengele is super under rated, a late bloomer in some regards and someone who just starting to become a more versatile offensive piece.
Ignas Brazdeikis is coming off of an incredible season at Michigan. He exudes confidence and mental fortitude, very needed traits when you get to the league. There will be some adjustments to make in terms of guarding the position, yet as an offensive weapon he primed to contribute. He'll have RJ Barrett by his side as a scoring threat which will open up opportunities. He won't be a starter but he will be someone who is injected late in games to get a feel on the big stage and gain experience.
Marial Shayok brings a great deal of experience from the college ranks and although the NBA places great value in elite youth talent, experience has often proved to be more valuable by guys who survive in the league. We are eager to see how he does in NBA Summer League.