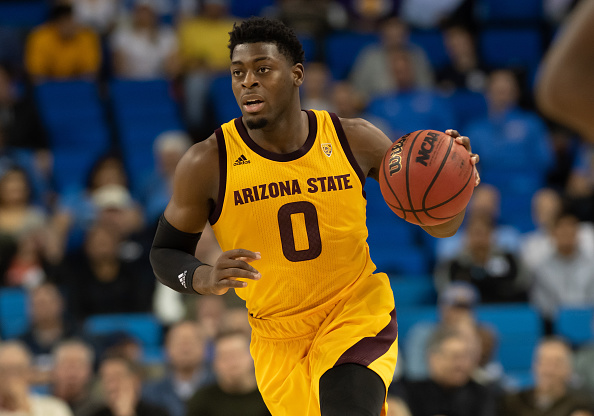 Top 5 Canadian Players with Brightest Futures On NBA Draft Night
Canada has yet another chance to send the greatest number of players besides the United States into the NBA this year. Some of our players have begun to eclipse super stardom, some have already cashed in on one hell of a payday, others are still trying to find their way through the world's most elite league. This is a short list of Canadians that you should bet the futures on when it comes to their potential, along with the best scenarios they will likely be walking into as we are just hours away from the 2019 NBA Draft.
R. J. Barrett
Projected: 3rd Overall (New York Knicks)
From: Mississauga, Ontario
No point in spending too much time on RJ because what is there really left to say? Built for the big moments, great body control in mid air, natural scorer, shooting could use some work, etc. I must say though the Big Apple is a fantastic fit for a kid that has had hype around him since he was 13. Add in a glowing recommendation from Coach K at Duke, who stated that "RJ will flourish here in New York," and that "He wants to be here," and you have the possible makings of one of the most perfect storms to hit New York since Sandy washed up on their shores. It's not all roses however, as Barrett will be joining a 17-65 roster from last year that for the most part will be even more stripped down than that offering. But free agency hasn't even begun yet, and the idea of a beleaguered front office that is known to throw anything at everything in the market to make it work means that Barrett will have a running mate come November, or, dare I say it, maybe even shipped off to a better situation entirely.
Luguentz Dort
Projected: Mid-Late 2nd round
From: Montreal, Quebec
Ah my first real hot take of this piece, Luguentz is a winner with the physical tools to be an NBA player for a long time. Scouts have denounced his propensity to shoot too much considering his percentages, and that he should not be put in a PG role despite only standing 6'3.5 with shoes at the combine. However, Dort can jump out of the gym, and despite his height, he plays about 4 inches taller than what he is when working under the basket. He already has a bulldog mentality at attacking the rim, and despite his numbers from behind the arc in college, he has also shown an ability to catch fire when in rhythm, and that will be his biggest test at the next level, to find a situation and coaching staff that will allow him to find that rhythm. Regardless of where he winds up however, his mental makeup is what is going to keep him in the league, he wants to win more than collect cheques, he wants to be coached and challenged, and he is not afraid to fail and study the tape as to why. I have no doubt that other than Barrett, he may in fact have the longest career in the NBA in this class out of all Canadians.
Brandon Clarke
Projected: Late 1st round
From: Vancouver, British Columbia
Brandon Clarke has the size and IQ to last in the league for a long time. A defensive minded 6'8 power forward, he is another player a scout just wants to see shoot the ball better from deep. With that said, not everyone has to shoot the 3 to last in this league, it's never been like that despite the recent craze, a guy in Clarke's position just needs to occasionally hit the OPEN three, huge difference. As far as defence and confidence goes, he'll jump with anyone, and isn't afraid to put the ball on the floor now compared to his younger years to get to the basket. The extra years at a championship caliber program such as Gonzaga have done well on his progression, and he has the potential to be a part of a few NBA Championship rosters down the line if he shows his value by the time, he gets to that second contract.
Nickeil Alexander-Walker
Projected: Late 1st round
From: Toronto, Ontario
Alexander-Walker can last in this league for a looooong time on the condition he bulks up and brings it every night at the highest level. If he can do those two things on a roster that needs scoring, he could very well be an All-Star in a few years. I am a big supporter of guys that can create their own shot, and considering Alexander-Walker is basically ambidextrous, he has no problem getting buckets for his team at any level. However, Alexander-Walker cannot afford to get discouraged in his first year when going up against noticeably bigger and stronger athletes at his position, for maybe the first time in his life, night after night, play after play, and if he can make peace with the fact that their will be growing pains, he has a chance to be something special. What also isn't said enough is how great of a defender he is (have you ever tried getting past someone who can shift as quickly to his left as to his right? It's a nightmare for ball handlers….) thanks in part to that same ambidextrous movements he's capable of. If everything goes right for Walker, I may look foolish in a few years for putting him as low as 4th on this list.
Oshae Brissett
Projected: Late 2nd round
From: Mississauga, Ontario
Brissett is the sleeper of this group, as he is the most athletic player on this list, he jumps like Dort but he's 6'8, he drives like Walker but he has a three-inch advantage on wingspan. Barrett has the better body control when driving, but if we are just talking straight athleticism, I'm taking Brissett in a foot race, a jumping contest, or weight room challenge and he'll be the winner or near the top of every challenge between guys on this list. But this article is about brightest futures, and Brissett's biggest obstacle will definitely be polish. No one has seen him play man to man since his days at Athlete Institute, but I doubt he's forgotten how to defend with the size and lateral speed he has. His mental makeup is also that of someone who doesn't get too flustered, which should get him through the trials and tribulations of a rookie year that will include stops in the G-League. If Brissett can get his shot to fall in the corners like they did at AI, and given the fact he already has the body build and agility to create his own shot inside the arc, guard the 1-4 on defence, and get himself to the line A LOT with his first step in a more spread out NBA game compared to the crowded Syracuse style of play, he will not just last, but thrive in the NBA.