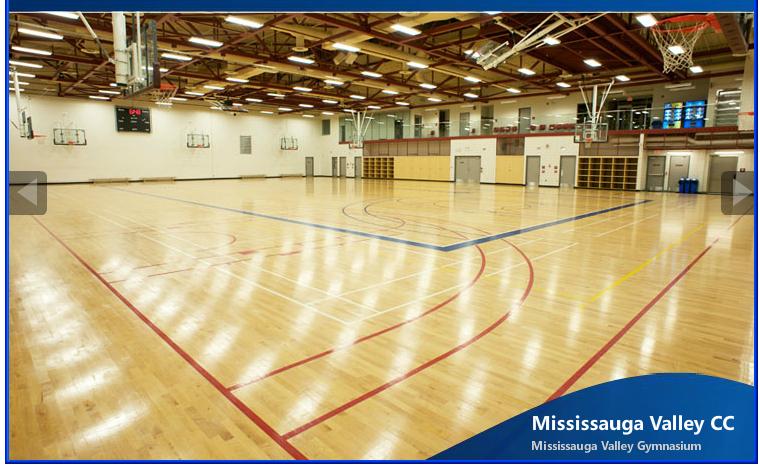 On our very first Homecourt edition we take a look at one of the most well-known courts in Mississauga, the Mississauga Valleys Community Center, better known simply as "The Valleys".
If it's your first time here, you may wonder where the actual court is in the building, as it appears as a one level structure with a few small gathering spaces at the front of it. But once inside, you'll understand immediately where the nickname "The Valleys" comes from. The building itself has been built on a hill that slopes down, and at the bottom of that hill, or "valley", lies 3 full sized courts, 2 vertically and 1 that runs across the other two, with a ton of space on all 4 walls for players to get dressed and warmed up.
During open runs on Monday nights and Saturday afternoons, 2 of the courts are used, with the more experienced and competitive runs happening on the court to the left of the entrance. Some of the most talented players from the entire city of Mississauga have stepped on that main court, with countless from the OCAA, ROPSSAA All-Stars, U-Sports, NCAA, and even at least one current NBA player to my knowledge having graced it's hardwood.
"This is THE place I came to work on my game," says Mark Lue-Hue, an alumnus of Lambton College in the OCAA, and current pro free agent. "It's where I had a chance to work on my moves against live players that knew how to guard. Every time I left those runs my confidence grew a little more, my shot always got a little better. The big reason for that had everything to do with the level of competition you faced on any given night when you walked into the Valleys."
That level of competition for the most part has been consistent for over 15 years now, since I began going there in high school. One of the more famous Mississauga natives to have played was a young Dillon Brooks, current guard for the Memphis Grizzlies, who managed to nearly tear the rims off during the one of the few times I personally saw him play at The Valleys. Other notable alumni of this court include Princeton's current starting point guard, Sophomore Jaelin Llewellyn.
"Being able to have the valleys as my local gym was such a great thing for me as a young player, because of all the competition and talent that has come through that gym. It allowed me to be exposed to older players, while giving me a chance to train with my dad many times a week", recalls Llewellyn.
As stated above, one of Llewellyn's first trainers was his own father, former Canadian National Team guard Cordell "Bobby" Llewellyn. Bobby has used The Valleys to train countless players for the better part of a decade to this day, using it as a place to teach the game, free of charge, in a city that until very recently, has been slow to react to the boom of talent that has gripped Mississauga.
"Access to Mississauga basketball was a huge obstacle for individuals looking for opportunities and gym space. Mississauga considers basketball as a sport for visible minorities only, so the challenges and stereotypes were quite daunting."
Bobby went on to discuss the issues many faced around the city when he began using the facility,  and how, in like many other places of Canada, hockey was made king and everything else was secondary in the budget (The Valleys itself has it's own hockey rink that has been renovated multiple times, even in my relatively shorter lifespan). But despite the challenges that visible minorities of the community faced, when trying to get time to play a game more identifiable, The Valley's courts were there to provide a place to grow.
"Mississauga Valleys has been that place for so many years, where bringing together a collection of many faiths and cultural backgrounds was not an anomaly. Even with the barriers presented by management. So, developing kids and fighting for opportunities and gym space was something that I took pride in. This community as been disenfranchised, undervalued, and devoid of the resources needed to be self sufficient. I was just one of many who saw the value of what it takes to build a community."
But like most courts in the city, the Valleys isn't without its wrinkles, just ask Kevin Lee, a student of Bobby's in his developmental years and a Father Goetz alumnus. Lee is also a current unsigned mid-major prospect, who spent his post grad year in Atlanta playing for the SBA Lions.
"I've been playing there for years and that's always been my go-to through the week. I've always had fun there, until the floor gets a little dusty and has me questioning whether my shoes are losing traction (laughs)."
Dusty floors and all, the floor does manage to get a re-waxed at least once a year to help prevent injury, and still to this day remains a hot spot in Mississauga thanks to it's central location in the city, while also being a short bus ride from one of the city's most illustrious basketball powerhouses, Father Michael Goetz.
Both the junior Llewellyn and Lee attended Goetz before moving on to prep, along with U-Sports legend, and head NPH Showcase instructor David Tyndale, and former NBA forward Andrew Nicholson.
Goetz isn't the only school repping at the Valleys however, with St. Joseph's, St. Martin's, and St. Francis Xavier all having players their working on their game on a regular basis, sharpening each others skill, and the results have shown.
All of those schools mentioned above have claimed a gold in ROPSSAA in basketball in the past ten years, and as said before, you could go to the gym and run into a ton of players who have either claimed a ROPSSAA gold medal, or have participated in the ROPSSAA All-Star game held every year.
Simply put, the talent at these runs are deep, and if you're ever looking for a new place to test your skill, this is a gym to check out every Saturday from 2:30-4:30pm and every Monday from 8-10pm.