Reflecting on Alberta Basketball, Good Hoops Summer Slam Standouts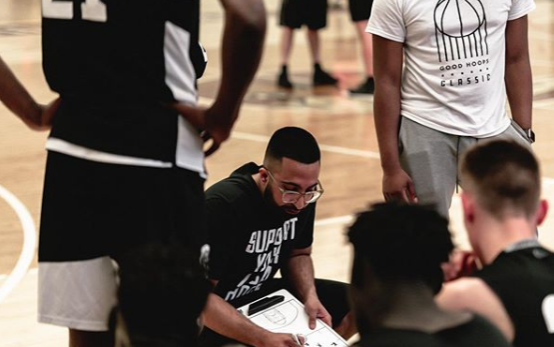 Following a trip to Edmonton for the Good Hoops Summer Slam, I had an opportunity to reflect on the last 10 years, when North Pole Hoops made its first trip to Alberta.
A community is comprised of its people, and its been a pleasure to build quality relationships with the like minded individuals in AB, providing opportunities for youth and elevating the game.
From Fort McMurray, Grand Prairie & Edmonton to Red Deer, Calgary, Lethbridge & Southern Alberta the game is growing and there are great community leaders around the province that are continuously watering the seeds planted years (and decades) ago.
In Edmonton, the basketball scene is developing, and a big part of that process is the work that Sunny Sooch, Ryan Bhalla and the Good Hoops program are doing–which I was able to witness first hand.
"We want to give kids an opportunity to play in a structured, competitive environment," explained Good Hoops founder Sunny Sooch, who has witnessed a significant spike in the interest for the game.
Beyond the success of our Canadians at the NBA, NCAA level and the strengthening of our USports & CCAA leagues, we are experiencing a surreal time where the Toronto Raptors have a shot at winning an NBA championship–a feat that has united our country in a special way, with the impact being felt from coast-to-coast, including Western Canada.
"Edmonton is booming. There are a lot of athletes in the city and having access to more basketball is only going to better the level of hoopers coming out of Edmonton."
There has been strong diversity in Alberta and a unique gene pool of athletes for as long as I can remember–with size, length and overall talent. But talent alone, is not enough.
With programs such as Good Hoops, a developing club community & provincial programming, raw ability will have an opportunity to be harnessed moving forward to maximize the potential of student-athletes–to the point where I believe an NBA talent will be produced out of YEG not too long from now.
With the implementation of discipline, work ethic and skill development at a young age, the potential is there to produce PROS from AB for years to comes.
And while Raptor fever is taking place, I was at Grant MacEwan University getting familiar with the next generation of Western Canada Basketball prospects who are more inspired than ever.
Stand Outs
While I have a long list of players, jersey numbers & initial evaluations from the Good Hoops Summer Slam, here are five upperclassmen that stood out to me:
Deng Dak | Genesis Basketball 
Explosive first step, kept pressure on the defense. Very athletic attacking the rim. NPH alum that we learned about several years ago–originally out of Brooks, Alberta. 38 inch vertical, but not just an athlete. Skilled, shoots it, hard worker and has the ability / feel to patiently work the pick and roll. Multi-dimensional defender that takes pride, and will typically guard the oppositions best player.
Kieran Isnor | Battle River 
The engine for Battle River. Possesses strong intangibles—high IQ, positive energy & leadership on the team. Uplifts teammates on the floor or on the bench. Good athlete with playmaking ability at the point– strong skill skill set with respectable jumper on the perimeter and the ability to attack the rim to finish or distribute. This wasn't our first encounter with Isnor, as we identified him previously at NPH Showcase. We know that Isnor is committed to his craft and coachable. Will continue to improve and ultimately play at the next level.
Drew Ackerman | Rise Above Hoops
The big boy from Saskatchewan is a hooper. Very high I.Q, thinks the game and is composed. A weapon with his size at around 6'8, can stretch the floor with an efficient three-ball and make plays from the top, finding teammates on cuts to the rim, or absorbing attention in the paint for kick outs.
Madit Lueeth | Good Hoops
I highlighted Madit earlier, as he is an intriguing prospect due to his impressive physicals at 6'3, with a 6'8 wingspan and major athleticism. As he tightens up his game at the point and matures as a decision maker, he will be a problem for years to come.
Chris Lyon | Genesis Basketball
Starting with the physicals. 6'9, 7-2 wingspan and 32-inch vertical. Good timing defensively and feel for the game. Has three USports programs actively recruiting him, and expected to increase very soon. Later bloomer, has only been playing for two years, immigrated from Rwanda.
Tournaments are important to our program because we want our kids playing the best kids, iron sharpens iron is the idea. So we invite programs to try to give our kids the best games possible. – Sunny Sooch
NPH Showcase Circuit Coming to Alberta
The next time North Pole Hoops will be in Alberta will be for the NPH Showcase National Circuit with stops in Edmonton August 20-21 & Calgary August 24-25 bringing together the Top Grade 5-12 boys in the region, regardless of club or high school affiliation. Prospects will have NPH Player profiles created, and enter the National database. We look forward to continue providing Exposure opportunities for Alberta and Canadian Basketball. The future is bright!