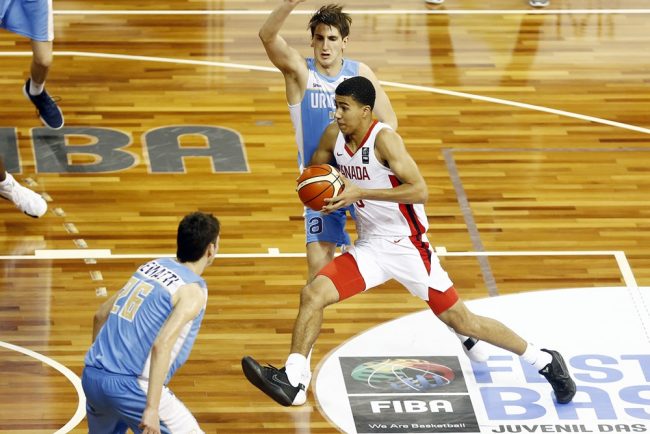 Cadet Team Canada
Team Canada
Team Canada U16s 1-0 at #FIBAU16Americas, Take Down Uruguay
There's a lot to talk about when it comes to Team Canada.
The buzz is around the Raptors right now and rightfully so, yet there is another Canadian team that will be making headlines with the U16 National Team out in Belém, Brazil competing at FIBA U16 Americas. There's a fuss to be made about this team because of the depth in the roster and multiple projected NBA talents.
In the red and white's last appearance in this event, WE THE NORTH boded fairly well with a silver medal.
Canada is ranked number 2 in the world in international youth rankings, of course, behind the world dominant USA. The U19 team with Rowan Barret Jr. and the gang put the world on notice winning world gold at U19 and the U16s have a chance to do that again in this event.
Canada opened things up against Uruguay with a 101-63 win in a well balanced attack.
Number 1 overall ranked in 2022, Caleb Houstan started the 1st half in foul trouble, sitting out for a majority of the second quarter but bounced back big finishing the game with 17 points, 5 rebounds and 2 assists. When he has his mind set to scoring there's not a whole lot the defense could do thanks to his versatility.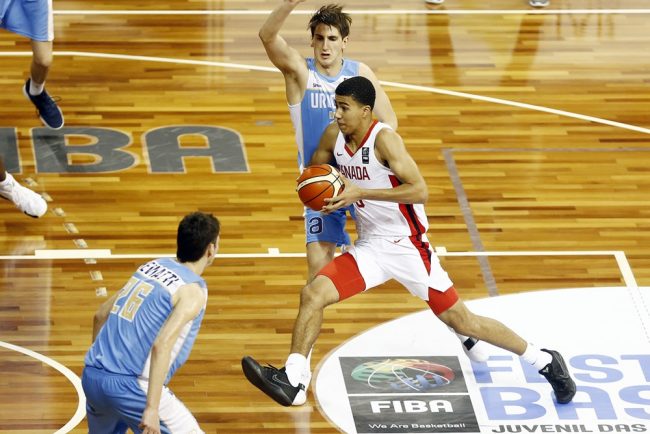 For the first 14 minutes of play there was a trade off of baskets. Canada got it's surge and change in momentum when the guards Ryan Nembhard and DJ Jackson shook off the nerves and played aggressive the rest of the way.
In training camp, there was emphasis placed by Coach Kirby Schepp on pushing and filling lanes quickly in transition. The troops executed on this more so in the second half. Uruguay had otherwise played good defense in the half court set and on offense got things going through Agustin Ubal who finished the game with a team high 16 points.
A majority of Shaedon Sharpe's production (18 points, 5 rebounds) came in the later part of the game when it was already out of hand and in favour of Canada. Great move on Coach Schepp to keep him in and build confidence to help him get into a groove early in the tournament.
Sharpe has potential to be an X Factor for this team on both ends, when he's fully engaged he has "Klaw" like abilities.
Four players for Canada ended up in double digit scoring; Houstan, Sharpe, Jackson and Elijah Miller, who is the brother of Emanuel Miller. Miller is committed as a freshman at Texas A&M and was a member of the U19 gold medal team in Egypt.
This is a team that lacks outside shooting so they'll need to commit to pushing the rock and playing uptempo.
Canada gets the home team Brazil tomorrow, who will be coming out with everything they got in front of their crowd. The following game on June 5th will be against Puerto Rico, who is traditionally one of the better teams in the Americas.
Action from Brazil tips off tomorrow at 4:30 pm ET and can be found on YouTube on the FIBA channel.
2019 U16 MEN'S NATIONAL TEAM ROSTER
| | | | |
| --- | --- | --- | --- |
| NAME | HEIGHT | HOMETOWN | CURRENT SCHOOL TEAM |
| Enoch Boakye | 6'9″ | Brampton, ON | Brampton Centennial S.S. |
| Jaden Clayton | 5'11″ | Whitby, ON | Andrews Osbourne Academy |
| Josiah Davis | 6'1″ | Kitchener, ON | Huron Heights S.S. |
| Caleb Houstan | 6'9″ | Mississauga, ON | Montverde Academy |
| Luke Hunger | 6'8″ | Montreal, QC | Ashbury College |
| Dorile (DJ) Jackson | 6'3″ | Mississauga, ON | St. Martin S.S |
| Dylan Kalambay | 6'7″ | Brampton, ON | St. Edmund Campion C.S.S |
| Leonard Miller | 6'5″ | Scarborough, ON | Thornlea S.S |
| Ryan Nembhard | 5'11″ | Aurora, ON | Montverde Academy |
| Shaedon Sharpe | 6'3″ | London, ON | H.B. Beal S.S |
| Caelum Swanton-Rodger | 6'9″ | Calgary, AB | Sir Winston Churchill S.S |
| Jayden Webley | 6'9″ | Calgary, AB | Montverde Academy |