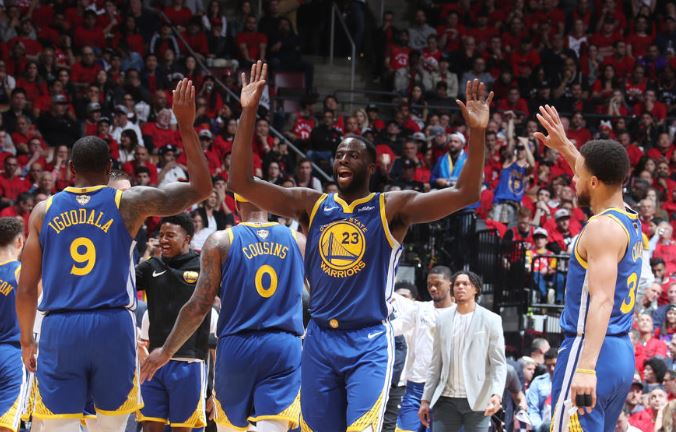 Raptors Recap – The Finals – Game 2 – GS 109 @ TOR 104
The High 5 is where I give my reaction to the night's games. This includes a look at the players who made a difference in the outcome and some unique details that caught my attention.
The Thumb (Story of the Game)
The Toronto Raptors shocked the NBA world with an impressive Game 1 victory against the Golden State Warriors on Thursday night. It was clear that Golden State had underestimated the Raptors, even going so far as to say that they had not studied enough film or realized the impact that Pascal Siakam could have on a game. Toronto had an opportunity to go up 2-0 with another win at home but after being embarrassed in Game 1, the Warriors were hungry for revenge. Golden State started the game playing with outstanding intensity led by their most vocal and physical player, Draymond Green. The Raptors hung tough throughout a gritty first half, but the Warriors were relentless. They kept the Raptors on their heels, hunting shots and earning frequent trips to the line off Toronto's careless fouls. Toronto relied on their defense to counter but in the second half, Golden State blitzed them for an 18-0 run to rip away the lead. The Raptors offense completely evaporated as they could not connect on any of their open looks, a concern that has plagued them throughout this post season. It wasn't until Leonard started to force the action in the paint that they were able to slow the avalanching Warriors offense. Both teams felt the effects of the physical play as fouls and injuries became a factor. Down the stretch, the Raptors never gave up and battled until the final minute where they somehow narrowed the Warriors lead to 2 points. But in the dying seconds, former finals MVP, Andre Iguodala, connected on a back breaking three pointer to steal the victory. The Warriors persevered through a tough game to earn the win and even the series.
Golden State 109 Toronto 104.
The Index (The Leader)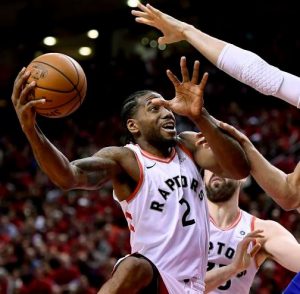 Although Kawhi Leonard had a relatively quiet Game 1, the Warriors still brought frequent double teams and shaded help defenders anytime he touched the ball. Leonard had a difficult time finding space for his jumper and he had to resort to his physicality to ignite his offence. Kawhi's strength was on display early as he bulldozed through Kevon Looney on a vicious drive to the basket, taking the Golden State center completely out of the game. Whenever Toronto struggled to score, Leonard would muscle his way to the rim to put pressure on the officials to make a call. He had to work tirelessly for his 34 points (16/16 from the line). He also grabbed 14 massive rebounds (5 offensive) to go with 3 assists, a steal and a block. Despite solid numbers, expect the Klaw to tighten his game as he went 8/20 from the field and coughed up 5 turnovers.
The Middle (The Enemy)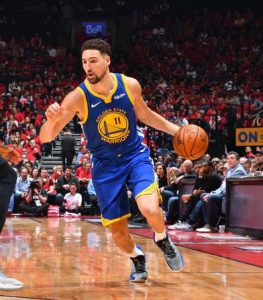 Klay Thompson was breathing fire throughout most of the game. He only needed a fraction of a second to get his shot off and he nailed his looks with deadly efficiency. His shots were absolute silencers, every made basket was like a cold bucket of water was dumped on Toronto's red-hot crowd. Thompson was smooth like butter and uber accurate, he would knock down open looks and turn to let Toronto's bench know about it. He finished the game with 25 points on 10/17 shooting, 5 rebounds, 5 assists and a steal. Thompson was having a magnificent night until a leg injury forced him out of action in the fourth quarter. Klay is playing for a big contract and an injury is the last thing he needs.
The Ring (The X Factor)
Demarcus Cousins made his first real appearance in this year's playoffs (and in his career) after a long stint on the disabled list. Cousins is an incredible talent and his presence on the Warrior's roster reflects the abundance of riches that Golden State has. Like Thompson, Cousins is also playing for a contract, he brought his best effort in his 28 minutes of action. He drove the ball with surprising agility, found his cutters with precision passes and he picked apart Toronto's defense with patient, cerebral playmaking. Boogie had 11 points, 10 rebounds, 6 assists and 2 blocks. Cousins is a sleeping giant and the Raptors will be in trouble if the Warriors can get him going.
The Pinky (The Unsung Hero)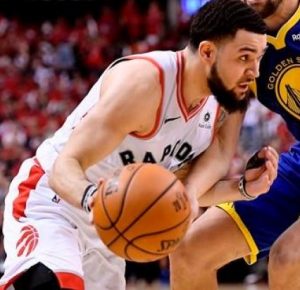 Fred VanVleet has been outstanding as the second prong of Toronto's two headed point guard attack. His defense was smothering, he stuck to Curry like a shadow and did a fantastic job making the former MVP work to gain any separation. VanVleet had active hands, he came up with a number of deflections, open court steals and crafty drives to the basket. Fred was forced to step up as Lowry was limited with foul trouble. In 38 minutes, he had 17 points, 4 rebounds, 2 assists and 3 steals. It's amazing to think that only a few weeks ago Fred was virtually unplayable and now he has suddenly become a crucial part of Coach Nurse's rotation.
Player of the Game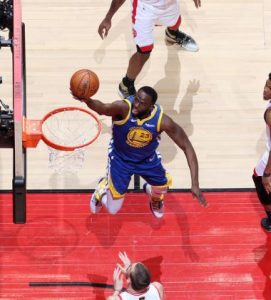 Draymond Green took personal responsibility for Siakam's Game 1 explosion. He made a promise to hold Toronto's dynamic forward down with a stronger effort. Green backed up his word by keeping Siakam to only 12 points. Draymond has a reputation of being a loose cannon, but he has shown exceptional maturity throughout the playoffs which has allowed his unique talent to shine through. Green fits perfectly as a utility man amongst a group of sharp shooters. He was tough on the defensive end and unselfish in transition, he even hooked up with Andrew Bogut for a couple of unexpected alley oops. Draymond had 17 points, 10 rebounds, 9 assists, 2 steals and a block. Green's reliable defense and disciplined yet frantic energy was the difference in the game.
Game Notes:
Presidential Treatment – Former US President Barak Obama strolled into the Scotiabank Arena with Raptors President Masai Ujiri and sat next to Commissioner Adam Silver for the game.
Getting Healthy – There has been a lot of attention on the health of Kevin Durant. What hasn't received nearly as much fanfare was the return of Raptors forward OG Anunoby who has been sidelined for almost a month.
Die by the 3 – The Raptors shot less than 30% from deep and only connected on 10 of their 38 attempts.
Jurassic World – The pop-up Jurassic parks that have been sprouting up all over Canada has grown to 36 cities.
Share the Rock – The Raptors are at their best when they are passing the ball. Tonight, they only managed 17 assists to Golden States 34.
The Raptors now head West to try and steal a game or two at the infamous Oracle Arena. Toronto will have a few days to prepare and make adjustments for what will be their greatest challenge to date.