Raptors Recap – Round 2 – Game 3 – The High 5 – TOR 95 @ PHI 116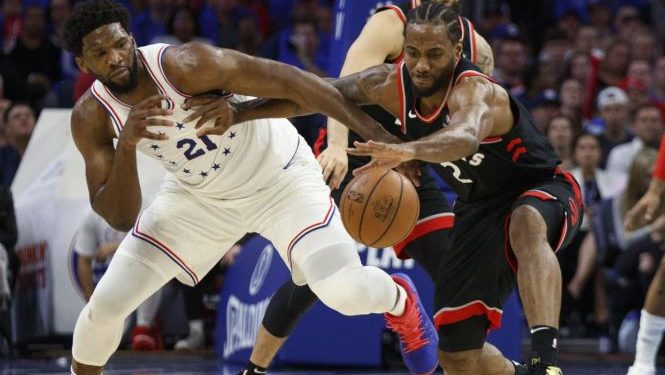 The High 5 is where I give my reaction to the night's games. This includes a look at the players who made a difference in the outcome and some unique details that caught my attention.
The Thumb (Story of the Game)
Game 3 of this back and forth series took place in front of a boisterous crowd at the Wells Fargo Center in Philadelphia on Thursday night. The Raptors smashed the 76ers in Game 1 with a dominating offensive exhibition. In Game 2 everything went wrong for Toronto resulting in a narrow victory for the visitors. Tonight was a show me game for both teams, the jury was still out as to which side really had the edge in this series. It didn't take long before the Raptors found out that the City of Brotherly love was not so welcoming. Fueled by a rowdy crowd, the 76ers took advantage of their size to bully Toronto all over the court. Kawhi Leonard, and to a lesser extent Pascal Siakam, paced the Raptors as their shooters were slow to heat up. Philly received balanced contributions from each of their starters and their most dangerous option, Joel Embiid, exploded for his best game of the series. Toronto was looking everywhere for solutions, especially at the refs, but they could not find a way to slow Philly's core of would-be All Stars. The combination of the Raptors being cold from the field and getting beat on the glass, helped the 76ers dictate the pace of the game. Toronto was led by the brilliance of Kawhi Leonard, but he was let down after getting little help from his supporting cast. This was another game where it seemed like nothing could go right for the Raptors. Credit to the 76ers for successfully getting under Toronto's skin and forcing the Raptors to play their game. Philadelphia made a big statement with this win and have suddenly become a very real problem for Coach Nurse to solve. The Raptors have some soul searching to do.
Philadelphia 116 Toronto 95.
The Index (The Leader)
Kawhi Leonard continues his magnificent playoff run with another display of All-World talent. His shot mechanics are so consistent that it feels as if every attempt has a chance to go in. His broad shoulders lifted his teammates who seemed to get better through sheer osmosis. Kawhi was magnificent and the Raptors were always at a net negative whenever he was off the floor. Leonard eviscerated Greg Monroe late in the second with a vicious left handed hammer to spark a Raptors run. The Klaw had 33 points, 4 rebounds, 3 assists and a block. Leonard singlehandedly carried the Raptors back into the game with a mesmerizing second half. Kawhi is an incredibly calming player, his poise and professionalism is a blessing for the Raptors and right now, he seems like their only hope.
The Middle (The Enemy)
Jimmy Butler flirted with a triple double as he stuffed the stat sheet with positive numbers in every category. He did an excellent job keeping his head on a swivel whenever he probed the lane. Once Butler was able to get past Toronto's first line of defense, he had his choice of taking an easy jumper from the midrange or hitting one of his slashers in stride. Butler finished with 22 points, 9 rebounds, 9 assists, 3 steals and a block. Jimmy's production has been a huge boost for the 76ers as his contributions have pretty much cancelled out Leonard's impact.
The Ring (The X Factor)
Pascal Siakam struggled tonight but he was still better than many of Toronto's players. Siakam has started to learn how to adjust his game to counter Philly's staunch defense. No longer do we see easy baskets from leak outs, or spicy spin moves, instead we are seeing a more methodical approach from the young Cameroonian. Pascal chipped his way to 20 points to go with 3 rebounds, an assist, a steal and a block. The Raptors are asking a lot from Siakam and he has delivered, but it hasn't been easy. Pascal had a rare moment where he lost his composure when after another empty drive to the basket, he kicked at the lumbering Joel Embiid who went down like a falling Redwood. If another one of Toronto's veterans can start knocking down shots with consistency (looking at you FVV/Lowry) then maybe Siakam can really go off. Until then expect Pascal to be battling for every inch.
The Pinky (The Unsung Hero)
Its been no secret that Danny Green has struggled so far in the playoffs. The leagues second most accurate three-point shooter has been tossing up bricks and has only been able to stay relevant due to his exceptional defense. Tonight, Green went 5/9 (3/6 from deep) for 13 points, he also added 6 rebounds and an assist. Danny Green finally found his range to provide some much-needed distance shooting, but he will need to do that and more if he wants to help his team to a win.
Player of the Game
Joel Embiid brought back shades of the Reign Man with his extensive pointing after one of his many thunderous dunks. The ills that plagued him have faded and the real Embiid has finally shown up. This was the version of Embiid that can force his way into the MVP conversation (if he could stay healthy). Joel had everything going, the soft touch, the dominating physicality, the showmanship. Gasol tried his best to hold the unique talent down but no one was stopping Embiid. He was a monster, scoring 33 points to go with 10 rebounds, 3 assists and a game high 5 blocks. Embiid soaked in the cheers from the crowd as he sprinted down the court with his arms spread like an airplane. Embiid was both the irresistible force and the immovable object.
Game Notes:
Musical Support – Philly native Meek Mill couldn't violate his probation to cross the border for Games 1 and 2 but he was out to represent for Game 3.
The Answer – Philadelphia legend Allen Iverson was courtside to cheer on his squad. This man was a generational talent that changed not only the way the game was played but also the entire culture of basketball.
Pine Tar – The Raptors bench is getting eaten by Philly's reserves. They are averaging an embarrassing 10 points per game.
Snakes on the Court – In a curious marketing decision, the 76ers draped their familiar Liberty Bell logo with a snake cut into segments for the playoffs. It's a throwback to the dawn of the American colonies but it's random and visually unsettling.
Malpractice – Coach Nurse was outcoached for the second game in a row and had to reach deep, pulling out Patrick McCaw from moth balls, to replace a non-existent Fred VanVleet.
Toronto will have a few days off before Game 4 on Sunday afternoon. Pressure is mounting and the Raptors will need to respond with a better effort if they want any chance of taking back control of the series.