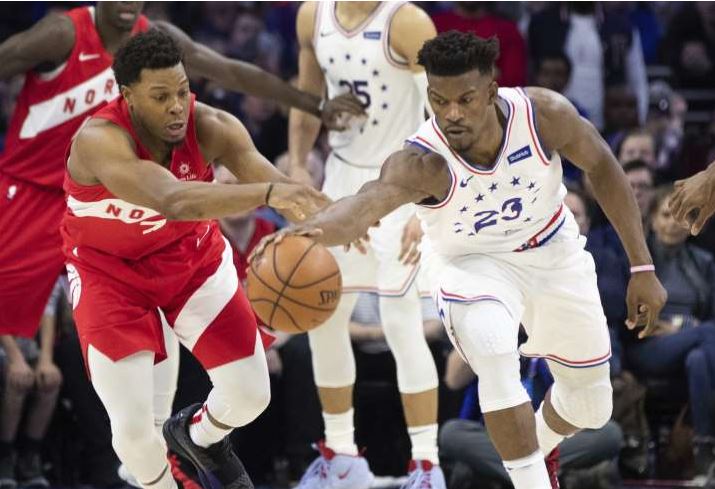 Raptors Recap – Round 2 – Game 4 – The High 5- TOR 101 @ PHI 96
The High 5 is where I give my reaction to the night's games. This includes a look at the players who made a difference in the outcome and some unique details that caught my attention.
The Thumb (The Story of the Game)
The Toronto Raptors ventured deep into Philadelphia territory for a pivotal Game 4 against the confident 76ers on Sunday afternoon. There were questions abound about which version of the Raptors would show up. The team that took a decisive Game 1 win, or the team that was outclassed and embarrassed in Games 2 and 3. Toronto was certainly feeling the heat, especially Kyle Lowry who carried the lion's share of the blame for Toronto's recent offensive lapses. This game was just as important to Coach Nurse as he too was on the hot seat. Some other questions included Siakam's health, the Raptors bench, and what adjustments Coach Nurse would make to put out Philadelphia's wildfire attack. The Raptors, geared in their "Earned City Jerseys", looked much more comfortable and focused to start the game. There was an obvious elevation of energy and intensity. Coach Nurse used savvy adjustments and quick substitutions, including a short leash for Fred VanVleet and running out Ibaka, Gasol, Siakam and Leonard together for a supersized lineup. Toronto's shooters were cold, at times looking like they couldn't throw a ball into the ocean, yet somehow the Raptors were able to etch out a narrow lead throughout most of the game. Toronto struggled to come up with shots even when they executed plays to produce wide open looks. Both teams played tremendous defense, scoring was at a premium and players had to fight for every basket. Philly was led by Jimmy Butler while the Raptors countered with another brilliant performance from the Klaw. The game came down to the final minute where Toronto turned to their superstar, Kawhi Leonard to carry them to victory. Leonard sealed the game for the visitors with a cold blooded three. Toronto snatched back home court advantage with this win and now have a chance to build some momentum at home for Game 5. This was edge of your seat, sweat inducing basketball that left your heart racing. Gotta love the playoffs.
Toronto 101 Philadelphia 96.
The Index (The Leader)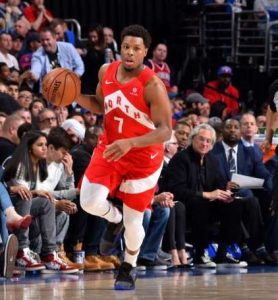 Kyle Lowry has been hearing the critics throughout this playoff run. To his credit, he has blocked out all the noise and has bounced back every time he's had a poor game. Considering his play in Game 3, everyone was expecting Kyle to go full KLOE. North Philly's finest stepped up with his best performance since Game 1, showing off a renewed sense of confidence and urgency. He even got into it with 76ers super fan, and notable sign waver, Alan Horwitz. Kyle played fantastic defense and displayed excellent vision and playmaking ability. Lowry scored 14 points to go with 6 rebounds and 7 assists. The Raptors needed a strong game from their leader and Lowry responded with a great effort.
The Middle (The Enemy)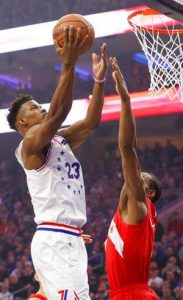 Jimmy 'don't call me James' Butler has been a Raptor killer since Game 2 and today was no different. He was frustratingly effective; he came up with several hustle plays for second and third chances. His midrange game continues to be deadly and he may be the best on Philadelphia at recognizing and exploiting a mismatch. Jimmy has been a consummate professional, successfully shedding off his 'bad teammate' reputation and instead evolving into a playoff superstar. Butler finished with 29 points, 11 rebounds, 4 assists and a block. Jimmy Buckets is as tough as they come, and he played with a gritty, never-say-die attitude. Butler perfectly encapsulates the city of Philadelphia.
The Ring (The X Factor)
One of the biggest areas of concern is Toronto's bench and their inability to make an impact. With OG still out and Siakam struggling with a calf contusion, Coach Nurse was forced to roll out the rare two towers lineup, playing Gasol and Ibaka together for heavy minutes. While Gasol occupied Embiid, Ibaka was able to exploit Philadelphia's smaller forwards who offered limited rim protection. Considering how little he has played this series; it should be applauded that Ibaka was able to put in 32 minutes of work without showing any discernable signs of fatigue. Ibaka went 6/12 from the floor for 12 points to go with 9 rebounds and 3 momentum swinging blocks. In a game of two evenly matched teams, Ibaka brought an integral, if unexpected, advantage.
The Pinky (The Unsung Hero)
Marc Gasol was hungry for this game. He was demonstrative with exaggerated arm gestures, pointing and directing his teammates to flash to their spots, cut to the basket or bring the double team. He was also tasked to check the devastating Joel Embiid who has shown to be able to overwhelm the Raptors when he is rolling. Big Spain held Embiid to only 7 shots and kept him to under 10 rebounds for the game. Gasol scored 16 points with 5 rebounds and 3 assists. His defense has been huge; he brought essential leadership and poise to this victory.
Player of the Game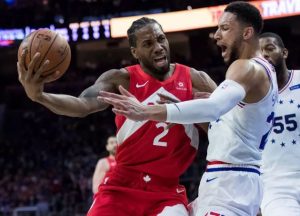 Kawhi Leonard showed his class with another magnificent performance. He had a double-double by the first half and led his team with stellar defense and elite scoring. Leonard has been doing all the heavy lifting for Toronto, but today he finally received a little help from his teammates. Leonard is a one of a kind talent and has been on a historic run so far this post season. He was again deadly from beyond the arc, where he went 5/7 from deep. Leonard scored an insane 39 points, while adding 14 rebounds and 5 assists. Although Kawhi was uncharacteristically sloppy with the ball, coughing it up 7 times, when it mattered most, he performed miracles. Up one point with just about a minute to go, Kawhi hit a massive backbreaking three pointer over a lunging Embiid. That step back three may have been one of the biggest shots in Raptors playoff history. Kawhi has been a Godsend and is proof that not all superheroes wear capes.
Game Notes:
T-O – NFL legend and former Philadelphia Eagle Terrell Owens sat courtside to cheer on his squad. It's pretty cool seeing all these Philly icons coming out for the series.
Live by the 3 – The Raptors were cold from deep going an ugly 10 of 31, if they could have hit just a few more of those shots, this game would have been over early.
Sixth Sense – Hollywood director M. Night Shyamalan was in attendance in support of Philly.
Unplayable – It's becoming more and more apparent that Fred VanVleet is a liability for Toronto in this series. His shot has been as cold as ice and his defense has not been able to stop anyone.
Toronto will have a chance to take control of this series with a win at home on Tuesday night. Momentum is shifting but there is still a lot of basketball left to play.