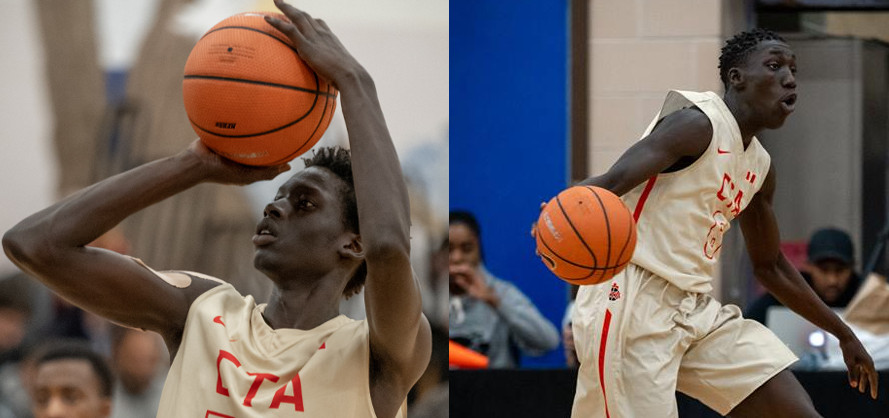 Muon Reath and Tesloch Luk Selected to Luol Deng Camp
Muon Reath and Tesloch Luk of Canada Topflight Academy have been invited to the prestigious Luol Deng Camp. The camp will take place from June 12-18, 2019 at the University of Texas, Dallas for the most talented South Sudanese high school players across the USA & Canada.
This event provides more opportunity for the recognition of players from East-Central Africa who have been populating more and more teams across North America in high schools and colleges. These players in attendance are selected by coaches and basketball affiliates all over the world.
Reath and Luk  represent South Sudan and Canada. They have been instrumental in the success of Canada's number one team this season, Topflight Academy, in Ottawa, Ontario.
Reath is a 2021 prospect who is making winning apart of his DNA as he rises on the charts of many talent evaluators for college and the pros. He's already been a part of two National Prep Championships and has his team back in that mix as the number one seed headed into Nationals March 20-23 at Sheridan College.
If he continues on this trajectory, Reath is being thought of as an NBA prospect. He was the youngest player at camp last year.
Luk has been phenomenal this season. His name has blown up this season and is averaging 17.7 points per game (43% FG), 11.4 rebounds and 2 assists per contest. He's surely a nominee for First-Team All-Star recognition in the National Preparatory Association.
In his travels to the U. S against American competition Luk has been equally impressive and began to acquire attention from NCAA D1 coaches who are looking at him to be a part of their program for 2020.
Both will one day suit up for an elite NCAA program, but in the meantime there is still another National Championship to focus on, followed by Luol Deng Camp.