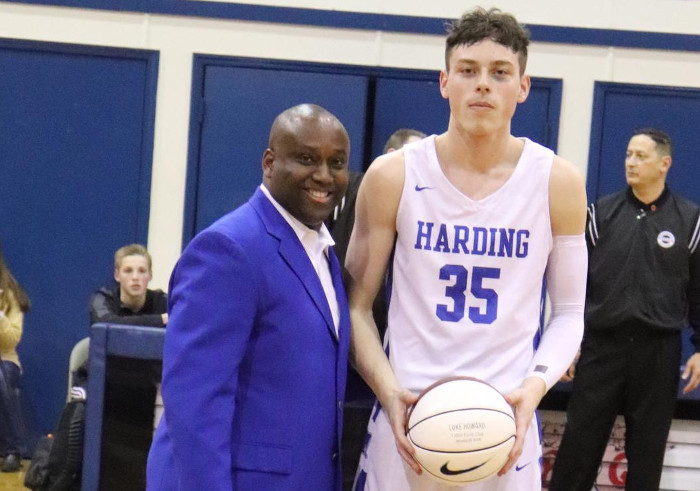 Lipscomb Hosts 6'9 Luke Howard on Official Visit
The epitome of a sleeper NCAA basketball prospect is Luke Howard. He stands at 6'9 and is an ultra athlete with extended range well beyond the three point line. Lipscomb heard the word on the street and made a move to have him on an official visit this Thursday, March 28.
Lipscomb Head Coach, Casey Alexander will be headed to Harding Academy for an in school visit to see Howard after school today. Coach Alexander comes in strong with a 13-2 record in the Atlantic Sun conference, which is good for first place. The Lipscomb Bisons hold an overall record of 13-2.
The Canadian sleeper prospect took interest in Lipscomb considering the proximity and being in the same state, but there is more to it than just that.
"They're a great team and program. They play fast and move the ball round looking for open threes. They really fit my playing style, so I'm definitely interested in taking the visit and learning more and meeting everyone," explained Howard.
The British Columbia, Canada native has been in Tennessee for almost two years and has just finished up his senior season at Harding Academy under Coach Kevin Starks.
Early in the winter, Howard's recruitment started bubbling. He holds offers from Drake, Marshall, UMass Lowell, UT-Arlington and Marist. There is also interest from Boston College, UMass and Florida State.
Drake, who was first to pull the trigger and offer also sits in 1st place of the Missouri Valley conference.
Whatever school gets Howard committed is going to get a fluid ball handler, passer, shooter and a guy that can finish at the rim in traffic while also defending multiple positions.
On February 8, Howard hit the 1,000 points club at Harding Academy in a short time frame. He's going to get buckets and be effective in many ways at the college level as well.