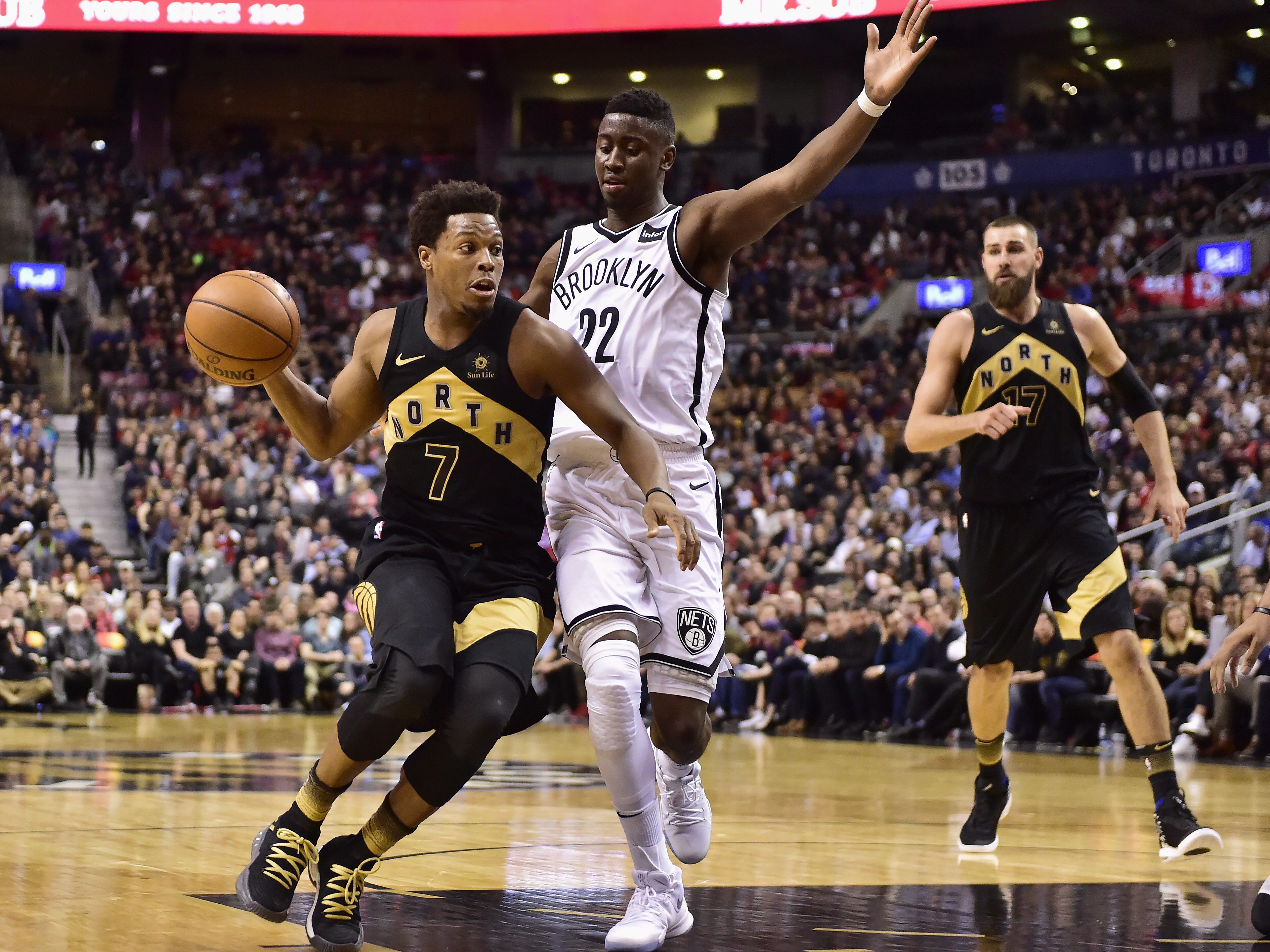 Lowry breaks franchise record for threes, Raptors down Nets
TORONTO – Come to the Air Canada Centre three — sometimes even four — hours before the Toronto Raptors tip-off against an opponent and odds are you'll catch Kyle Lowry hoisting three-pointers up and knocking them down with consummate ease whether it be the corners or above the break.
Practice makes perfect is what they say, and on Friday night, Kyle Lowry beat his own franchise record for the most three-pointers made in a single season with a pull-up three early in the third quarter to give him 213 for the season. Yes, the same type of shot that caused head coach Dwane Casey grief when they were initially paired together.
"I remember when we first got here, I was still old school a little bit," Casey said before the game. "His pull-up threes were the first confrontation we had. He's proven now he's one of the best in the league at doing that so he's got the green light and he does a great job with it."
Lowry went 5-for-6 from long distance in a 116-112 victory over the Brooklyn Nets and finished the game with 25 points, 10 rebounds and 12 assists for the 12th triple-double of his career.
The soon to be 32-year-old has found another gear over the past four games, averaging 24 points, 9.3 assists, 5.8 rebounds and has knocked down 65.7 per cent of his 35 three-point attempts during that span.
"He's amazing from that standpoint," Casey said. "He does a great job of carrying us, did it in Orlando, did a good job of it in Cleveland, keeping us going. He draws so much attention it opens things up for everybody else. He's on a run right now, we've just got to keep it at a high level. Watching his minutes has been really important for us."
The Raptors went to Lowry's well far too often for far too long in seasons past, often leaving their star point guard worn and weary at season's end when the biggest games are yet to be played. He averaged over 37 minutes per game each of the past two seasons, which placed him second in the league on both occasions.
Lowry reaped the rewards of those minutes by achieving career-highs in scoring in both years, but the playoffs were a far different story.
After shooting 38.8 per cent from deep in the 2015-16 regular season, he could only knock them down at a 30.4 per cent clip in the playoffs after suffering an elbow injury.
He was incredible once again in the 2016-17 season with 41.2 per cent shooting from long range, but missed almost the entire final stretch of the regular season with a wrist injury and shot 34.2 per cent from downtown and missed the final two games of Toronto's sweeping exit at the hands of Cleveland in the second round.
With individual goals checked off and a championship the biggest goal left to pursue, Lowry's minutes are down to 32 per game this season and his scoring is the lowest it's been since his first season in Toronto when he served as Jose Calderon's understudy.
"I'm shooting 11, 12 shots a game, I can always shoot more but, our team, the way we're playing, everyone shares the ball, ball movement, have fun," Lowry told North Pole Hoops. "No matter how many shots I get, just go out there and have fun and as long as we win games that's all that matters."
Lowry attempted at least 20 shots in a game 11 times last season. He has done so just once this season when he attempted 25 against the Minnesota Timberwolves, good for a season-high 42 points. The Raptors are playing the smart game with the latter stages of his peak, and opponents are noticing how they're freeing him up by not asking him to do too much with the ball either.
"Credit to Dwane Casey and his staff," Nets head coach Kenny Atkinson said. "There's more variety in their offence and it isn't just the pick-and-roll. He's coming off a lot of screening actions and different situations which definitely make them harder to guard."
A season ago, Lowry averaged 34.6 touches per game in the opponent's half, took 4.87 seconds to do something every time he got a touch, and was usually dribbling for 4.44 seconds of that time. This season, he's down to 30.6 touches, spending 3.99 seconds on the ball per touch, and dribbling for 3.37 seconds.
Speeding up his decision-making by one second may not sound like a whole lot, but in a league where the game is played at its highest level and teams are scouted more and more heavily, every second less that the ball is in a player's hands creates that much more potential for breakdowns and easier opportunities for teammates.
It's the reason why even though his raw numbers may not be as high, his assist percentage of 30.6 is higher than the 29.3 he posted for each of the past two seasons.
The Raptors have done everything in their power to help Lowry take care of his body, and he has returned the favour in kind thus far by making everyone around him better.
Friday's win ensured Toronto will hold home court against Cleveland for the first time in the Casey-DeRozan-Lowry era if the two teams were to meet in the postseason for the third straight season. While that will certainly give them an advantage they haven't had before, Lowry's health ensures it won't be the only one.