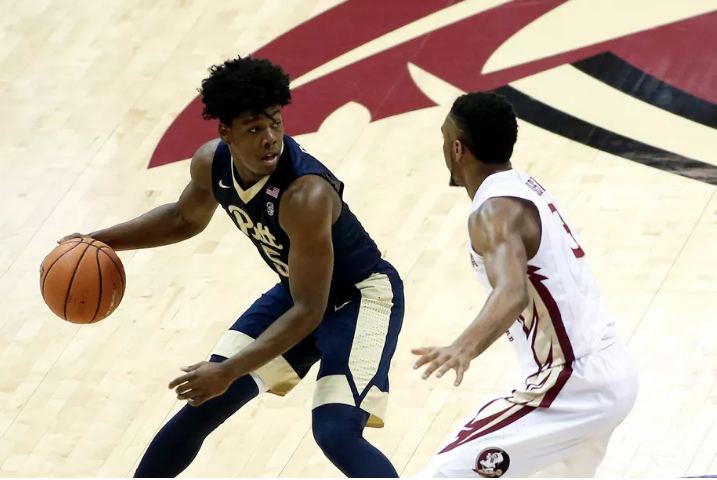 Under the Radar Canadian Guard Leading Pittsburgh; Freshman Marcus Carr Proving Many Wrong
Written By Max Feldman
Marcus Carr came out of Montverde Academy in Florida as a 3 star prospect, the 144th ranked player in the country according to 247sports.com. Carr chose Pitt over Cincinnati and Virginia Tech. Flying under the radar allowed to Marcus Carr to find a good opportunity with University of Pittsburgh, where he leads the rebuilding squad in minutes as a true freshman.
The Toronto native battled injuries during high school, but a strong relationship with Coach Kevin Stallings allowed the young point guard to find comfort in his system and the community as a whole. "It's definitely a sports city. Coach Stallings has a great basketball mind. I have learned a lot from him and look forward to continue learning." Carr told NPH.
While Pitt has struggled, they appear to have found a diamond in the rough with Marcus Carr, averaging 10 points and 4 assists per game. All the while Marcus is shooting an 40% from the field.
Carr's ability to handle the ball, combined with his shooting prowess and strong feel for the game have been a bright spot for Pitt. Shooting 33% from beyond the arc and 81% from the free throw line, Carr has grown more aggressive. On December 5th, Marcus dropped a career 23 points in a win over Mt. St. Mary's.
His speed, physique and vision are similar to Chicago Bulls guard, Kris Dunn. With room to improve, Carr could develop into a Corey Joseph type lead guard.
While Pitt is winless in the ACC, Carr has shown strong versatility. He has played both on the ball and off the ball in one of the toughest conferences in NCAA basketball. "It's a whole new level. You don't know till you actually play in this league. You got to come ready to play every night." Carr told North Pole Hoops when speaking about the competitiveness in the ACC. While Pitt looks to get back on track, Marcus Carr projects to be a strong developmental piece for Coach Stallings.
The Toronto Native shows great pride in his homeland, and the growth of Canadian hoops. "Wherever I go now, it's not a surprise that I am from Canada and can play at this level. Guys know we have a huge talent base. There's a definitely a bit more respect."
Marcus Carr finished off the Pittsburgh Panthers season with a 18 point 4 rebound 2 assist effort in his final contest of the year as Pittsburg lost against Notre Dame in the ACC tournament 67-64.